Tip 9: Gebruik altijd een veilig wachtwoord
عربى | Bahasa Indonesia | 简体中文 | Nederlands | Français | Deutsch | English | 
हिंदी | Magyar | 日本語 | Bahasa Melayu | Português | русский | Español
---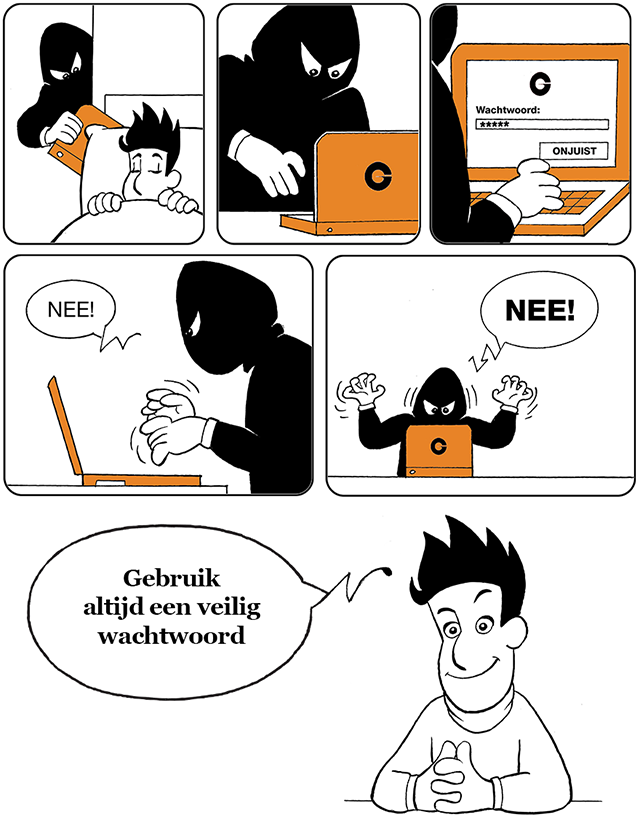 ---
De risico's
Wachtwoorden die worden geraden, gestolen of gedeeld, kunnen leiden tot:

openbaarmaking van persoonlijke gegevens (zoals e-mails, foto's, contactpersonen enz.) of vertrouwelijke bedrijfsgegevens;
sabotage (zoals het verwijderen van alle persoonlijke foto's, publicatie van nep informatie onder uw naam, enz.).

Het is gevaarlijk om hetzelfde wachtwoord voor verschillende websites te gebruiken: Als een van de websites wordt gehackt, kunnen hackers toegang krijgen tot alle andere websites waarop hetzelfde wachtwoord wordt gebruikt en informatie, geld of vertrouwelijke documenten stelen.

Het is riskant om wachtwoorden te delen – zelfs met personen die u vertrouwt:

Ze kunnen vrijwillig of onbedoeld toegang krijgen tot uw persoonlijke gegevens (zoals uw persoonlijke HR-informatie in Engage);

U weet niet hoe ze UW wachtwoord beschermen tegen onbevoegde openbaarmaking (zoals door UW wachtwoord op een briefje te schrijven om het te onthouden).
---
Nuttige tips
Houd uw wachtwoord voor uzelf en deel het NOOIT met anderen (behalve op verzoek met uw Givaudan Servicedesk en alleen als u van mening bent dat u contact hebt met een echte medewerker van de Givaudan Servicedesk).

Volg deze simpele methoden om STERKE wachtwoorden te maken die u kunt onthouden:

Kies een zin die u gemakkelijk kunt onthouden:
I will go for Christmas holidays to the mountains!
 
Pak de eerste letter van elk woord in de zin:
I will go for Christmas holidays to the mountains!
 
Gebruik hoofdletters, kleine letters, cijfers en speciale tekens door elkaar:
I will Go 4 christmas Holidays 2 The Mountains!

Uw wachtwoord ziet er dan zo uit: IwG4cH2TM!
 

Gebruik een wachtwoordkluis-app om uw wachtwoorden op te slaan en voor elke website een ander wachtwoord te gebruiken [Lees hier meer informatie].
---
Zorgwekkende statistieken

73% van de medewerkers gebruikt hetzelfde wachtwoord voor internetbankieren en voor hun e-mail en andere inlogcodes. Van die 73% gebruikt een groot aantal voor alles hetzelfde wachtwoord.

In 2013 werden drie miljard wachtwoorden gestolen van Yahoo, waardoor verschillende andere diensten konden worden aangevallen.

Bij 63% van alle bevestigde gegevensinbraken wordt gebruik gemaakt van een zwak, standaard of gestolen wachtwoord.