Tip 5: Klik niet op koppelingen en open geen bijlagen in berichten als de herkomst onbetrouwbaar lijkt
عربى | Bahasa Indonesia | 简体中文 | Nederlands | Français | Deutsch | English | 
हिंदी | Magyar | 日本語 | Bahasa Melayu | Português | русский | Español
---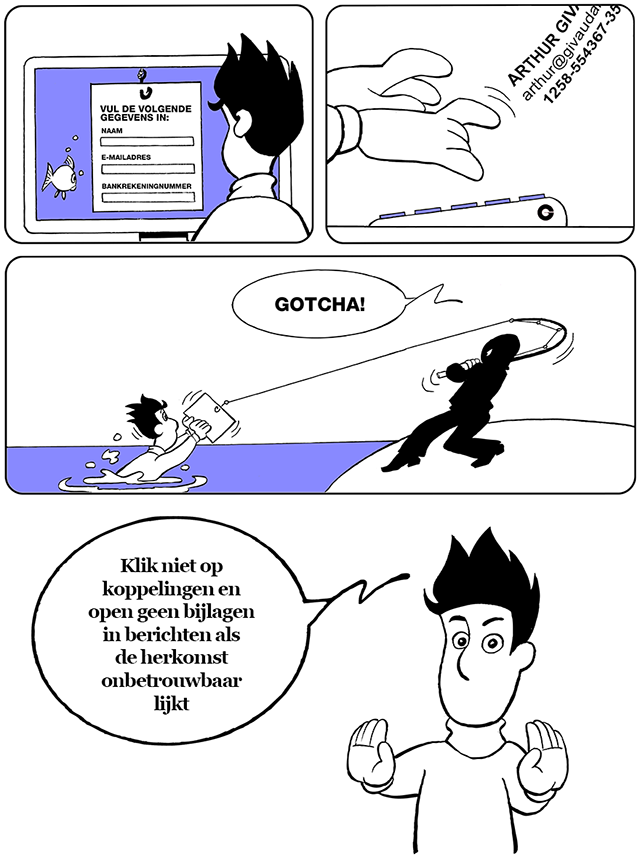 ---
De risico's
| | |
| --- | --- |
| | Koppelingen of bijlagen in e-mails kunnen zijn geïnfecteerd met malware. Deze malware kan uw apparaat infecteren en alle gegevens vernietigen. |
| | Ook kan de malware u bespioneren en vertrouwelijke gegevens of geld stelen (d.w.z. uw internetbankierrekening). |
| | Soms steelt de malware persoonlijke of zakelijke wachtwoorden en worden uw accounts geïmiteerd om spame-mails te verzenden of collega's en vrienden te infecteren met malware. |
---
Nuttige tips
Wees altijd voorzichtig als een e-mail een bijlage of koppeling bevat: Controleer altijd extra voordat u op de bijlage of koppeling klikt – zelfs als de afzender een bekende lijkt te zijn. Een van de sterke methoden die hackers gebruiken om virussen op uw apparaten te injecteren, is het nabootsen van de identiteit van een vertrouwde persoon.
 

Download bestanden alleen via vertrouwde bronnen. Hackers verleiden u vaak om nepwebsites te bezoeken die op de legitieme websites lijken. Vervolgens stelen ze uw gevoelige informatie. Dit doen ze bijvoorbeeld door de website van uw bank na te maken.

 

 

Controleer altijd in de adresbalk van uw browser of de website veilig is:
  


Zorg altijd dat uw eigen apparaten up-to-date zijn en maak regelmatig een reservekopie om de kans te verkleinen dat u informatie kwijtraakt als uw apparaat wordt geïnfecteerd door malware.
---
Zorgwekkende statistieken

95% van alle aanvallen op bedrijfsnetwerken zijn het resultaat van geslaagde spear-phishing.

De gemiddelde kosten van een phishing-aanval voor middelgrote bedrijven bedraagt $ 1,6 miljoen. 76% van de bedrijven meldde in 2017 slachtoffer te zijn geworden van een phishing-aanval.

30% van de phishing-berichten wordt door de beoogde ontvanger geopend. Van hen klikt 12% op de schadelijke bijlage of koppeling.