Tip 7: Blijf alert en meld verdachte activiteiten en e-mails
عربى | Bahasa Indonesia | 简体中文 | Nederlands | Français | Deutsch | English | 
हिंदी | Magyar | 日本語 | Bahasa Melayu | Português | русский | Español
---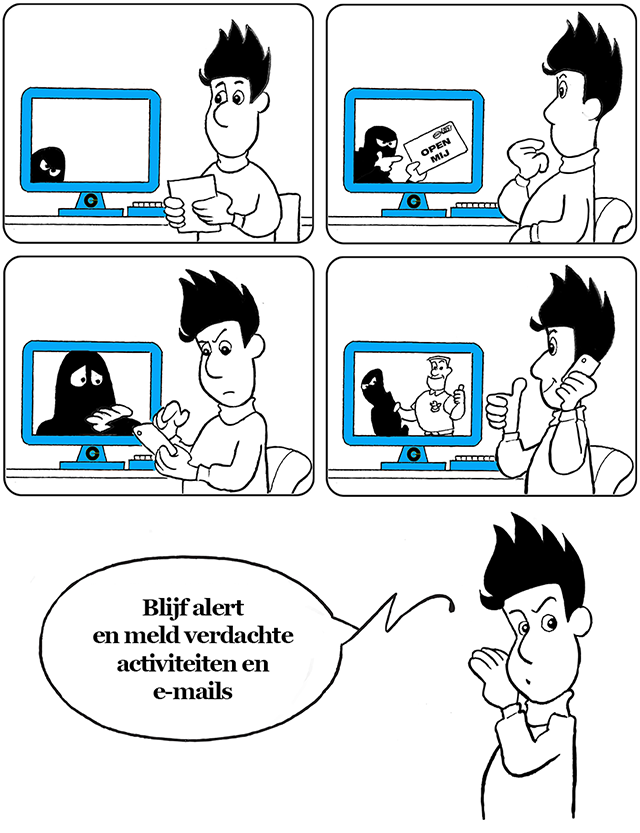 ---
De risico's
Een van de manieren waarop het vaakst gevoelige informatie (zoals creditcardnummers of wachtwoorden) of geld wordt gestolen, is door het slachtoffer te misleiden, zodat hij of zij denkt dat de vraag wel klopt.
 

Een gebruikelijke methode is de zogenaamde CEO-fraude, waarbij een cybercrimineel zich voordoet als CEO of senior-executive en de medewerker dwingt om iets te doen dat hij of zij niet moet doen. Daarbij worden interne controles omzeild.
 

Deze cybercriminelen kunnen u zelfs thuis bellen en doen zich vaak voor als iemand van Givaudan IT of van een andere helpdeskorganisatie. Ze lossen geen echte problemen op, maar installeren in plaats daarvan malware op uw pc, zodat ze gegevens of geld kunnen stelen.
---
Nuttige tips
| | |
| --- | --- |
| | Wees altijd argwanend als iemand die u niet kent of vertrouwt vraagt om informatie die u persoonlijk of vertrouwelijk vindt. |
| | Raadpleeg bij twijfel altijd uw leidinggevende of een collega. Als een verdacht iemand u rechtstreeks belt, moet u het telefoonnummer van de persoon vragen, zodat u hem of haar kunt terugbellen. Meestal haakt men dan wel af. |
| | Omzeil nooit het beveiligingsbeleid. |
| | Meld alle verdachte activiteiten of e-mails aan uw IT-helpdesk of aan uw leidinggevende. |
---
Zorgwekkende statistieken

Duitse organisaties verloren miljoenen euro's aan de georganiseerde misdaad in een scampoging die ook wel 'CEO-fraude' wordt genoemd en waarbij nepmemo's van topbestuurders worden gebruikt om boekhoudkundig personeel te verleiden om geld over te maken.

In 2017 werd er melding gemaakt van meer dan 2,5 miljard vertrouwelijke bedrijfsgegevens die werden gestolen of aangetast.
Het aantal slachtoffers van technische ondersteuning nam in 2017 toe tot 86%.