Astuce 9 : utilisez toujours un mot de passe sécurisé
عربى | Bahasa Indonesia | 简体中文 | Nederlands | Français | Deutsch | English | 
हिंदी | Magyar | 日本語 | Bahasa Melayu | Português | русский | Español
---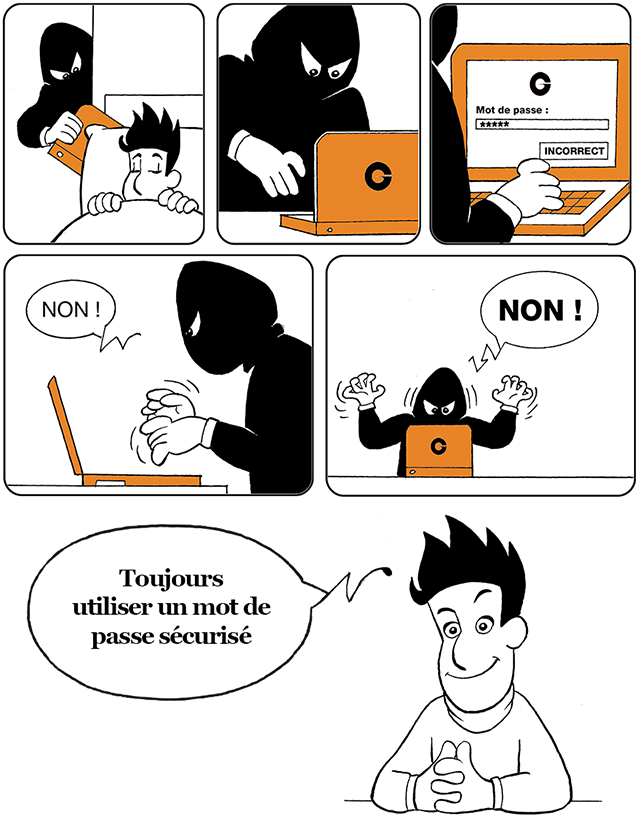 ---
Rappel : nous avons besoin de votre aide
Nous arrivons bientôt à la fin de la fin de la campagne et souhaitons vous rappeler notre sondage sur la cybersécurité.
Veuillez prendre 5 minutes et cliquez ici pour répondre au sondage sur la cybersécurité

---
Les risques
Les mots de passe devinés, volés ou partagés peuvent conduire :

À la divulgation d'informations personnelles (par exemple les courriels, photos, contacts, etc.) ou d'informations commerciales confidentielles.
Au sabotage (la suppression de toutes les photos personnelles, la publication de fausses informations en votre nom, etc.)

L'utilisation du même mot de passe pour plusieurs sites Web est dangereuse : si l'un des sites Web est piraté, les pirates informatiques peuvent accéder à tous les autres sites utilisant le même mot de passe et voler des informations, de l'argent ou des documents confidentiels.

Partager des mots de passe même avec des personnes de confiance est risqué :

Ils peuvent accéder volontairement ou accidentellement à vos informations personnelles (par exemple, des informations personnelles relatives aux ressources humaines dans Engage)

Vous ne savez pas s'ils protégeront VOTRE mot de passe contre la divulgation (par exemple, ils pourraient écrire VOTRE mot de passe sur un feuillet autocollant pour s'en souvenir)
---
Astuces utiles
Gardez votre mot de passe pour VOUS SEULEMENT et ne le révélez JAMAIS avec personne (sauf sur demande auprès de votre centre de service Givaudan, et uniquement si vous êtes certain d'être en contact avec un véritable employé du centre de service Givaudan).

Suivez ces méthodes simples pour créer des mots de passe FORTS que vous pouvez vous rappeler :

Choisissez une phrase dont vous vous souviendrez facilement :
I will go for Christmas holidays to the mountains! (Je vais aller à cette plage de bonne heure !)
 
Prenez la première lettre de chaque mot de la phrase :
I will go for Christmas holidays to the mountains!
 
Mélangez majuscules, minuscules, chiffres et caractères spéciaux :
I will Go 4 christmas Holidays 2 The Mountains!

Et votre mot de passe serait : IwG4cH2TM!
 

Utilisez une application de stockage de mots de passe pour stocker vos mots de passe et vous aider à définir un mot de passe différent pour chaque site Web [plus d'informations ici].
---
Des statistiques qui font peur

73 % des gens utilisent le même mot de passe pour les transactions bancaires en ligne, leur adresse de messagerie et d'autres identifiants. Sur ces 73 %, un grand nombre utilise le même mot de passe pour tout.

En 2013, trois milliards de mots de passe ont été volés à Yahoo, ce qui a permis de compromettre plusieurs autres services.

63 % des violations de données confirmées impliquent un mot de passe faible, par défaut ou volé.