Translating kitchen creations into culinary experiences

Component content
From traditional local recipes to breakthrough concepts, Givaudan helps customers bring kitchen authenticity to consumer products.
Imagine being able to capture the enticing aroma of an original recipe or restaurant meal and offer it to consumers around the world. Givaudan understands how to translate delicious recipes into the products and food experiences consumers love.
Our extensive culinary knowledge relies on the expertise of chefs, food scientists and flavourists, all part of our global network of kitchens. From insights to innovation, we also offer a set of programmes that allow our customers to travel the world and imagine tomorrow's culinary innovations. These capabilities along with a comprehensive portfolio of culinary solutions allow us to creatively co-create winning recipes that scale. Whether you're a food manufacturer or foodservice company, we'll help you deliver your culinary experience just as you intended.
Our chefs, kitchens and culinary programmes  
Component content
Our chefs, kitchens and culinary programmes  
Located around the world, our kitchen facilities are home to culinary experts. Our passionate chefs and application experts are deeply devoted to facilitating creative, innovative and effective co-creation sessions with our customers.
Givaudan's Chef's Council
Component content
Givaudan's Chef's Council
Givaudan's Chef's Council is a culinary event that  includes some of the world's most respected and renowned chefs. Working together with our internal chefs, the Chef's Council is a melting pot for culinary passion that unfailingly leads to surprising advances. It serves the entire industry by moving beyond current thinking to stay one step ahead of specific food and drink challenges.
Component content
Culinary discovery treks
Our culinary treks and taste treks allow customers to visit the world's kitchens, discover new ingredients and gain deep insights into local cooking trends and traditions.
TrendTrek is Givaudan's cross-category trend exploration programme, exploring market and category trends in key influencer cities in each region and translating the unlocked trends into insights and new culinary experiences for our customers.
These treks keep us at the forefront of food and beverage market developments.
Component content
Culinary innovation 
Designing cooking cues with Culinary Notes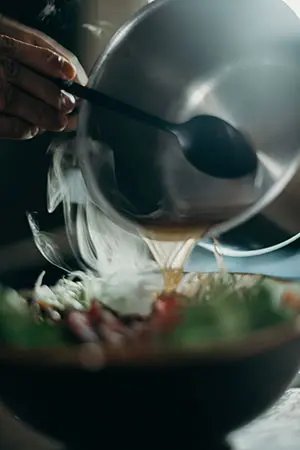 Beginning in childhood, we develop a sense of belonging through our family rituals, the aromas in our homes and the foods we eat. These stay with us for life, and get enriched with every new memorable food experience. It is these experiences that have inspired our Culinary Notes programme.
Designed to truly replicate cooking processes and techniques from chefs and homemade recipes, Culinary Notes combines:
Chef expertise, including inspiration from street food
New ingredients and innovation from renowned chefs 
Pioneering technologies, including the creation of reaction flavours using both less water and less energy
A unique savoury portfolio that simplifies production while increasing taste impact
Our latest culinary experiences
Component content
Our latest culinary experiences
Discover our pizza experience from Europe
Put our culinary expertise to work in designing your next pizza experience with. Our innovative, customisable pizza solution comes with fully customisable solutions for every layer.