9. tipp: Mindig biztonságos jelszót használjon
عربى | Bahasa Indonesia | 简体中文 | Nederlands | Français | Deutsch | English | 
हिंदी | Magyar | 日本語 | Bahasa Melayu | Português | русский | Español
---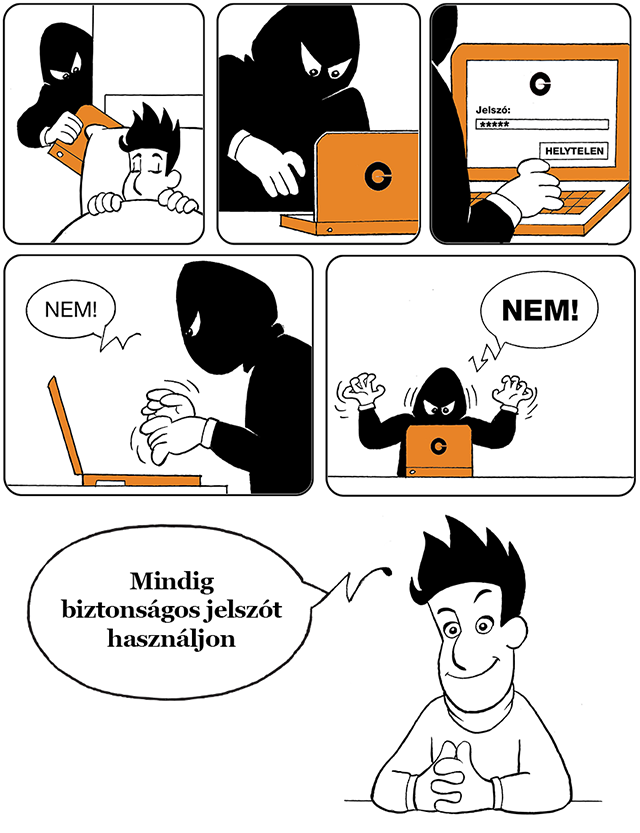 ---
A kockázatok
A kitalált, ellopott vagy megosztott jelszavak az alábbiakhoz vezethetnek:

személyes (pl. e-mailek, fényképek, címek stb.) vagy bizalmas üzleti információk kiadása.
szabotázs (pl. minden személyes fénykép kitörlése, hamis információk közzététele az Ön nevében stb.)

Ugyanannak a jelszónak több weboldalhoz való használata veszélyes: Ha az egyik weboldalt feltörik, akkor a behatolók az összes többi olyan weboldalhoz is hozzáférést nyerhetnek, ahol ugyanazt a jelszót használja, így információkat, pénzt vagy bizalmas dokumentumokat lophatnak el.
  

A jelszavak megosztása még olyanokkal is kockázatos, akikben megbízik:

Szándékosan vagy véletlenül hozzáférhetnek az Ön személyes információihoz (pl. személyes HR-adatokhoz az Engage rendszerben)

Azt sem tudhatja, hogy miként védik az ÖN jelszavát a közléstől (pl. az ÖN jelszavát írják fel egy öntapadós cédulára, hogy megjegyezzék)
---
Hasznos tippek
Őrizze meg a jelszava SZEMÉLYES jellegét és SOHA ne ossza meg másokkal (Kivéve a Givaudan szervizpultot, kérés esetén, és csak akkor, ha megbizonyosodott róla, hogy a szervizpult elemzőjével beszél).
 

Kövesse ezeket az egyszerű módszereket olyan ERŐS jelszavak létrehozásához, amelyeket meg tud jegyezni:

Válasszon egy könnyen megjegyezhető mondatot:
I will go for Christmas holidays to the mountains! (A karácsonyi ünnepekre a hegyekbe megyek!)
 
Vegye a mondat minden szavának első betűjét:
I will go for Christmas holidays to the mountains!
 
Keverje a nagybetűket, kisbetűket, számokat és speciális karaktereket:
I will Go 4 christmas Holidays 2 The Mountains!

A jelszava így ez lenne: IwG4cH2TM!
 

Használjon jelszótároló alkalmazást a jelszavak tárolására és webhelyenként eltérő jelszó létrehozására. [bővebb információ itt].
---
Elrettentő statisztika

Az emberek 73 %-a ugyanazt a jelszót használja online banki műveletekhez, mint az e-mailjeihez és egyéb bejelentkezéshez. Ennek a 73 %-nak a nagy része ugyanazt a jelszót használja mindenhez.

2013-ban három milliárd jelszót loptak el a Yahoo-tól, amely lehetővé tette számos más szolgáltatásba történő behatolást.

Az adatokkal történő bizonyított visszaélések 63 %-a a gyenge, alapértelmezett vagy lopott jelszavakat használja ki.