Tip 10: Wees voorzichtig als u informatie op internet deelt
عربى | Bahasa Indonesia | 简体中文 | Nederlands | Français | Deutsch | English | 
हिंदी | Magyar | 日本語 | Bahasa Melayu | Português | русский | Español
---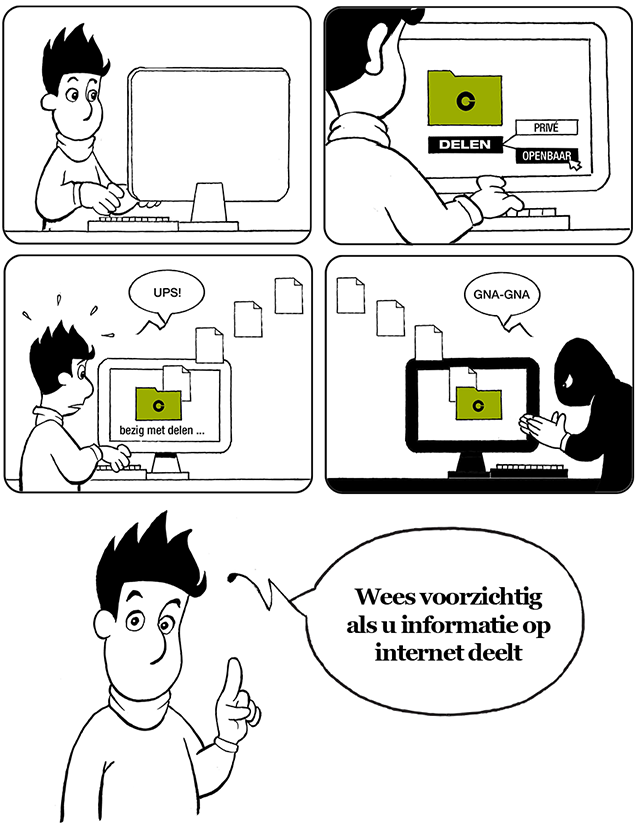 ---
De risico's
Het delen van documenten met verkeerde ontvangers kan ernstige gevolgen hebben:

 

het openbaar maken van persoonlijke gegevens aan een publiek dat deze gegevens niet nodig heeft, waarbij u de volledige controle over deze gegevens en de mogelijke verdere verspreiding ervan kwijtraakt (zoals foto's van een pasgeboren baby die op internet komen te staan);


 

het openbaar maken van vertrouwelijke bedrijfsinformatie van Givaudan (bijvoorbeeld het gebruik van openbare clouddiensten, zoals Slideshare, om presentaties te delen en daarbij niet de juiste toegangsrechten instellen, waardoor interne informatie van Givaudan op sociale netwerken terechtkomt, enz.);


 

schade aan uw reputatie of aan die van Givaudan door beledigende inhoud te delen op sociale netwerken (zoals het bekritiseren van vrienden of collega's op sociale netwerken).
---
Nuttige tips
| | |
| --- | --- |
| | Verleen bij het delen van informatie altijd alleen toegang tot de personen die toegang moeten hebben. |
| | Controleer regelmatig de toegang tot uw meest gevoelige gedeelde documenten en verwijder de toegang van personen die deze documenten niet langer nodig hebben. |
---
Zorgwekkende statistieken

De belangrijkste boosdoener van gegevenslekken: menselijke fouten van de klant.

World Wrestling Entertainment (WWE) en Verizon hebben de persoonlijke gegevens van miljoenen klanten openbaar gemaakt door hun opslagplaatsen in de cloud per ongeluk verkeerd te configureren.

Vier jaar geleden bleek een op de zes cloudservers van Amazon openbaar toegankelijk, waardoor meer dan 126 miljard bestanden openbaar waren. Veel van die bestanden bevatten gevoelige bedrijfsinformatie.