Let nature colour your imagination with Sense Colour

Meeting your natural colour challenges
Component content
Bold beetroot, eye-catching carrot or bright blue spirulina? From shelf to plate, colour has the power to expand the sensory experience of a food or beverage product, allowing consumers to eat with their eyes. 
At Givaudan, we are constantly inspired by nature's palette of vibrant hues. By adding a pinch of imagination, our Sense Colour range transforms natural colours into a multitude of creative, clean label solutions.
Read our Sense Colour news and insights   Discover our expanded natural colour capabilities
Meeting your natural colour challenges
Today's consumers are becoming more mindful in their food and beverage choices. Demand for natural, sustainable and easily recognisable ingredients is on the rise, while artificial colours are on their way out. At the same time, social media has made visual appeal and share-worthy food experiences more important than ever. To help our customers meet these challenges and transition seamlessly from artificial to natural colours, we offer a rainbow of solutions – enabling you to reimagine products without compromising on taste or performance.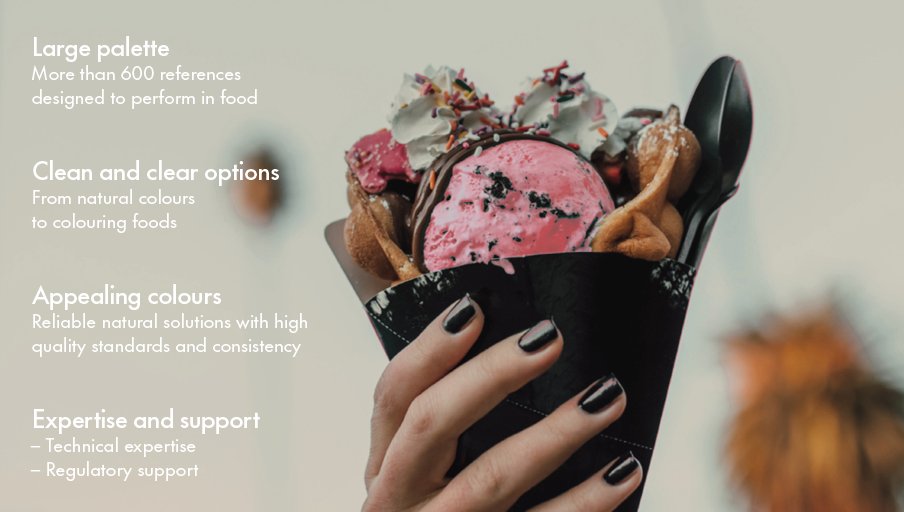 We are ready to support you every step of the way in creating the perfect natural colour solution for your product:
  
Wide range of high-performance solutions
Choose from a complete palette of clean label and naturally sourced solutions, adapted to deliver performance, transparency and authenticity.
 
Botanical expertise for reliable quality
Your product is in safe hands thanks to our quality, broad sourcing and agronomy network, and strong connections to local markets.
 
Holistic colouring experience
Our solutions reflect our expertise in both taste and wellbeing, as well as our extensive consumer research. We also offer extended technical, application and regulatory support.
 
Delivering vibrant colours in a wide array of applications
Component content
Delivering vibrant colours in a wide array of applications
Building on 30 years of experience in the plant world, our specialist team from Naturex, part of Givaudan, can help you to design or adapt all kinds of products, from cupcakes to carbonated soft drinks.

Sweet goods and dairy

Savoury

Snacks

Beverages
Find out more about developing appealing foods, naturally.
Expertise in the plant world
Component content
Expertise in the plant world
We source, process and formulate natural ingredients to global quality standards to provide complete colour solutions.
Sourcing

Responsible sourcing
Direct access to raw materials from around the world
Good agricultural practices

  

Extraction

Years of experience in pigment extraction
Development of gentle processes

  

Formulation

High-performance emulsions
Dispersion for enhanced properties
Stabilised oleoresin
Free-flowing powders and appealing colour flakes

  

Quality

Global quality standards
Strong analytical capabilities
Full traceability
Local regulatory support
VegeBrite® colouring foodstuffs
Component content
VegeBrite® colouring foodstuffs
Produced exclusively from fruits, vegetables, edible flowers and algae and gently processed, our authentic and high-performance VegeBrite® colouring solutions are the perfect tool for customers looking to reformulate a wide variety of applications.
* VegeBrite® Veggie Browns are made from raw material sources that do not contain gluten or any commonly recognised allergen. Globally, their use typically does not necessitate the regulatory requirements of labelling any of these allergens.
This page is intended to provide business-to-business information. It is not for communication to end consumers.
The information provided and its uses must be checked for compliance under appropriate local regulations.
  
There is currently no harmonised legal definition for naturalness of food ingredients.
Any communication to end consumers must be done according to the appropriate local regulations/guidances.