Petua 9: Sentiasa menggunakan kata laluan yang selamat
عربى | Bahasa Indonesia | 简体中文 | Nederlands | Français | Deutsch | English | 
हिंदी | Magyar | 日本語 | Bahasa Melayu | Português | русский | Español
---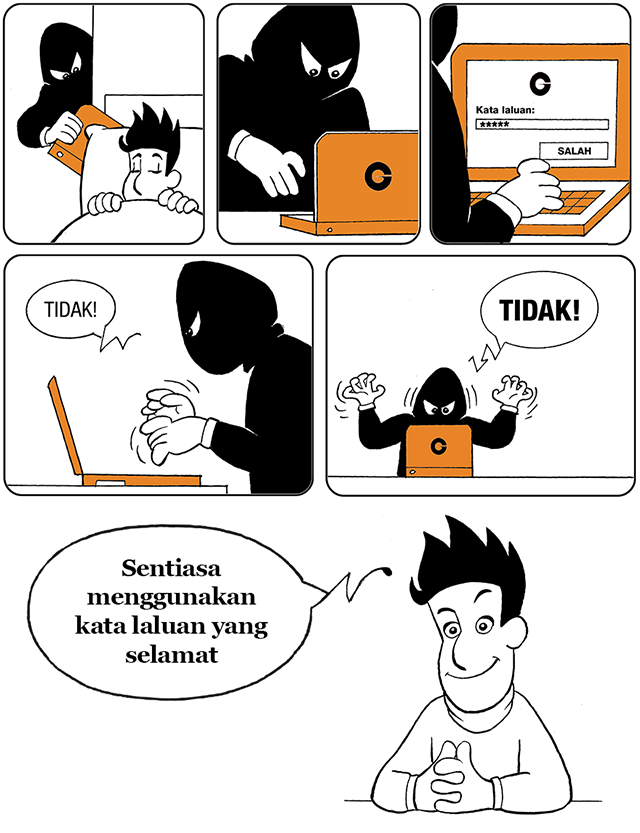 ---
Risiko-risiko
Kata laluan yang diteka, dicuri atau dikongsi boleh mengakibatkan:

pendedahan maklumat (misalnya, e-mel, foto, maklumat hubungan, dll.) perniagaan sulit atau peribadi
sabotaj (misalnya memadamkan semua gambar peribadi, menerbit maklumat palsu dalam nama anda, dll.)

Menggunakan kata laluan yang sama untuk beberapa laman web adalah berbahaya: Jika salah satu daripada laman web digodam, penggodam dapat memperoleh akses kepada semua laman web yang lain di mana kata laluan yang sama digunakan dan mencuri maklumat, wang atau dokumen sulit.
 

Berkongsi kata laluan meskipun dengan orang yang anda mempercayai adalah berisiko:

Mereka boleh mengakses maklumat peribadi anda secara sukarela atau tidak sengaja (misalnya, maklumat Sumber Manusia Peribadi dalam Engage)

Anda tidak tahu bagaimana mereka akan melindungi kata laluan ANDA daripada pendedahan (misalnya Menulis kata laluan ANDA di nota pelekat untuk mengingatinya)
---
Petua Berguna
Pastikan kata laluan anda bersifat PERIBADI dan JANGAN berkongsinya dengan sesiapa pun (Kecuali dengan meja perkhidmatan Givaudan anda, atas permintaan, dan hanya jika anda pasti anda berhubungan dengan pekerja Meja Perkhidmatan Givaudan tulen).
 

Ikuti kaedah mudah ini untuk mencipta kata laluan KUAT yang boleh diingati oleh anda:

Pilih ayat yang anda akan mengingati dengan mudah:
I will go for Christmas holidays to the mountains! (saya akan pergi bercuti ke pergunungan pada hari Krismas!)
 
Ambil huruf pertama setiap perkataan daripada ayat:
I will go for Christmas holidays to the mountains!
 
Campurkan huruf besar, huruf kecil, nombor dan aksara khas:
I will Go 4 christmas Holidays 2 The Mountains!

Dan inilah hasil kata laluan anda: IwG4cH2TM!
  

Gunakan permohonan bilik kebal kata laluan untuk menyimpan kata laluan anda dan membantu anda mempunyai kata laluan yang berbeza untuk setiap laman web. [maklumat lanjut di sini].
---
Statistik Yang Menggerunkan

73% daripada orang yang menggunakan kata laluan yang sama untuk perbankan dalam talian dan juga e-mel mereka dan log masuk lain. Daripada 73% itu, sebahagian besar menggunakan kata laluan yang sama untuk segala-galanya.

Pada tahun 2013 tiga bilion kata laluan dicuri dari Yahoo, yang boleh menjejaskan beberapa perkhidmatan lain.

63% daripada pelanggaran data mengumpil kata laluan yang lemah, lalai atau dicuri.