Powering our ambitions to go further
Givaudan's purpose provides a strong and unified reason why we do what we do as a Company. Beyond profitable growth, it reaffirms what we stand for at every level of our business. By identifying and articulating a shared sense of purpose for all of our stakeholders, we are also defining our ambitions and a roadmap for the future.
Creating for happier, healthier lives 

with love for nature


Let's imagine together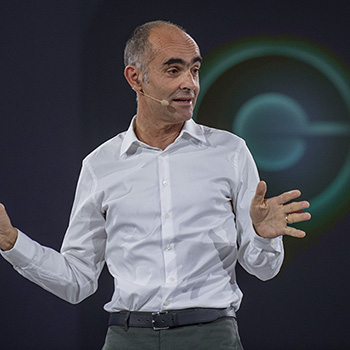 "Our purpose is a compass to guide our choices and set strategic goals. It's a bold ambition to grow our business while becoming climate-positive. And because we are Givaudan, it's also emotional: our minds get it, and our hearts embrace it."
Gilles Andrier, Chief Executive Officer
Every day, our creations inspire emotions and touch millions of lives. By becoming a purpose-led company, we can go even further in making our world a happier, healthier place. Together, we have the potential to increase our positive impact on the world by innovating sustainable solutions while showing our love for nature.
We have translated our purpose into four focus areas that set out specific, measurable ambitions. We will track our achievements against these ambitions and report on progress on a regular basis.
Let's imagine together...