Discover Givaudan in Europe

Component content
Europe is where our historic roots are. It all started in Grasse, South of France in 1768. Today Givaudan has operations in more than 10 countries in the region. 
Europe is where you will find, Innovation and Creation centres for Taste & Wellbeing and Fragrance & Beauty, state-of-the-art production facilities, but also our renowned Perfumery School and a Digital Factory. Find out more about our country presence below. 
Component content
Givaudan in France
In France, Givaudan is present in various regions, but it is in the Paris area that, our renowned Perfumery School, our Digital Factory, our fine fragrance office and our European Creation Centre for Fragrances in consumer products are located. In the area of Reims, is where you will find activities around cosmetics ingredients and biotechnology. In the region of Avignon we are specialised in natural ingredients and in Brittany we have activities around blue and marine technologies.
With more than 800 colleagues you will enjoy a work environment that is friendly and dynamic. Along with discounted products, paternity and adoption leave, seniority leave and hybrid working, you will enjoy the following benefits: 
Cafetaria and meal vouchers
Component content
Givaudan in Germany
In Germany we have three main sites. Our Taste & Wellbeing operations are located in the region of Dortmund, and our Fragrance & Beauty sales operations are situated in Hamburg and in Baierbrunn. We have more than 500 employees collaborating with colleagues across Europe and around the globe.
Working with us, below are some benefits which you will enjoy: 
Attractive compensation package including bonus, cafeteria and vacation allowance
Opportunity to participate in professional learning courses
Career development opportunities
Private health insurance
Access to exclusive perfumes and employee shop with discounts
 
Component content
Givaudan in Hungary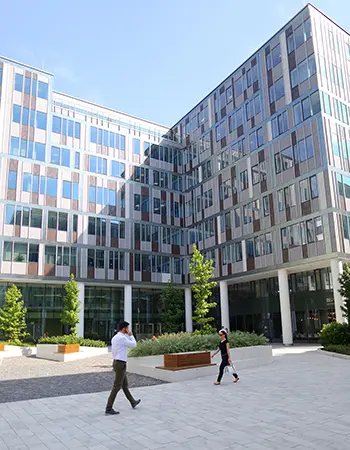 In Hungary we are present in Budapest and in Makó. Budapest is where our corporate function site operates to deliver agile employee and business solutions throughout the entire region. Please click here to access more information around benefits, work environment and much more.
We also have a state-of-the-art production unit for Taste & Wellbeing solutions located in Makó.
Click here for more information around the benefits which you will enjoy and here to learn more about our manufacturing operations.
Givaudan in the Netherlands
Component content
Givaudan in the Netherlands
In the Netherlands, we mainly have operations in Taste & Wellbeing with production units and a creation centre specialised in meat analogues. We are based in Naarden and in Barneveld. The customers we work with in the Benelux have local, regional and international exposure.
With more than 500 colleagues based in the Netherlands, you will enjoy a vibrant and stimulating work environment. You will also enjoy many benefits such as: 
Health insurance contribution
Component content
Givaudan in Switzerland

Switzerland is where Givaudan has its global headquarters. Our three main sites are: Vernier (Fragrance & Beauty production unit, ingredient sales, and global functions), Kemptthal (global functions combined with the ZIC: 'Zurich Innovation Centre') The ZIC is a very modern facility where passionate food experts create and test food innovations to shape the tastes of tomorrow. We are also present in Dübendorf with a Taste & Wellbeing production unit and in Zug and in Volketswil.
We are a certified equal-pay employer. Please find out more information around what you get personally here. 
Givaudan in the United Kingdom
Component content
Givaudan in the United Kingdom
In the United Kingdom, Givaudan is present with 5 sites and more than 400 people. Our main site for Fragrance & Beauty is in Ashford, Kent, where we have manufacturing operations, a creative & research centre that is specialised in oral care and neurosciences. 
Our main site for Taste & Wellbeing is in Swadlincote, Derbyshire where we have as well a creative & research centre and production facilities. Joining Givaudan in the UK, you will be able to enjoy an attractive compensation and many benefits including the following: 
Life insurance and income protection
25 days holidays (+ bank holidays)
Component content
Other countries
Can't find your country? No worries, Givaudan is also present in Austria, Belgium, Czech Republic, Finland, Italy, Poland, Spain, Sweden, Turkey and Ukraine. Please check on the map to find where our offices are located and what activity they focus on.