Tip 6: Vergrendel uw computer en smartphone als u deze niet gebruikt
عربى | Bahasa Indonesia | 简体中文 | Nederlands | Français | Deutsch | English | 
हिंदी | Magyar | 日本語 | Bahasa Melayu | Português | русский | Español
---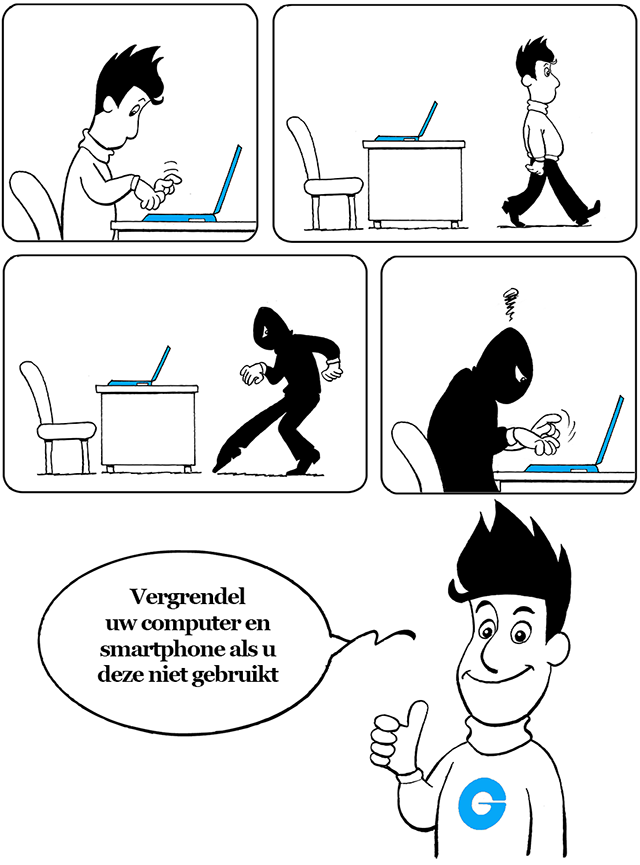 ---
De risico's
| | |
| --- | --- |
| | Uw computer en mobiele apparaten bewaren tal van persoonlijke en zakelijke gegevens die u wilt beschermen (privéfoto's, Whatsapp-gesprekken, enz.). Als u deze apparaten niet met een wachtwoord of pincode vergrendelt, heeft iedereen direct toegang tot al deze inhoud. |
| | Als u uw apparaat kwijtraakt of als het wordt gestolen, zal al deze informatie direct toegankelijk zijn voor de persoon die het apparaat in bezit heeft. |
---
Nuttige tips
Vergrendel het scherm altijd als u het apparaat achterlaat.
 

Onthoud de sneltoetsen waarmee u uw computer snel kunt vergrendelen:

• [WIN] + [L] voor een Windows PC
• [Control] + [Shift] + [Power] voor een Mac

We adviseren altijd om de schermvergrendeling te activeren op uw smartphones, tablets en computers.
---
Zorgwekkende statistieken

Minimaal een op de drie medewerkers geeft aan de computer ingeschakeld en ontgrendeld achter te laten als hij niet achter zijn bureau zit.

Een op de vijf medewerkers slaat aanmeldgegevens en wachtwoorden op de computer op of noteert deze en laat ze achter op het bureau, in niet-afgesloten kasten of als plakbriefje op de computer.
[Cisco]