Tip 9: Selalu gunakan kata sandi yang aman
عربى | Bahasa Indonesia | 简体中文 | Nederlands | Français | Deutsch | English | 
हिंदी | Magyar | 日本語 | Bahasa Melayu | Português | русский | Español
---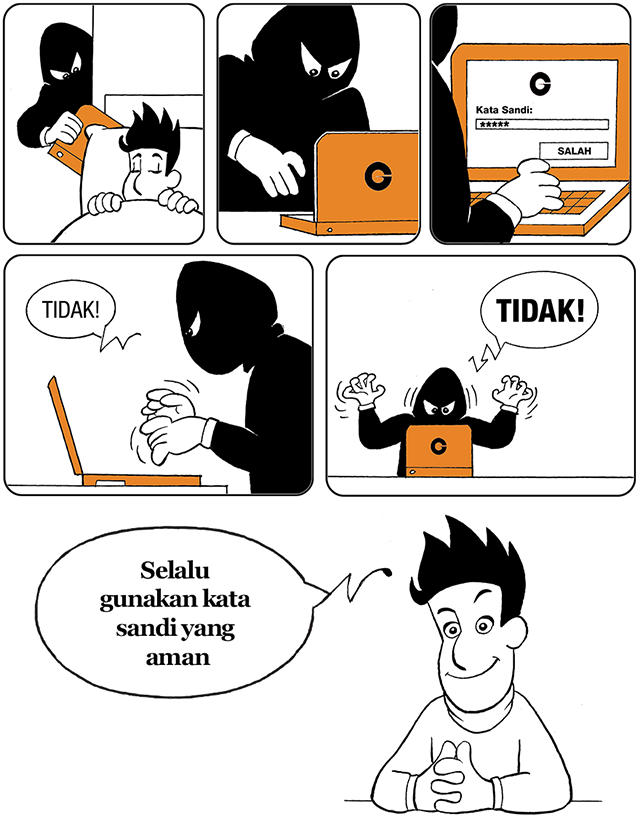 ---
Risiko
Kata sandi yang dapat ditebak, dicuri atau dibagikan dapat mengarah ke:

pengungkapan data pribadi (yaitu, email, foto, kontak, dll.) atau informasi bisnis rahasia
sabotase (yaitu, penghapusan semua foto pribadi, publikasi informasi palsu atas nama Anda, dll.)

Menggunakan kata sandi yang sama untuk beberapa situs web itu berbahaya: Jika salah satu situs web diretas, peretas dapat memperoleh akses ke semua kata sandi lain di mana kata sandi yang sama digunakan dan mencuri informasi, uang, atau dokumen rahasia.
 

Berbagi kata sandi bahkan dengan orang yang Anda percayai bisa berisiko:

Mereka dapat secara sukarela atau tidak sengaja mengakses informasi pribadi Anda (mis., informasi SDM Pribadi di Engage)

Anda tidak tahu bagaimana mereka akan melindungi kata sandi ANDA dari pengungkapan (mis., Menulis kata sandi ANDA pada catatan tempel untuk mengingatnya)
---
Tip Berguna
Jaga kata sandi Anda agar tetap PRIBADI dan JANGAN PERNAH membaginya dengan siapa pun (Kecuali dengan bagian layanan Givaudan atas dasar permintaan, dan hanya bila Anda yakin sedang berhubungan dengan karyawan bagian Layanan Givaudan yang sesungguhnya).
 

Ikuti metode sederhana ini untuk membuat kata sandi KUAT yang dapat Anda ingat:

Pilih satu kalimat yang mudah Anda ingat:
I will go for Christmas holidays to the mountains! (Aku akan pergi liburan Natal ke gunung selama dua hari!)
 
Ambil huruf pertama dari setiap kata pada kalimat:
I will go for Christmas holidays to the mountains!
 
Gabungkan huruf besar, huruf kecil, angka dan karakter khusus:
I will Go 4 christmas Holidays 2 The Mountains!

Dan kata sandi Anda akan menjadi: IwG4cH2TM!
  

Gunakan aplikasi pengelola kata sandi untuk menyimpan kata sandi Anda dan membantu Anda memiliki kata sandi yang berbeda per situs web. [informasi selengkapnya di sini].
---
Statistik yang Mengerikan

73% orang menggunakan kata sandi yang sama untuk perbankan online, e-mail dan login lainnya. Dari 73% itu, banyak yang menggunakan kata sandi yang sama untuk semuanya.

Pada tahun 2013, tiga miliar kata sandi dicuri dari Yahoo, yang memungkinkan terjadinya penyusupan terhadap beberapa layanan lainnya.

63% dari pelanggaran data yang telah terkonfirmasi memanfaatkan kata sandi yang lemah, bawaan, atau curian.