Meet Bernhard
Senior Development Chef
"I joined Givaudan 10 years ago as a technical manager in foodservice. To this day, I am proud of being part of a leading world-renowned Company. Every morning when I walk into the office, I'm excited about the recipes that we develop. Cooking is, and has always been, my passion: to me, it's the best way to put a smile on anyone's face."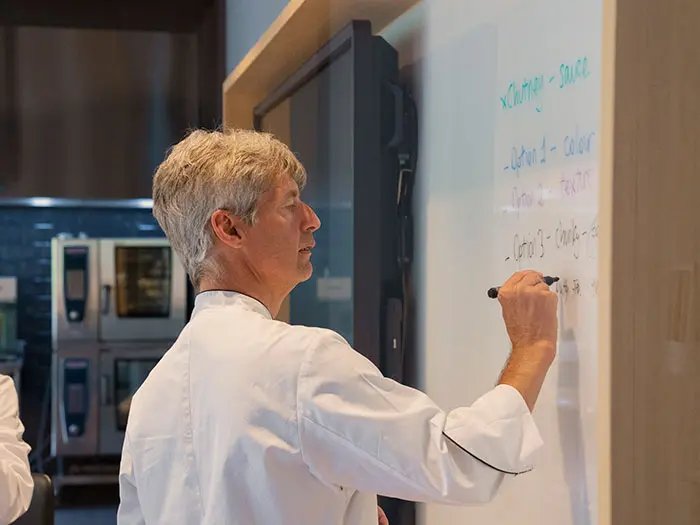 Tells us more about what you do at Givaudan
"As a development chef, I develop new food concepts and design recipes. I propose new taste ideas for each concept, demonstrate its benefits, and then create recipes for industrial productions. Lastly, it is also essential for me to educate customers on each recipe's technical and culinary standards. So essentially, we test, taste, and start again every day!
To be successful, I have to be creative and meticulous in my approach: bringing new ideas while documenting our process. We learn, adapt, and continue with every recipe until it can be considered as a gold standard." 
Tell us about your day
The first thing I do when I arrive at work… "It's a privilege for me to work at Givaudan, so my day starts feeling proud walking through the office doors. Add my morning coffee to that feeling, and I'm in a great mood! More seriously, I usually start my morning setting up for the day, preparing my ingredients and laying down the recipes that we'll test. 
For lunch… I either have lunch with colleagues or lead meetings with customers presenting them our latest recipes. I work in a beautiful show kitchen, which makes it feel like an informal exchange even though we are working. 
If I catch up with colleagues over lunch, it's a time for me to get to know them better and understand what they do. In my role I interact with many different people: customers, flavour creators, sensory insights, and marketing colleagues. All bring a different perspective that I am happy to incorporate into my work.
In the afternoon… That's when I sit down and spend time documenting what we did in the morning, what worked and plan for our next steps. Developing a recipe involves much testing, adapting, and repeating, so it's essential to document every step, review feedback and plan the next day to get to the perfect solution. "
And lastly, any advice or skills for someone wanting to follow in your footsteps? 
"Challenge your taste buds! Develop your sense of taste, and learn to describe what you taste in words others can understand. It's the most important skill I've had to develop and continue to do so."