Tipp 9: Nutzen Sie immer ein sicheres Passwort
عربى | Bahasa Indonesia | 简体中文 | Nederlands | Français | Deutsch | English | 
हिंदी | Magyar | 日本語 | Bahasa Melayu | Português | русский | Español
---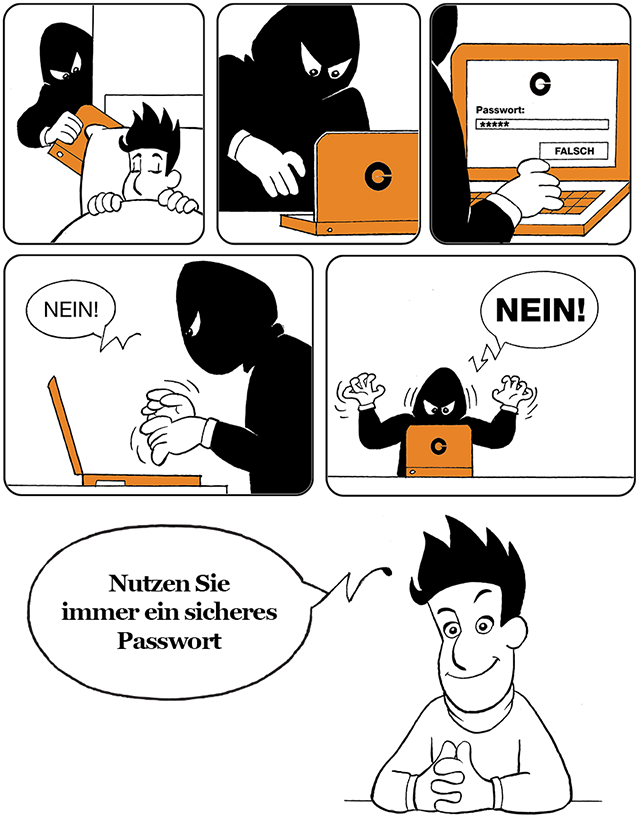 ---
Die Risiken
Passwörter, die erraten, gestohlen oder ausgetauscht werden, können führen zu:

Offenbarung von persönlichen (z. B. E-Mails, Fotos, Kontakte etc.) bzw. vertraulichen Geschäftsinformationen. 
Sabotage (z. B. Löschen aller persönlichen Fotos, Veröffentlichung von Fake-Informationen in Ihrem Namen etc.)

Das gleiche Passwort für mehrere Websites zu verwenden, ist gefährlich: Falls eine dieser Websites gehackt wird, können Hacker Zugang zu allen anderen erlangen, für die das gleiche Passwort verwendet wird, und Informationen, Geld oder vertrauliche Informationen stehlen.
 

Der Austausch von Passwörtern, selbst mit Personen, denen Sie vertrauen, ist riskant:

Sie können mit Absicht oder aus Versehen auf Ihre persönlichen Informationen (z. B. persönliche HR-Informationen in Engage) zugreifen.

Sie wissen nicht, wie sie IHR Passwort vor Offenbarung schützen (z. B. könnten sie IHR Passwort zur Erinnerung auf einen Notizzettel schreiben).
---
Nützliche Tipps
Halten Sie Ihr Passwort GEHEIM und teilen Sie es NIE mit anderen. (Außer mit Ihrem Givaudan Service-Desk, auf Anfrage. Und dann auch nur, wenn Sie sicher sind, dass Sie tatsächlich mit einem Mitarbeiter des Givaudan Service-Desks im Kontakt sind.)
 

Folgen Sie diesen einfachen Methoden, um STARKE PASSWÖRTER, die Sie behalten, zu erstellen:

Wählen Sie einen Satz, den Sie leicht behalten:
I will go for Christmas holidays to the mountains!
 
Nehmen Sie den ersten Buchstaben jedes Wortes des Satzes:
I will go for Christmas holidays to the mountains!
 
Nutzen Sie große und kleine Buchstaben, Zahlen und Sonderzeichen:
I will Go 4 christmas Holidays 2 The Mountains!

Dann lautet Ihr Passwort: IwG4cH2TM!
 

Nutzen Sie einen Passwort-Manager zum Speichern Ihrer Passwörter, damit Sie für jede Website ein anderes Passwort nutzen können. [Weitere Informationen finden Sie hier].
---
Erschreckende Statistik

73 % der Internet Nutzer nutzen das gleiche Passwort für ihr Online-Banking, ihre E-Mail und andere Logins. Von diesen 73 % nutzt ein Großteil das gleiche Passwort für alles.

2013 wurden drei Milliarden Passwörter von Yahoo gestohlen, wodurch einige andere Dienste kompromittiert wurden.

63 % der bestätigten Datenschutzverletzungen beruhen auf einem schwachen, Standard- oder gestohlenen Passwort.