Powerful delivery systems for tasty and memorable food experiences

Longstanding expertise in delivery systems
Component content
There's more than one way to deliver great flavour, visual impact, and mouthfeel to your food or beverage application. 
Delivery systems are the missing link to creating just the right flavour impact and functionality in any food or wellness experience. Answering the needs of conscious consumers, delivery systems also support more responsible products by reducing packaging and waste and extending shelf life. At Givaudan, our longstanding expertise in delivery systems has led to a range of proven solutions: PureDelivery®.
Identifying the right delivery system and solution is part of our co-creation process with customers. The result? We turn products into multisensory food experiences that go beyond great taste. 
Our PureDelivery® delivery systems
Component content
Our PureDelivery® delivery systems

PureDelivery® was developed using a wide range of technologies from spray drying to granulation. These solutions put the latest advances in sustainable and clean label delivery systems at your disposal to optimise performance. PureDelivery® can be used in a full range of applications, from baked goods to powdered beverages, tea and sauce mixes.
PureDelivery® offers numerous properties to create the desired food or beverage experience:
Protection
Controlled or delayed release
Visual impact and colour
Shelf life / Stability
Application compatibility
Food and flavour impression
Texture and mouthfeel 
 
Component content
Our PureDelivery® range
Authentic
Natural, straight-from-the-kitchen flavour and aroma.

Lifestyle 
From sugar-free to vegetarian, taste and flavour solutions for any diet.
 

Controlled release
Aroma and flavour, how you want it, when you want it.

Special effects
Flavour hot spots, bursts, and sensations that excite the senses.
 

Visual cues
Attractive and delicious food impressions.

Textures and mouthfeel
Creamy to crunchy, tactile taste experiences for the eye and palate.
 

Bright, bold flavour
Complete protection of sensitive flavours against oxidation.

High performance
Extended shelf life
Free flowing powders allowing uniform distribution of flavour in powdered beverage for example.
 

Outstanding visual appeal
Vivid natural colours from fruits for multisensorial food experiences.

Texture delivery
Exciting textures from thick and crunchy to light and pulpy.
 

Intense flavour
Authentic fruit taste with natural carriers or no carrier.

Visual appeal
Attractive colours.

Instant solubility
Perfect for beverage applications.
 
Creating multisensory experiences in powder drinks
Component content
Creating multisensory experiences in powder drinks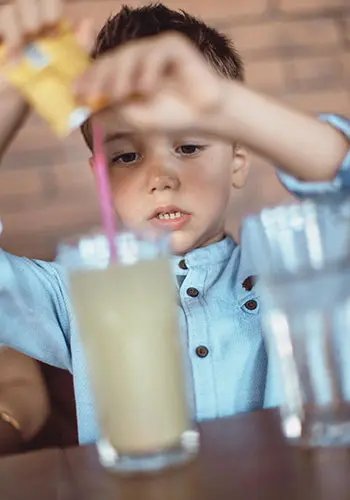 Consumers are attracted to the sustainable appeal of powder drinks, which offer reduced packaging and transport. With the right ingredients and delivery system, powder drinks can provide a convenient, sustainable and engaging beverage experience.
The ultimate powder drink experience combines benefits for mind, body and planet:
  
Fruit powders for vibrant colour and authentic taste
Instant solubility and freshness that lasts
Botanicals with compelling sourcing stories
Reduced sugar with no compromise on taste
Label-friendly ingredients
 
Givaudan's delivery systems technologies offer free flowing powders and protect the homogeneous blend against oxidation and evaporation to help preserve freshness over shelf life. Combined with our extensive portfolio of natural ingredients our teams can tailor Integrated Solutions to meet the needs of your next powder beverage experience.
Delivery solutions tailored to your needs
Component content
Delivery solutions tailored to your needs
Whether you want to create a clean label instantly soluble powder for a healthy beverage concept, deliver new sensations in a well-loved snack, or boost the efficacy of a nutritional supplement, our PureDelivery® range and expertise in Delivery Systems can help you build a product experience that is sure to delight consumers.
Share your specific challenges and we'll help design a tailored delivery solution to meet your needs.