Dividend
A strong commitment to return cash to shareholders
Givaudan's history of delivering with excellence is supported by strong financial performance and the creation of significant value for shareholders.
We have a long track record of delivering on our financial ambition which has created shareholder value through a year-on-year increase in the dividend paid to shareholders since our IPO in 2000.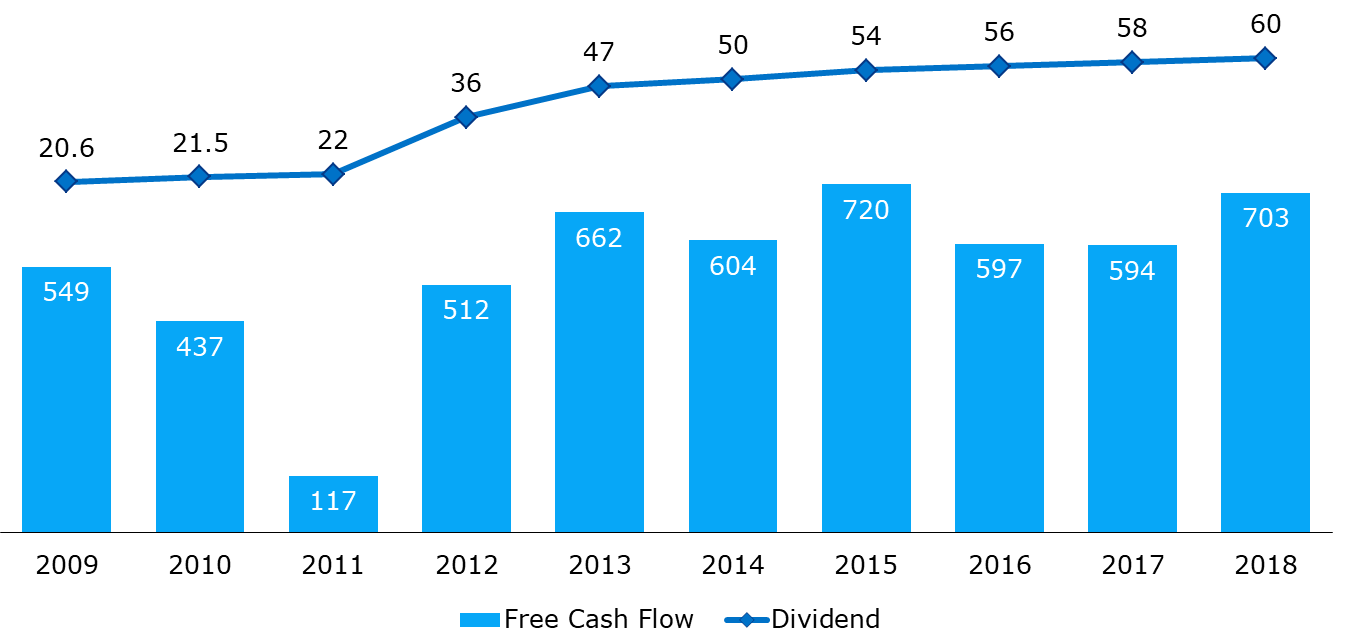 Looking at the last 10 years: Givaudan's free cash flow (in million CHF) and year-on-year increase of the dividend (in CHF) which we returned per share to our shareholders
In 2018, Givaudan's free cash flow was CHF 703 million. At the Annual General Meeting on 28 March 2019, Givaudan's Board of Directors approved a cash dividend of CHF 60.00 per share for the financial year 2018, an increase of 3.4% versus 2017.
Dividends 2009 - 2018
Financial
year

Dividend

per share (CHF)

Increase

Date of
payment

Dividend
yield¹

Payout
ratio

2018

60.00

3.4%

3 April 2019

2.6%

83%

2017

58.00

3.6%

28 March 2018

2.6%

74%

2016

56.00

3.7%

29 March 2017

3.0%

80%

2015

54.00

8.0%

23 March 2016

3.0%

80%

2014

50.00

6.4%

25 March 2015

2.8%

82%

2013

47.00

30.6%

27 March 2014

3.7%

89%

2012

36.00

63.6%

28 March 2013

3.7%

81%

2011

22.00

2.3%

29 March 2012

2.5%

81%

2010

21.50

4.4%

31 March 2011

2.1%

58%

2009

20.60

3.0%

6 April 2010

2.5%

88%
¹ Based on market price at year-end