Consejo 9: Use siempre una contraseña segura
عربى | Bahasa Indonesia | 简体中文 | Nederlands | Français | Deutsch | English | 
हिंदी | Magyar | 日本語 | Bahasa Melayu | Português | русский | Español
---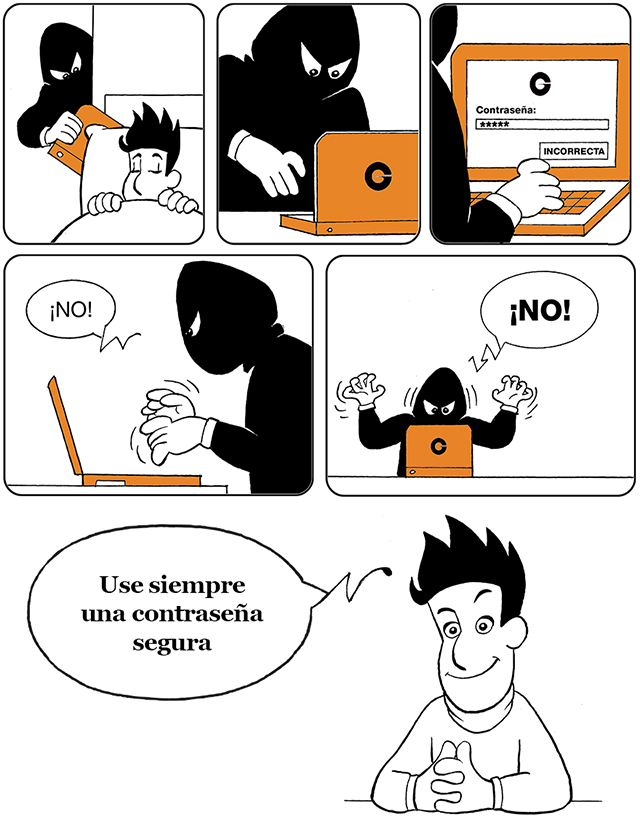 ---
Recordatorio: Necesitamos su ayuda
Nos encontramos cerca del final de la campaña y nos gustaría recordarle nuestra encuesta sobre ciberseguridad.
Por favor, dedique 5 cinco minutos y haga clic aquí para responder a la encuesta sobre ciberseguridad.

---
Los riesgos
Las contraseñas que se adivinan, roban o comparten, pueden dar lugar a:

la revelación de información personal (como correos electrónicos, fotos, contactos, etc.) o información empresarial confidenciales.
sabotaje (como el borrado de todas las fotos personales y publicación de información falsa en su nombre, etc.)

Usar la misma contraseña en varios sitios web es peligroso: Si se piratea uno de los sitios web, los piratas informáticos pueden acceder a todos los demás sitios donde se use la misma contraseña y robar información, dinero o documentos confidenciales.

Compartir las contraseñas, incluso con las personas en las que confía, es peligroso:

Pueden, de forma voluntario o accidental, acceder a su información personal (como información de RR.HH. en Engage)

No sabrá cómo protegerán SU contraseña frente a un posible revelación (como escribir SU contraseña en una nota adhesiva para recordarla)
---
Consejos útiles
Mantenga la PRIVACIDAD de su contraseña y NUNCA la comparta con nadie (salvo con el servicio de atención al cliente de Givaudan, a petición, y solo si está seguro de que está en contacto con un empleado de dicho servicio)

Siga estos simples métodos para crear contraseñas SEGURAS que pueda recordar:

Elija una frase que recuerde fácilmente:
I will go for Christmas holidays to the mountains! (Iré a la montaña durante las Navidades)
 
Elija la primera letra de cada palabra de una frase:
I will go for Christmas holidays to the mountains!
 
Combine mayúsculas, minúsculas, números y caracteres especiales:
I will Go 4 christmas Holidays 2 The Mountains!

Y su contraseña sería: IwG4cH2TM!
 

Use una aplicación de almacenamiento de contraseñas para guardarlas y ayudarle a tener distintas contraseñas para cada sitio web: [más información aquí].
---
Estadísticas alarmantes

El 73 % de las personas usan la misma contraseña para la banca en línea, así como para su acceso al correo electrónico y otros inicios de sesión. De ese 73 %, un gran número usan la misma contraseña para todo.

En 2013, se robaron de Yahoo tres mil millones de contraseñas, lo que puso en peligro otros servicios.

El 63 % de las violaciones de la seguridad de los datos se debían a una contraseña débil, defectuosa o robada.