Tip 3: Vertrouw mobiele apps en browserextensies niet
عربى | Bahasa Indonesia | 简体中文 | Nederlands | Français | Deutsch | English | 
हिंदी | Magyar | 日本語 | Bahasa Melayu | Português | русский | Español
---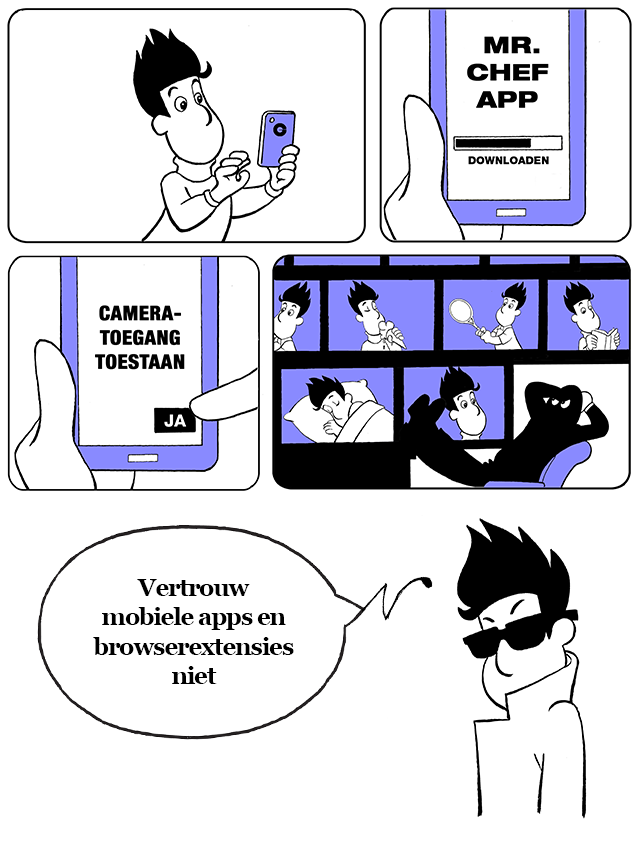 ---
De risico's
| | |
| --- | --- |
| | Apps kunnen worden besmet met malware en belangrijke gegevens stelen op uw apparaten (zoals gezinsfoto's, internetactiviteiten, emails, uw lijst met contactpersonen of documenten). |
| | Of ze bespioneren u met behulp van de microfoon en camera of nemen uw telefoongesprekken op. |
| | Ze kunnen zelfs sms'jes onderscheppen die uw bank naar u verzendt om u aan te melden, of uw geld stelen. |
| | Ook kunnen ze dure telefoongesprekken op uw kosten maken. |
---
Nuttige tips
Lees de opmerkingen van andere gebruikers als u een app in uw favoriete app-store selecteert; vaak vormen deze een goede indicatie van potentiële problemen.

Controleer de toegangsrechten die de app of extensie vereist:

Beperk deze tot een minimum. Gebruik uw gezond verstand om te zien of de machtigingen relevant zijn voor de toepassing.

Als er toegang tot de camera en/of microfoon wordt gevraagd, kan uw foto of stem mogelijk naar de aanbieder worden verzonden.
---
Zorgwekkende statistieken

Wereldwijd bedragen de kosten voor cybermisdrijven naar schatting $ 600 miljard.

99% van de Androidtelefoons is kwetsbaar voor het downloaden van schadelijke apps.

De gemiddelde persoon heeft een kans van één op zes om een schadelijke app te downloaden.