Givaudan as an investment case
Givaudan has a strong track record of delivering with excellence, which is translated in a strong financial performance and the creation of significant value for shareholders.
CHF
64.00
DIVIDEND PER SHARE
We are proud of the value that we have created for shareholders since the Company was listed on the Swiss stock exchange in 2000 (GIVN). By delivering on our 2020 strategy and investing for our long-term growth we continue creating value and building on a heritage of success.
The year-on-year increase in the dividend paid to shareholders, as well as the value we have created through share repurchase programmes and the increase in our share price demonstrates our success in creating shareholder value. 
Givaudan represents a compelling proposition for investors who are looking for a high-quality, well-managed, defensive and low-risk stock. It is an investment in responsible growth and shared success.
The flavour and fragrance industry is attractive because of its:
Key products that are the most important part of consumer staples and the decisive factor behind the repurchase decisions of consumers,
High barriers to entry,
Specialised product competition that is focused on quality and not on price,
Diversified exposures to all regions and market segments (including premium, private label and regional players in emerging markets),
Emerging markets/urbanisation-driven growth model, and
Defensive, relatively recession-proof offering.
As the leader in the industry we have the capabilities and resources to invest more than any of our competitors in R&D in order to be able to deliver solutions which help our customers to deliver consumer preferred products. In addition, we can serve as the preferred choice for human talent as well as the partner of choice for customers who are seeking flavour or fragrance products or solutions. We generate a consistently high level of cash flows that are invested to further develop the business and to provide long term attractive returns for shareholders.
We have a broad and differentiated portfolio that is supported by unrivalled capabilities and innovation. Our competitive edge is led by a strong culture of innovation which drives our long-term development of cost-effective and long-lasting differentiating solutions.
69
CREATION AND 
APPLICATION
CENTRES
CHF 
536
MILLION R&D SPEND
IN 2020
OVER
3,600
NUMBER OF
ACTIVE PATENTS
>122,685
PRODUCTS
SOLD PER YEAR
Selected innovation initiatives
Consumer
sensory insights

Consumer insights throughout the creation cycle
Consumer testing network – survey, panels, big data, etc.
Givaudan's Chef's Council and TasteTrek®

Innovation
centres

From molecular research to application expertise
New technologies in delivery systems (e.g. encapsulation)
Market specific capabilities around the globe

Innovators
and partnerships

Extended innovation ecosystem globally
Selected partnerships with innovators, accelerators and with academia
Plugged into disruptive and digital trends

Supplier enabled
innovation

Strategic partnerships with key suppliers
Focus on biotechnology/biotransformation
Sustainable sourcing philosophy
Givaudan focuses on industry-leading growth and profitability levels, and acquisitions are a part of our ambition as we expand into new areas such as naturals, active beauty and integrated solutions.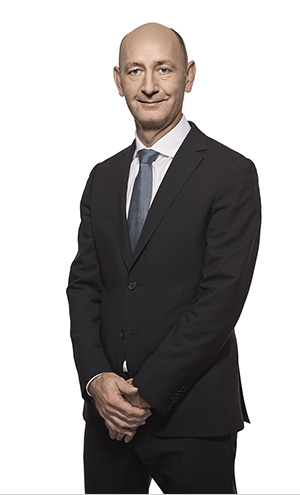 "Key to our strategy of value creation is a particular focus on areas where we can deliver winning solutions for our customers. In the last four years Givaudan has announced the acquisition of nine companies, each of which supports our strategic priorities of expanding our offer in naturals, active beauty and integrated solutions."


Tom Hallam, Chief Financial Officer
Acquisitions and investments will continue to play an important role in our strategy of value creation for all stakeholders.