Givaudan as an investment case
Givaudan represents a compelling proposition for investors who are looking for a high-quality, well-managed, defensive and low-risk stock. 
From our historic roots in Fragrances in Grasse in 1768 to our extended value proposition in Fragrance & Beauty and Taste & Wellbeing, Givaudan has pursued an historic policy of invention and acquisition, of creativity, passion and innovation, always with an eye to the future, enriching the world of scents and taste. Since our IPO in 2000 on the Swiss Stock exchange, we have solidified our industry-leading position.
Five reasons to invest in Givaudan
1. Our creations are critical to the success of our customer

2. A unique business model

3. Naturally hedged portfolio for consistent growth

4. A research-driven innovation process

5. Sustainable value creation driven by our purpose

Together with our customers, our creations inspire every day emotions and delight millions of consumers the world over. The flavour and fragrance industry is attractive because of its:
Key products that are the most important part of consumer staples and the decisive factor behind the repurchase decisions of consumers,
High barriers to entry,
Product competition that is focused on specialisation and not on price,
Emerging markets/urbanisation-driven growth model.
Over the last few years, we have expanded our portfolio in a significant way and are moving beyond the flavour and fragrance (F&F) industry and operating in a significant addressable market.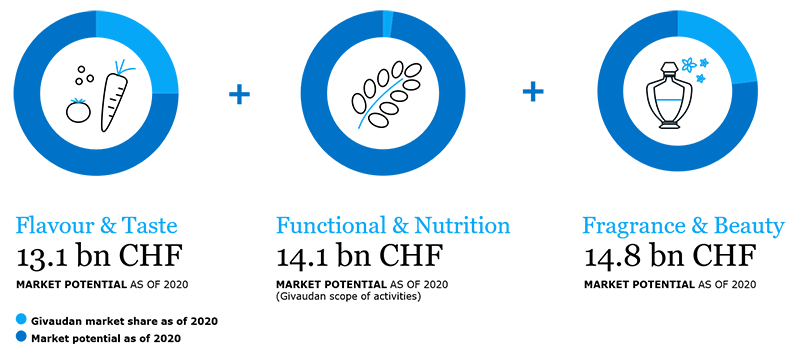 Winning business assumes: being on a core supplier list, submitting a brief, developing a solution and being selected by the customer.

Our products are unique co-creations with our customers:
Consumer-differentiating, bespoke, value-added Fragrance & Beauty, Taste & Wellbeing solutions driven by innovation
Agility and service are key
Scent and taste determine consumer purchase and repeat decisions whilst representing only a minor fraction of costs 0.5-2.0% in flavours and consumer fragrances to 4-6% in fine fragrances, i.e. a very minor portion of the end product costs
High barriers to entry and high shifting costs for customers.

Mastering complexity is a key feature of our space:
A research-driven innovation process and a deep understanding of consumer preferences around the world.
Sustainability goals creating significant innovation opportunities (e.g. move from non-renewable to renewable, etc.).
IP / formulae owned by Givaudan.
Mastering high complexity and volatility at every step:
> 11,400 raw materials and a sophisticated supply chain with over 2,500 raw material suppliers
> 122,600 products made to order, delivered just in time to > 10,000 customers
> 310,000 customer submissions / product briefs managed annually, and ca. 15% of our portfolio up for review due to the life cycle of products
Compliance and regulations.
Our purpose is our guiding star to drive sustainable long-term performance while leading the way to improve happiness and health for people and nature. It defines why we do what we do at Givaudan, and is supported by bold, measurable ambitions demonstrating our aim to be a sustainable business that acts as a force for good.
Broad product offering supported by mega-trends.
Diversified exposure to all regions (mature and high growth markets) and customer segments (including global, private label, local and regional players, and e-commerce).
Defensive, relatively recession-proof portfolio.
MATURE
MARKETS

58%

OF SALES

HIGH GROWTH
MARKETS

42%

OF SALES

FULL TIME
EMPLOYEES

15,852

 

181
LOCATIONS

77
PRODUCTION SITES


All figures as of 31 December 2020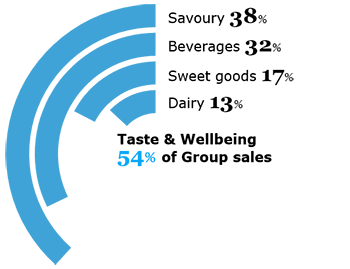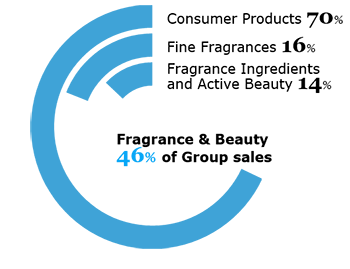 We operate in the B2B market offering our products to global, regional and local food, beverage, consumer goods, fragrance and cosmetic companies. Both Taste & Wellbeing and Fragrance & Beauty have a production, sales and marketing presence in all major countries and markets as well as research and development organisations. They share resources and knowledge in the areas of research and consumer understanding, and benefit from a strong platform of capabilities in corporate and support functions.

As the leader in the industry we have the capabilities and resources to invest more than any of our competitors in R&D in order to be able to deliver solutions which help our customers to deliver consumer preferred products.
69
Creation and application centres

​Over 122,600
products sold per year

CHF 536 million
R&D spend in 2020
8.5% of sales

Over 500 employees
in Science & technology

Over 3,600
active patents
  

Innovation initiatives and priorities
Supplier enabled innovation
Partnerships with bioscience companies

Delivering differentiating technologies and solutions in Taste & Wellbeing: nutritional and functional ingredients (clean label delivery systems, health and wellbeing solutions etc.)

Enabling novel consumer experiences in Fragrance & Beauty: naturals, new sensory experiences, sustainable new molecules and precursors etc.
Strong and sustainable financial performance
We have a strong track record of delivering with excellence, which is translated in a strong financial performance and creation of significant value for shareholders. We generate a consistently high level of cash flows that are invested to further develop the business and to provide long term attractive returns for shareholders.

2016-2020 strategy successfully completed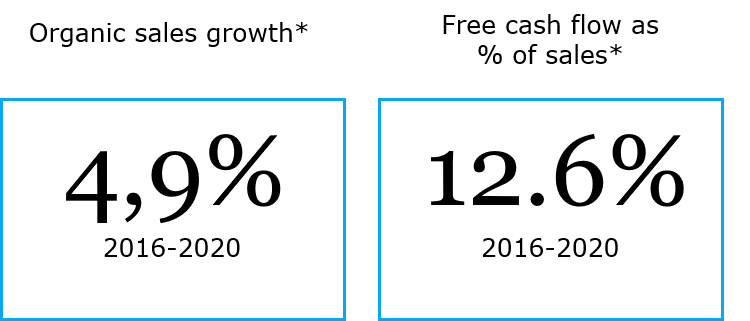 * Over the five-year period 2016-2020

In August 2020 we announced our new 2025 strategy which sets out our roadmap to deliver sustainable value creation over the next five years for all our stakeholders. Ambitious financial targets remain central to our strategy roadmap, along with the addition of purpose linked targets to show the progress we want to make towards our longer term purpose ambitions in the areas of creations, nature, people and communities.

SALES GROWTH

4.0-5.0%

2021 – 2025
Average like-for-like1 sales growth

FREE CASH FLOW

>12% of sales

2021 – 2025
Average FCF2 as % of sales

PURPOSE COMMITMENTS

Purposed linked targets

2021 – 2025
Progress towards all published
purpose targets
Like-for-like (LFL) is defined as: (a) sales calculated using the invoicing exchange rates of the prior year, (b) excluding sales of businesses acquired from the acquisition date until the period end date, up to 12 months from the acquisition date, and (c)  excluding sales of the businesses disposed of from the disposal date until the period end date of the comparable prior period.
Free Cash Flow (FCF) refers to operating cash flow after net investments, interest paid and lease payments.
 
Since IPO in 2000 substantial value has been created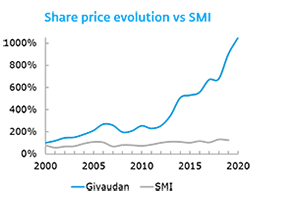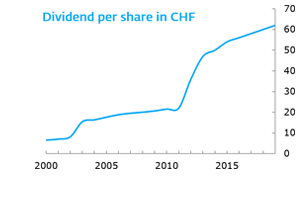 > CHF 35 billion of total shareholder return since the IPO.
Average annual yield of 13.3% vs 4.1% of SMI.
 
Acting as a force for good
As a purpose-led company, we can go even further to make our world a happier and healthier place.

Our purpose, a guiding star in our 2025 strategy, leads the way to increasing our positive impact on society and the planet in order to ensure our sustainable long-term performance. We hold ourselves accountable to our purpose through bold, measurable ambitions, including our B Corp certification, to ensure we live up to being a successful, sustainable business acting as a force for good.
"Our business has existed for over 250 years and during this time we've worked hard to create a positive impact. As we grow together with our customers, this heritage, together with our experience and external recognition gives us confidence in achieving our highly ambitious purpose-related targets which encapsulate our approach to ESG."
   
Expanding our portfolio over time
Givaudan has a desire to create value for its customers, and ultimately, for all of its stakeholders, mostly through organic growth. In addition, acquisitions have brought complementary strength and capabilities:
expanding our global footprint and customer base;
responding to evolving consumer preferences in new ways (naturals, beauty, sense, health and nutrition).

"Key to our strategy of value creation is a particular focus on areas where we can deliver winning solutions for our customers. In the last four years Givaudan has announced the acquisition of nine companies, each of which supports our strategic priorities of expanding our offer in naturals, active beauty and integrated solutions."
Tom Hallam, Chief Financial Officer
Acquisitions and investments will continue to play an important role in our strategy of value creation for all stakeholders.