Tip 5: Jangan mengklik tautan atau membuka lampiran pesan yang sumbernya tampak tidak bisa dipercaya
عربى | Bahasa Indonesia | 简体中文 | Nederlands | Français | Deutsch | English | 
हिंदी | Magyar | 日本語 | Bahasa Melayu | Português | русский | Español
---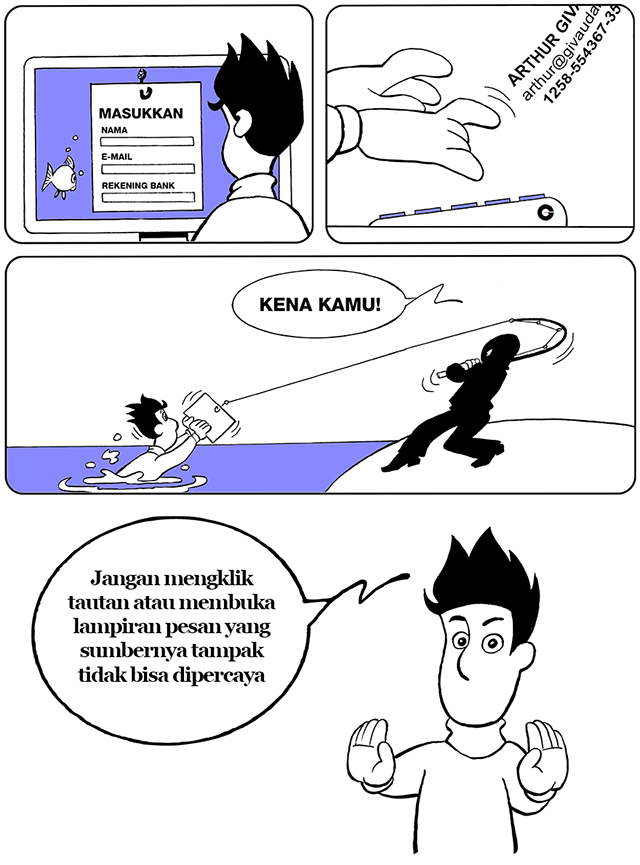 ---
Risiko
| | |
| --- | --- |
| | Tautan atau lampiran di email dapat terinfeksi malware. Malware itu dapat menginfeksi perangkat Anda dan merusak seluruh data. |
| | Itu juga dapat memata-matai Anda dan mencuri data rahasia atau uang (mis., akun perbankan elektronik). |
| | Atau itu juga bisa mencuri kata sandi pribadi atau bisnis dan meniru akun Anda untuk mengirim email spam atau menginfeksi kolega dan teman dengan malware. |
---
Tip Berguna
Berhati-hatilah selalu dengan e-mail yang memiliki lampiran atau tautan tertanam: Sekalipun pengirim tampak familier, selalu cek ulang sebelum mengklik lampiran atau tautan. Memalsukan identitas teman merupakan metode sangat ampuh yang digunakan peretas untuk memasukkan virus ke perangkat Anda.

Unduhlah file dari sumber tepercaya saja. Biasanya peretas memperdaya Anda agar mengunjungi situs web yang tampak valid untuk mencuri informasi sensitif milik Anda (mis., memalsukan situs web bank Anda).

 

 

Selalu cek keamanan situs web dengan melihat bilah alamat peramban Anda:
  


Jagalah agar perangkat Anda selalu termutakhirkan dan pastikan Anda melakukan pencadangan rutin untuk mengurangi kemungkinan kehilangan informasi jika malware menginfeksi perangkat Anda.
---
Statistik yang Mengerikan

95% dari semua serangan terhadap jaringan perusahaan adalah akibat dari berhasilnya pengelabuan terhadap objek tertentu (spear phishing).

Biaya rata-rata yang ditimbulkan oleh serangan pengelabuan (phishing) untuk perusahaan berukuran menengah adalah $1,6 juta. 76% perusahaan dilaporkan menjadi korban serangan pengelabuan (phishing) pada 2017.

30% of phishing messages get opened by targeted users and 12% of those users click on the malicious attachment or link.