Dica 9: Sempre use uma senha protegida
عربى | Bahasa Indonesia | 简体中文 | Nederlands | Français | Deutsch | English | 
हिंदी | Magyar | 日本語 | Bahasa Melayu | Português | русский | Español
---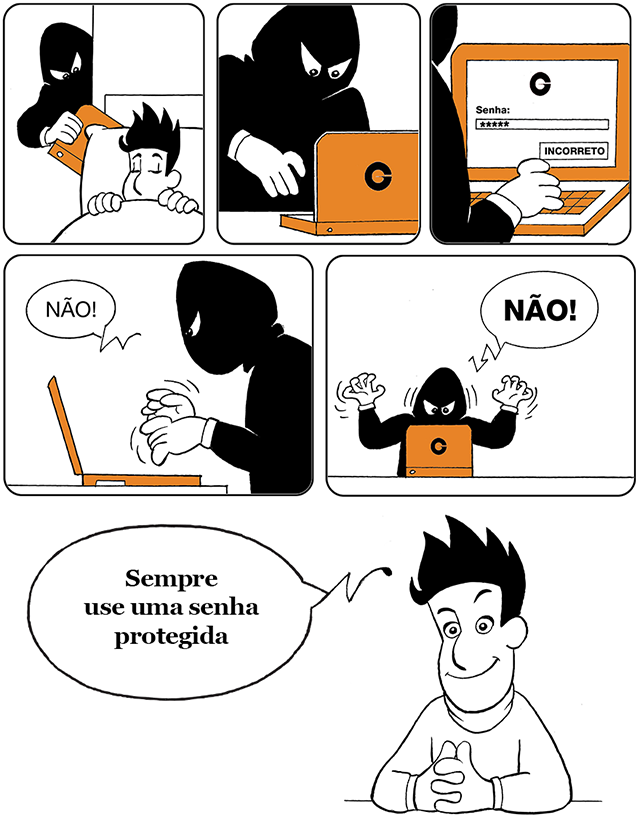 ---
Os riscos
Senhas que são descobertas, roubadas ou compartilhadas podem levar a:

divulgação de informações pessoais (p.ex.: e-mails, fotos, contatos, etc.) ou confidenciais e comerciais
sabotagem (p.ex.: eliminação de todas as fotos pessoais, publicação de informações falsas em seu nome, etc.)

Usar a mesma senha para vários websites é perigoso: Se um dos websites for invadido, os hackers podem ter acesso a todos os outros onde a mesma senha for usada e roubar informações, dinheiro e documentos confidenciais.
 

Compartilhar senhas até com as pessoas que você conhece é arriscado:

Elas podem voluntariamente ou acidentalmente acessar suas informações pessoais (p.ex.: informações pessoais de RH no Engage)

Você não sabe como eles irão proteger SUA senha de divulgação (p.ex.: escrever SUA senha num lembrete para lembrar)
---
Dicas úteis
Mantenha sua senha PESSOAL e NUNCA compartilhe com ninguém (exceto com o departamento de serviços da Givaudan, se assim pedido, e somente se você tiver certeza de que está em contato com um funcionário genuíno desse departamento).
 

Siga esses métodos simples para criar senhas FORTES que você pode lembrar:

Escolha uma frase que você se lembrará facilmente:
I will go for Christmas holidays to the mountains!
 
Pegue a primeira letra de cada palavra:
I will go for Christmas holidays to the mountains!
 
Misture maiúsculas, minúsculas, números e caracteres especiais:
I will Go 4 christmas Holidays 2 The Mountains!

A sua senha é: IwG4cH2TM!
 

Use um aplicativo de gerenciamento de senhas para armazenar suas senhas e ajudar você a ter uma senha diferente para cada website. [mais informações aqui].
---
Estatísticas assustadoras

73% das pessoas usa a mesma senha para e-banking e para o e-mail e outros logins. Desses 73%, um grande número usa a mesma senha para tudo.

Em 2013, três bilhões de senhas foram roubadas do Yahoo, comprometendo vários outros serviços.

63% das violações de dados confirmadas indicam senhas fracas, padrão ou roubadas.