Water shortages prompt sustainable solutions in India
An important part of Givaudan's approach to sustainability is the way we partner with employees to develop solutions to meet our operational needs and lay the foundations for the long-term future of the business.
By harnessing the creativity and determination of our talent, Givaudan is making great progress towards its goal of responsible growth and shared success.

Perhaps the most fundamental issue that we address through this employee-driven approach is our use of water. All life, including economic and social development, depends on the ready availability of water. In India, where Givaudan produces many unique flavours and fragrances, the pressure on water resources is the greatest it has been for many years. But our employees have responded to the growing crisis in their country with a universal commitment to take action; they have shown exceptional collaboration on a range of innovative projects to conserve water and reduce consumption; in one case, they even established a new source of water that now benefits the local community.
The contributions made by two projects in particular, one at our facility in Daman and the other in Jigani, were recognised in 2017 by the Executive Committee. Both sites lie in areas of water scarcity, a challenge not only for Givaudan's operations but also for those living in the wider community, particularly during the summer months.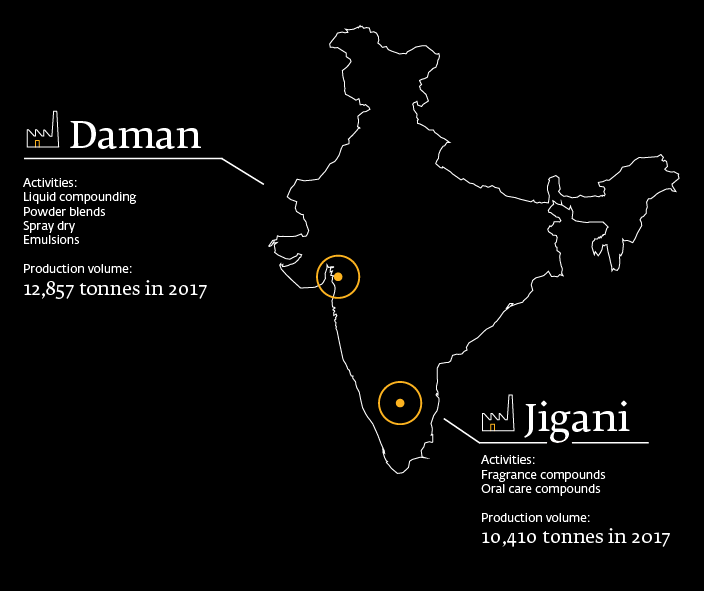 Their success has helped the Company to hit a key global sustainability target three years earlier than expected. Givaudan aimed to reduce water consumption by 15% by the year 2020, but thanks to a number of similar employee-driven projects around the world, we surpassed that target in 2017. By harnessing employee power through a focus on site-level eco-efficiency plans, Givaudan is making rapid progress towards all of our 2020 targets. In addition, our global effort enables our customers to reduce the environmental impact of their products, further establishing Givaudan as the partner of choice. 
READ MORE ABOUT OUR SUSTAINABILITY 2020 TARGETS
Water conservation in Daman
Swaminathan, Operations Director of Givaudan's flavours manufacturing facilities in Daman, said staff recognised they had a role to play in leading water conservation and were determined to make a difference.
"We are aware of the necessity for sustainable businesses to preserve the environment and are keen to find solutions to ensure that future generations are able to enjoy the privileges of clean air and pure water. This was the trigger for our project."
 
A cross-functional team including staff from Quality, Environment, Health and Safety, production and supply chain management came together in 2015 to find a solution.
Although progress had been made since 2012 to reduce water consumption, the team found scope to make further savings at the powder blending facility, which relied on large amounts of water to clean equipment between production runs. By planning longer production runs of similar variants, it was possible to reduce the frequency of in-process cleaning. Sales managers also played a role, advising on customer demand so that production could be planned accordingly.
The result was water consumption per batch fell by 20% on the previous year and there was a 22% fall in electricity usage. The change in approach also improved productivity by enabling maximum usage of available capacity.
For Swaminathan, the highlight was the team's commitment and collaboration among the site's stakeholders. "Together everyone always achieves more. To paraphrase Henry Ford: we came together, we kept together and we worked together to achieve success."
Successes in Jigani
Meanwhile, in Jigani, the problem of water shortage became acute when a local borehole that supplied all the water for the area ran dry during the summer of 2010.
Faced with a tough situation, the team took the bold step of re-commissioning an old well on the site. They also designed and installed an innovative rainwater harvesting system to keep the well topped up through the year. An overhaul of the water pipe network reduced leakage to zero and a reverse osmosis plant was installed to provide drinking water.
The team's actions were so successful that the site is now water rich, said Karthikeyan, the Regional Operational Support Manager.
"We now harvest more water than we extract from our well, and the remaining water stays in the subsoil where it is used by other local companies. Since 2011 we have reduced consumption on site by 38%, and our specific water consumption per tonne of product was reduced by 6% in 2017. During the same period manufacturing volume increased by 340%."

Karthikeyan, Regional Operational Support Manager
 
Karthikeyan said the project had created a universally positive feeling among employees at Jigani. "There is real excitement about our success. We are making a difference to the environmental future here, In fact, our rainwater harvesting system has been so effective, other local organisations have been inspired to consider similar projects."