Transforming the mood on the street into a winning scent is a challenge that's eagerly taken up by Givaudan's Creative Trends Forecaster, Melissa.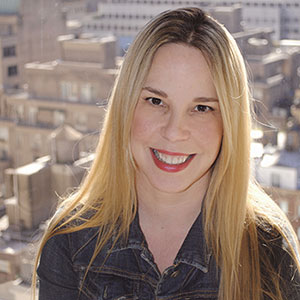 All brands need to know 'what's next' to ensure their products resonate with the public. Here, Melissa explains how the trend teams work hard to sift the passing fads from those real trend shifts that are here to stay.
Trends inform my daily life, but I view everything through the prism of the brand. 
As Fine Fragrances Marketing Director and Creative Trend Forecaster, I live, breathe and eat trends. As soon as I turn on the TV in the morning, or when I'm walking down the street, I'm absorbing and analysing what's going on. 
I relish being able to see what consumers are doing and then trying to understand the principles of why they buy and what's driving them. It's my job to connect the dots for our customers.
I listen to the 'cues' around me in society, from TV shows to art exhibitions.
Trends are a fundamental part of life: they can be emotional, such as what we're collectively feeling, or physical, such as what's hot on TV. Givaudan has a huge amount of in-house trends resources, so 50% of my job is to listen to what my colleagues elsewhere in the company are seeing and tapping into. The rest of my time, I observe. I watch what people are reading and eating, or where Generation X or Millennials are hanging out, and what they're doing; we immerse ourselves in different demographic groups depending on which products or category we're working on.
I distil trends into valuable insights for our perfumers and fine fragrance customers.
Everything we do is focused on providing insights for both our perfumery and development teams. Once we share emerging trend themes with our perfumers and creative teams, I extract the trends into customer reports and ensure the scope of the trend is on a 'mega' level, i.e. that it will 'stick' and be relevant for their business. We're less focused on seasonal runway or surface trends: we go deeper than that, we look at the backstory of patterns we see and consider how they relate back to fine fragrance.
There is growing recognition of the strength of women.
A key trend that we have been tracking in our TRENDblender Report is the EVEolution of 'woman power'. We see a movement that truly focuses on the emotional landscape of being 'uber feminine'. Women have the power to be breadwinners, the power to be sexy, the power to be strong. She has the power to make great changes. This shift in attitude towards a more feminised world view is one that brands and businesses must integrate. Brands need to centre on 'whole brain' traits, traditionally viewed as female, including collaboration, communication, teamwork and democracy. This tells us that fragrance needs to be a tool to communicate strength, independence and fearlessness.
We have a collective longing for empathy and humanity.
An additional mood we're picking up on is that, globally, we have an empathy deficit. In an instant, our world seems to turn from light to dark. Revenge and negativity are a large part of our landscape and we're consuming large amounts of this at a fast pace, thanks to the media. As a response, brands need to be more empathetic to counter this darkness and help consumers as 'lifestyle assistants' in a turbulent world. Empathy is a multi-layered trend that is catching on with consumers and brands and will ultimately influence the fragrances created by our perfumers.
Trends uncover opportunities for the future.
As a trend forecaster, it is my job to uncover and anticipate what is new and next in the world and to understanding the principles that motivate people. As a fragrance trend forecaster, it is my passion to detect and map these shifts and then distil these movements to help tell the scent story. To understand what it takes to get the consumer to pick up a fragrance, smell it and have it engage with them so deeply they feel it reflects who they are on many emotional levels. This is the prism through which we look at our customers brands to identify opportunities for them. As we look into our crystal ball to anticipate what the future of fragrance will be, we see that it is very bright indeed. We invite you to come smell the future.