TasteSolutions® Sweetness: smiles without sugar
Rebuilding a full and indulgent taste experience in sugar-reduced products. At Givaudan, we believe your consumer can have it all.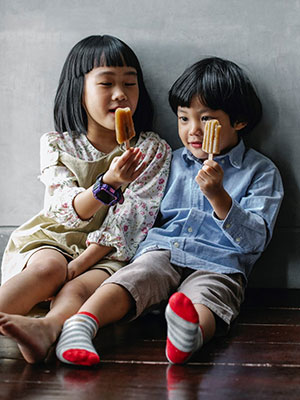 Developing sugar-reduced products doesn't mean depriving consumers of the full taste experience they've grown to love.
Co-create with us to find the perfect solution.
With TasteSolutions® Sweetness, we'll help you achieve the right sweetness by providing flavour alternatives while keeping your product's signature.
With a deep understanding of your formulation constraints, we can help you achieve your sugar reduction goals in a wide range of applications, including beverages, dairy, confectionery, bakery and snacks. 
With our best-in-class natural, proprietary and captive technologies, Givaudan is ready to deploy versatile solutions to meet your sugar reduction goals, achieving a great taste, a clean label, and consumer-friendly front pack labelling for your product, in your market, in your country.
The end result? A delicious, consumer preferred taste experience for your sugar-reduced food or beverage.
Learn more about sugar reduction challenges and solutions by registering for our Sweet Life mini-course.