At Givaudan, citrus is a global adventure. Centuries of commitment to citrus have enabled Givaudan to lead all aspects of this beloved ingredient. Around the world, citrus is a beloved ingredient in cooking and undoubtedly the number one flavour for beverages, from fizzy drinks to juices, teas and even alcoholic drinks.
Givaudan's objective is to help ensure its sustainable availability for a global market that constantly seeks new ways to enjoy citrus.  
Citrus origins
Did you know that cultivated citrus fruits are today believed to have originated from four ancestral species?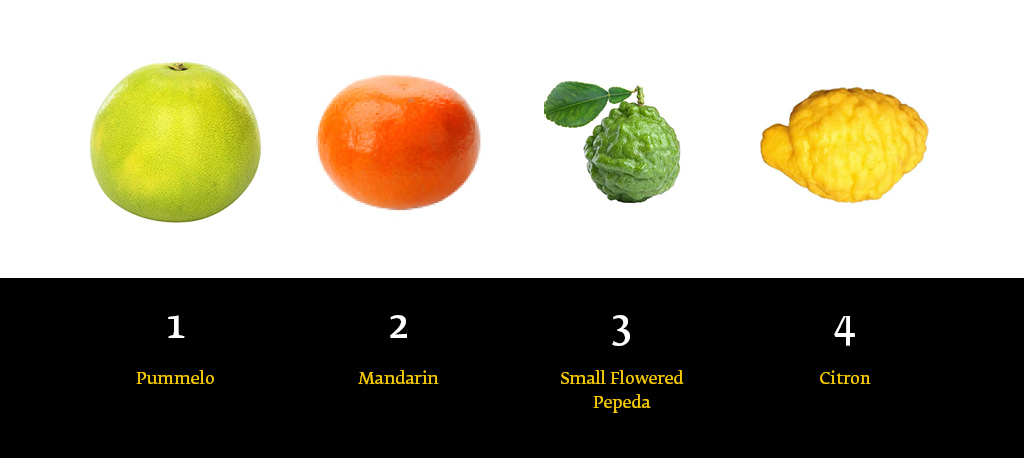 Various combinations of these four species have led to the hybrids we know and enjoy today: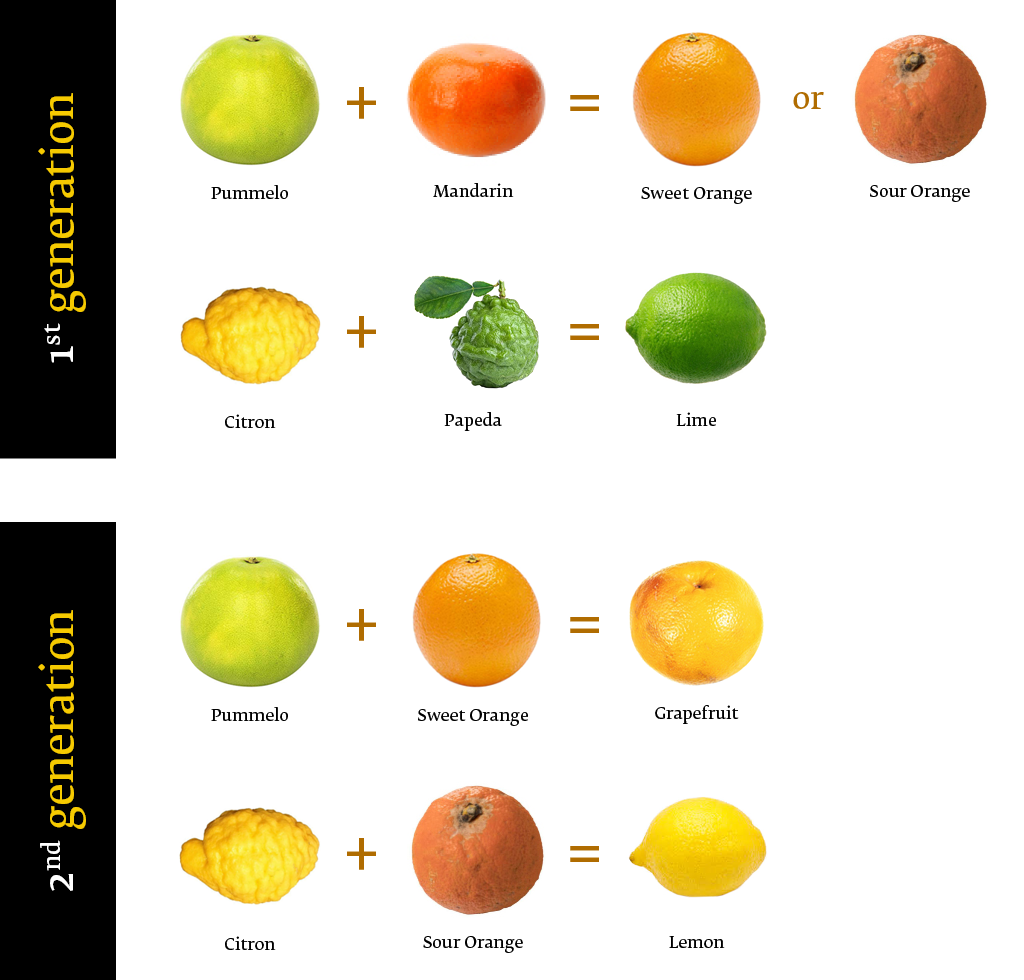 Our long-standing commitment to citrus
Givaudan's commitment to citrus dates back to 1796, when Dodge and Olcott began importing and selling essential oils. Ever since then we have developed a deep passion for delivering this profile that has almost magical capabilities to shift and appeal to consumers and cultures around the globe. Today, our commitment continues aimed at providing citrus sustainability under conditions that are extremely challenging to this much loved fruit.

Download our brochure
Discovery and inspiration with TasteTrek® Citrus
From the 1700s, when tall ships carried perfumes and oils across the oceans, to the 1930s and 40s, when famed researcher Ernest Guenther travelled the world in search of the best sources of essential oils, adventure and exploration has been deep in Givaudan's roots. That spirit lives on today, as we continue to seek inspiration and innovation outside the lab to all corners of the world. We call these adventures 'Taste Treks', and they have led to some amazing, and delicious discoveries.
Discovery and inspiration with TasteTrek® Citrus
Givaudan Flavours' TasteTrek® programme is key to exploring citrus. Each year Givaudan invites small groups of customers to the citrus groves to take part in the TasteTrek® experience. There, they can discover an amazing world of citrus cultivars and sample the delicious fruits right from the trees. These fruits offer Givaudan and customers endless inspiration for new citrus profiles, leading to the development of food and beverage products that consumers love.
This truly global programme dates back to 2006 and our first trek in California: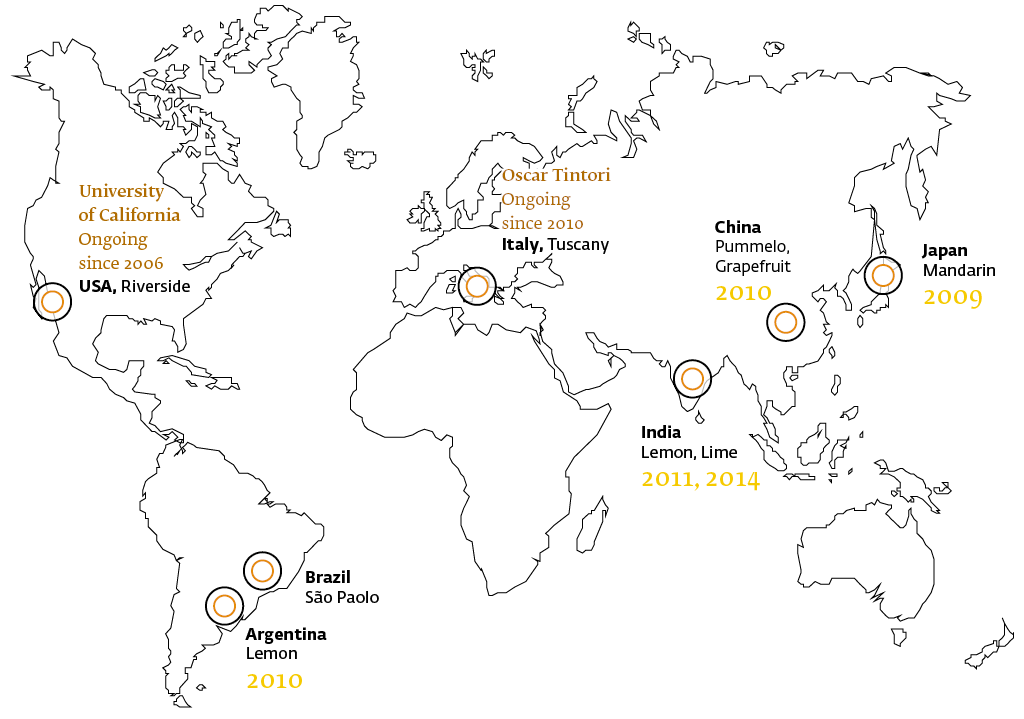 While citrus is loved by people everywhere, the varieties that exist from place to place are extensive and surprisingly different. From Japan to Italy, Brazil to California, the types of citrus that are grown, and loved, seem nearly endless. 
Citrus flavours exist in countless forms, from cold limoncello in Italy, to Nimbu Pani squeezed fresh on the streets of Delhi. For more than a decade, Givaudan has whisked its customers away to discover these wonderful profiles, bringing them to 'street level', for citrus inspirations and unique flavour combinations that help re-invent their citrus-based products
 

Experience Virtual TasteTrek® Citrus
Seeking out the most unique fruit from each country
Learn more about the amazing cultures, people, and citrus fruits from some of our taste treks around the world
Experience citrus like never before with Virtual TasteTrek® Citrus
Built on its long-term partnership with the University of California at Riverside (UCR), Givaudan has launched a multi-sensorial virtual reality tool for citrus beverage applications. Combining sight, sound and smell, the Virtual TasteTrek® Citrus experience enables customers to learn about the citrus market landscape and co-create their own flavours.
Created from the combination of 360° virtual reality videos and Givaudan's proprietary Virtual Aroma Synthesizer® (VAS) technology, Virtual TasteTrek® Citrus is a revolutionary tool that enables customers to stroll through UCR's Citrus Variety Collection, stop to learn about unique varieties, enjoy their delicious scents and create a new, personalised citrus flavour, all from the comfort of one's own office.
Watch the video to discover more about Virtual TasteTrek® Citrus
 
Our partnership with the UCR
Our partnership with the University of California at Riverside (UCR)
The University of California at Riverside is home to the world's premier citrus collection, The Citrus Variety Collection, housing over 1,000 varieties of fruits from around the globe. The research conducted at the collection is nearly as varied as the number of fruits, ranging from the development of new varietals to understanding how to prevent disease. Collaboration with the UCR typifies Givaudan's commitment to showing how serious we are about citrus; our partnership is without question a jewel in the crown of our citrus research.

Citrus grove at the University of California, Riverside (UCR)
Download our brochure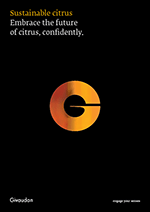 Since Givaudan began its collaboration with UCR in 2006, more than 30 Givaudan flavourists and flavour scientists from across the globe have trekked to the collection. In the groves at UCR, customers and flavourists are able to explore the unique flavour nuances of non-commercial citrus fruits, experiencing the cultural diversity of citrus. Over 200 fruits have been evaluated and over 70 fruits fully analysed for chemical composition. We turn this invaluable research into commercial solutions that surprise and delight consumers, worldwide.
Givaudan has closely collaborated with Dr Tracy Kahn, the curator of the Citrus Variety Collection. Dr Kahn leads a team of experts in citrus that has enabled TasteTrek® and Givaudan's broader citrus programme to thrive.

Dr Tracy Kahn, curator of the UCR Citrus Variety Collection and holder of the Givaudan Citrus Variety Collection Endowed Chair
"My work with Givaudan has been both important for the sustainability of citrus and the Citrus Variety Collection, and fascinating in that they can provide consumers the world over with flavours inspired by fruits from our grove."

Dr Tracey Kahn, Curator of the UCR Citrus Variety Collection
The sustainable future of citrus
Embrace the sustainable future of citrus, confidently
Weather, crop disease, civil unrest, land development, processor consolidation; without question, the citrus market is volatile. Add on steady growth of citrus based products and conserving citrus resources becomes both good business and responsible corporate citizenship.
In addition to protecting citrus biodiversity Givaudan has decades of experience in managing supply, formulating products using sustainable practices, and maintaining a pipeline of breakthroughs that provide sustainable innovation for today and tomorrow. Just one example is our line of SunThesis® products launched over a decade ago to help our customers' mitigate citrus supply chain risk. SunThesis® replacers are citrus compounds designed to function like original citrus oil. Key flavour attributes and functionality of citrus oils are recreated with our deep knowledge and understanding of citrus oil composition offering customers a continuity of supply, cost stabilisation and more control over the citrus supply chain.
Read more about our citrus sustainability and our sustainability approach
Citrus portfolio inspired by our discovery treks
The cultural and regional nuances of citrus have been captured in our extensive TasteTrek® activities spanning more than a decade. From rare varieties to local favourites, to the most commercially successful fruits around the globe, our collection includes flavours with relevance to many different countries that lead to the great tasting consumer products of tomorrow. Here is a small sample of some of our tasty discoveries: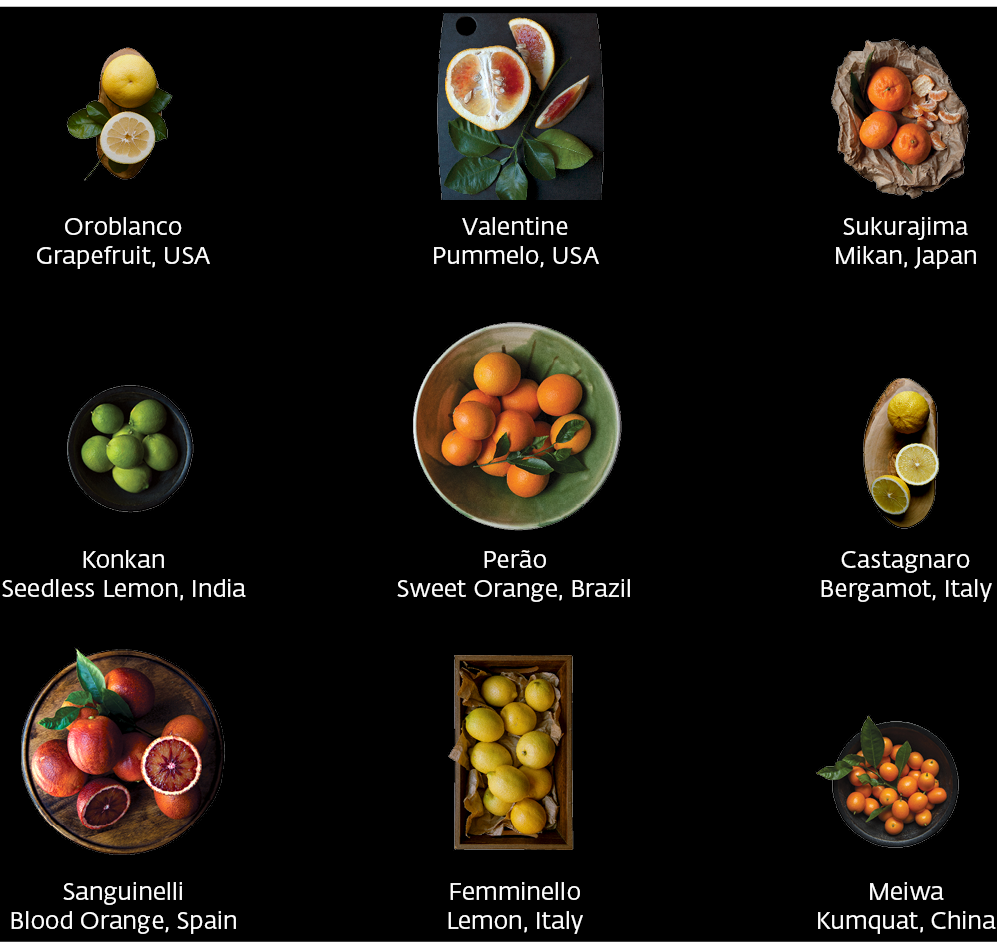 Embrace the future of citrus, confidently.