Givaudan Active Beauty launches New Purple 2364, a vibrant and sustainable vegan pigment for make-up
13 Sep 2022 · 08:55 CEST
Givaudan Active Beauty unveils the power and performance of New Purple 23641, a vegan pigment for use in make-up formulations. Extracted by green fractionation from Raphanus Sativus L., this new pigment complements our collection of sustainable alternatives to synthetic pigments introduced in 2020 with the launch of New Red 1805. 
For centuries, purple has been valued in different cultures as a colour representing elegance, consciousness and power. Named colour of the year 2022 by Pantone®, purple has earned a place as one of the hottest shades in make-up formulation and among those that go best with all skin tones. Our consumer study showed that 88%2 consider New Purple 2364 as a trendy shade, with 84% of respondents feeling that the colour went well with their skin tone. 
"We are pleased to offer our customers a valuable and efficient new ingredient for multifunctional use. New Purple 2364 is more than a vibrant pigment – it responds to consumer values with 100% vegan and natural origin content. It is also ID Pack-certified, a guarantee of transparent sourcing, product quality and good agriculture practices."

Yohan Rolland, Personal Care Category Manager for Active Beauty
 
The performance of New Purple 2364 has been tested and shows exceptional stability to temperature exposure and light radiation when formulated at 10%. Clinical evaluations on three different complexions (African, Asian and Caucasian) also demonstrate impressive results when applied on lips, lids and nails. The colour is vivid, intense and homogeneous. Following the multifunctional trend, New Purple 2364 also offers anti-oxidation, anti-glycation and anti-hyaluronidase protection for skin and nails.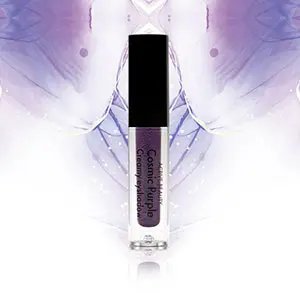 Would you like to give it a try?
Our Active Beauty team has specially formulated an inspiring concept: Cosmic purple. This creamy eyeshadow is an invitation to experience visibly vibrant yet sustainable make-up. 
Featuring New Purple 2364, Omegablue® and Cristalhyal® e-Perfection, beauty-lovers no longer need to choose between high-impact colour, pigmentation, soothing and smoothing effects. 
To learn more, we invite you to connect to uxbeauty.givaudan.com, our digital platform dedicated to cosmetic ingredients. 
Due to regulatory requirements, the equivalent of New Purple 2364 will be [N.A.S.]™ Radish 2364 for the United States. Contact your sales representative for more information
New purple natural make-up' - Home usage test - Givaudan AB - France - 110 women aged 18-50 - makeup regular users
 
---
About Givaudan
Givaudan is a global leader in Fragrance & Beauty and Taste & Wellbeing. We celebrate the beauty of human experience by creating for happier, healthier lives with love for nature. Together with our customers we deliver food experiences, craft inspired fragrances, and develop beauty and wellbeing solutions that make people look and feel good. In 2021, Givaudan employed over 16,800 people worldwide and achieved CHF 6.7 billion in sales with a free cash flow of 12.6%. With a heritage that stretches back over 250 years, we are committed to driving long-term, purpose-led growth by improving people's health and happiness and increasing our positive impact on nature. This is Givaudan. Human by nature. Discover more at
www.givaudan.com
.  
About Fragrance & Beauty
Givaudan Fragrance & Beauty craft inspired fragrances to perfume lives and memories, and develop innovative beauty and wellbeing solutions that make people look and feel good all over the world. Nature is both our responsibility and our most precious muse. We are just as committed to sustainability as we are to creating innovative products that satisfy consumer needs and anticipate their desires. With a collaborative approach that favours co-creation, we have built a diverse portfolio across personal care, fabric care, hygiene, home care, fine fragrances, and beauty, reflecting our multidisciplinary expertise. This is Givaudan. Human by nature. Learn more at
www.givaudan.com/fragrance-beauty
.  
About Givaudan Active Beauty
Givaudan Active Beauty crafts avant-garde cosmetic actives and high-end specialties that make people look and feel good. We bring nature's most precious gifts to the art of personal care in the form of biotech & botanical high-performing molecules, delighting consumers. Our extensive portfolio of award-winning skin & hair ingredients spans a variety of benefits for human beauty: from well-ageing and self-tanners to radiance, microbiome-friendly, soothers, hydrators, and more. Backed by solid scientific recognition and consumers' awareness, we remain at the cutting edge of this rapidly expanding market to deliver sustainable solutions supporting the growth of our customers. This is Givaudan. Human by nature. Learn more at
www.givaudan.com/fragrance-beauty/active-beauty
---
For further information please contact
Pauline Martin, Operational Marketing & Communications Manager
T +33 3 2688 8417
E pauline.martin.pm1@givaudan.com