Givaudan Active Beauty presents Omegablue®, an upcycled ingredient dedicated to skin repair
01 Mar 2021 · 09:00 CET
Givaudan Active Beauty launches Omegablue®, a cosmetic ingredient created from upcycled wild bilberries used for advanced skin repair. A plant that grows in Central and Northern Europe, we've upcycled the seeds to craft a natural ingredient to revert skin dryness, irritation, and desquamation caused by lipid barrier damage.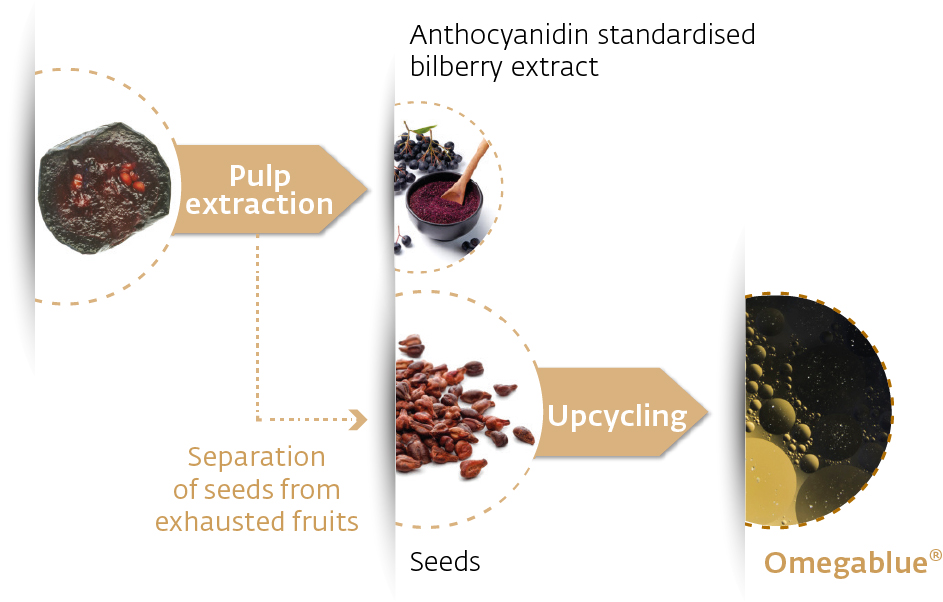 As waste reduction is a new sustainable standard today, consumers are re-evaluating their daily routines, including their beauty regimes, to contribute to minimising waste overall. Actually, beauty consumers are already acting in that direction as cosmetic products containing recycled or upcycled ingredients are appealing to 69%¹ of them, mostly in Brazil (80%) and China (74%). Consumers are ready to go forward, pushing upcycling beauty products as a top trend for the years to come, without compromising the main needs of their skin protection.
Traditionally used by the food industry for their juice and sugar, bilberries are also an amazing source of anthocyanidins extracted from the pulp and fruit skin for the supplement and pharma industries. Furthermore, the tiny seeds of the berries contain up to 20% of linoleic acid (omega-6) and α-linolenic acid (omega-3) in an optimal ratio; these compounds being both known for their capabilities to improve hydration and skin barrier functionality.
"Crafted by a supercritical CO2 procedure in an upcycled process from the seeds of this unique Vaccinum myrtillus berry, Omegablue® was developed as a topical soothing agent for sensitive and damaged skin. It effectively calms skin discomfort in a transient or curative way and contains sebum-like essential fatty acids forming a protective barrier from external agents."

Giada Maramaldi, Personal Care Category Manager
 
The efficacy of Omegablue® has been shown in surfactant-induced depletion during clinical tests. After 3 days from the damage, the treated area has completely restored the skin barrier function. Omegablue® is also significantly performant on chronic inflammation challenged skin (psoriasis) as it significantly decreases erythema severity, down to 27% and scales formation by 28% in four weeks. Even better results are shown on eczema challenged skin condition as erythema severity decreased by 37.5% and itch rating by 42.8%. Additionally, the PASI (Psoriasis Area Severity Score) and EASI (Eczema Area Severity Score) are markedly ameliorated by 27% and 35% respectively.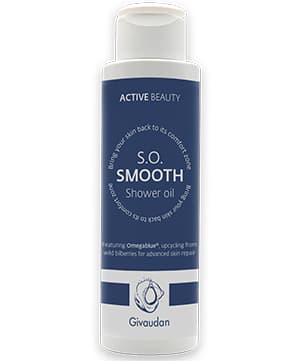 The extremely light and silky touch of Omegablue® has been formulated in S.O. Smooth, our shower oil crafted to highlight the power of our upcycled ingredient in a body care application. The formula will clean and protect the skin from external aggressions.
Enriched with chia oil, a natural ingredient that gently nourishes, it will restore and maintain the skin barrier (Omegablue®) to bring the skin back to its comfort zone.
Omegablue® is part of the Givaudan Active Beauty's upcycling collection launched in October 2020. This collection includes 8 other functional ingredients in various categories.
¹ CMI Global Study May 2020
---
About Givaudan
Givaudan is the global leader in the creation of flavours and fragrances, with its heritage stretching back over 250 years, the Company has a long history of innovating tastes and scents. From a favourite drink to your daily meal, from prestige perfumes to cosmetics and laundry care, its creations inspire emotions and delight millions of consumers the world over. The Company is committed to driving purpose-led, long-term growth while leading the way to improve happiness and health for people and nature. In the fiscal year 2020, the Company employed almost 16,000 people worldwide and achieved sales of CHF 6.3 billion and a free cash flow of 12.8% of sales. Let's imagine together on https://www.givaudan.com.
About Givaudan Active Beauty
Givaudan Active Beauty offers an extensive portfolio of innovative active cosmetic ingredients designed to bring beauty to the world. Inspired by the beauty needs of consumers worldwide, Active Beauty offers award-winning products for an expanded range of benefits including anti-ageing, self-tanning, soothing, hydrating, cooling, and more. Our cutting-edge technologies draw on science and nature to create high-performing molecules and functional agents, including customised carrier systems. Part of Fragrance & Beauty, Active Beauty leads the market in crafting innovative products supported by our strong expertise in advanced and applied sciences. We invite you to 'engage your senses' and learn more about Active Beauty at www.givaudan.com/activebeauty.
---
For further information please contact
Pauline Martin, Operational Marketing & Communications Manager
T +33 3 26 88 84 17
E pauline.martin.pm1@givaudan.com