Why indulgence and healthy eating are no longer a contradiction
Sweet Goods is one of Givaudan's broadest and most diverse categories. Health and wellness has been a significant focus of our activity in this segment in recent times.
Today, however, we're working towards 'total concept solutions' in Sweet Goods, factoring in consumer desires to deliver products that are both healthy and deeply satisfying.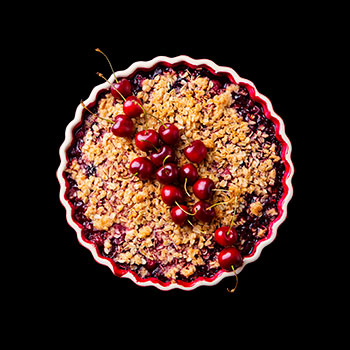 The Sweet Goods segment encompasses a wide range of product-types including baked goods such as biscuits and crackers, cereals, and confectionery, which covers chewing gum, chocolate and candies.
Even with such a broad segment offering, our focus remains constant – partnering with our customers to create products that surprise and delight consumers.
A holistic approach
Our expertise historically lies within our capabilities – put simply, Givaudan has the best flavours portfolio and technologies in the world. But today we're taking a truly holistic approach. We look at our customers' brands, try to understand their consumers' needs, and plug into market dynamics to develop a 'total concept solution'.
That means starting with the brand, the consumer experience, the emotional element within it, the base, the flavours and the technology to support it. An additional demand in the Sweet Goods category is providing an emotional aspect to sweet products, which might be termed 'the comfort of indulgence'.
Indulge yourself
The notion of 'healthy indulgence' represents a shift of emphasis for our customers. Our global trends programme, FlavourVision®, has identified a micro-trend showing how consumers want to 'have it all'. This straddles the boundaries between physical and emotional well-being, whereby a healthy product – like a reduced calorie chocolate bar, for example – also needs to taste great, to allow the consumer a well-earned moment of pleasure. Indulgence is absolutely key here, and there is a move towards fulfilling consumers' needs on all levels. This is surely a challenge, but Givaudan has the ability to turn our technical capabilities and insights programmes to deliver rounded solutions in sweet goods, so consumers can have it all.
TasteSolutions® provides balance
In practical terms, how does Givaudan maintain the rich, taste experience that actually denotes indulgence? The answer lies with our ability to put back those elements that are often taken out of customers' products. Health and wellness is extremely important in the sweet goods space, and a big challenge is in the complexity of the applications. The overall experience is not just taste, it's mouthfeel, crunch, crispiness, chewiness, softness and often a mixture of those elements that make-up an indulgent texture. There are many things to consider in making a product that is as delectable as it needs to be and is still healthy. For example, TasteEssentials® Dairy addresses creaminess and mouthfeel, while our TasteSolutions® programmes in Sweetness, Salt, Mouthfeel, Umami and Richness combine to modulate taste, rebalance flavour profiles and ensure that richness in the mouth goes way beyond just achieving salt and sugar substitution.
Health and wellness in emerging markets
In emerging markets there's a real demand now for health and wellness sweet goods products. In Africa and the Middle East, economies are opening up and creating more sophisticated consumer demographics. Givaudan is translating these realities into new sweet goods for these markets. Of course, we're still helping to address big health-related issues, but growing affluence, particularly in younger adults, is driving healthier choices too.
Sweet goods historically come with a choice: enjoy and pay the price, or deny and reap the rewards. That choice is no longer as stark, with Givaudan helping to create sweet goods that taste great, come with less sugar, fat and salt, and can even deliver added nutritional benefits. Put this in the context of an approach that pays great heed to the relevance of local flavours, and this makes for a sweet success.