Consumers the world over love vanilla in their ice creams and in hundreds of other food and beverage products. Although we're familiar with the phrase 'plain vanilla', there's nothing plain or simple about farming the orchids of the genus vanilla, wherein lies the rich, sweet flavour: growing and curing vanilla is a complex process that takes time, effort and expertise and is limited to a few, very specific, geographies of the world.
Discover more about our world of vanilla:
Madagascar with heart and soul
Madagascar with heart and soul
About 80% of the world's vanilla is grown in Madagascar and for decades, Givaudan has worked directly in the field with the Malagasy farmers who supply the globe with the finest quality vanilla. As one of the largest suppliers of vanilla, we have made strong commitments to the people of Madagascar, supporting vanilla farmers through extensive 'communities at source' projects, and assuring our customers a supply of the highest quality vanilla.
Watch some of the work we do in Madagascar, supporting the vanilla farming community and bringing the world its favourite flavour
Our joint venture in Madagascar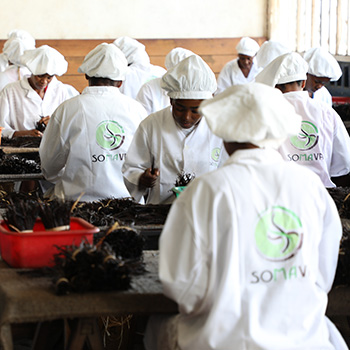 SOMAVA: our joint venture in Madagascar
Givaudan has created a joint venture in Madagascar called SOMAVA, with our longstanding partner, Henri Fraise Fils et Cie. By having our own people on the ground, we simplify the very complex vanilla process, partnering with vanilla farmers to improve the yield and quality of their vanilla crop.
Not only does sourcing vanilla in this way help secure future supplies, but the use of designated areas has also secured a sound supply of traceable and certified vanilla.
Traceable, certified vanilla
Traceable, certified vanilla
Working in partnership with local growers of certified organic vanilla offers us complete control over the growing, harvesting and curing of the vanilla. Certified farmers have the security of knowing that they have a guaranteed market for their product. They and their families also benefit from a rural development programme. When the programme began in 2010, we initially worked with 14 villages that depend upon on vanilla production for their livelihood. Since then, this figure has increased to 32 villages, representing some 3,000 organic vanilla farmers in total.

Working with communities
Working through the Givaudan Foundation, our community outreach helps producers in a number of ways, the first being food security. Our rice intensification production programme enables more than 700 farmers to increase the amount of rice they can harvest every year.
The second element is education. Through improving the local educational infrastructure by building schools, we can directly help children successfully prepare for adulthood. In addition to building schools, we also supply furniture and educational materials; we are committed to an ongoing investment in this area. To date, we have been involved in the construction or repair and maintenance of 27 schools offering a constructive place to learn for over 5,000 children.

The Givaudan Foundation programme also promotes alternative revenue streams, such as beekeeping, livestock and fishery, and helps provide better access to water. Vanilla is the world's favourite flavour and our programme in Madagascar is a perfect example of creating mutual benefits: what's good for our business is also good for the local farmers and the extended community.
Knowledge through experience
Knowledge through experience
As is the case with most great complexities, extensive experience builds knowledge and expertise. At Givaudan, vanilla is part of our DNA – in fact, it has been one of our core areas of focus for over 100 years. Throughout that time we have developed a deep understanding of all aspects of vanilla: extracts and supply; flavour creation; regulations in all markets of the world; labelling and declarations, to name a few. Over 100 flavourists work on vanilla creating over 1,000 new vanilla flavours annually. Their knowledge enables them to create superior extracts and flavours. All of this is driven by world-class consumer insights and sensory programmes. Whatever the need, if it relates to vanilla, Givaudan's knowledge, capabilities and supply chain can be your asset.
Extract knowledge enables superior flavour creation
Flavour creation knowledge enables superior extracts
"When developing a vanilla flavour we don't just aim at delivering a good top note, but we take into consideration all the dimensions of taste as well as the interaction with the base. This way we can differentiate our customers' profiles and push the boundaries of vanilla taste. This is the approach and philosophy behind our Vanilla programme."

Max, Principal Flavourist at Givaudan
Going beyond beans, a full vanilla portfolio
We offer one of the widest selection of vanilla profiles and deliver cost-effective vanilla as well as vanilla-based natural flavour solutions. Our vanilla portfolio ranges from origin specific vanilla (such as Bourbon/Madagascar, Tahitian) to natural solutions to replace ethyl-vanillin in your products. It also includes customised extracts (in liquid form, concentrates or powders) and natural vanilla flavours (from organic beans, fairly traded, kosher, halal and non-GMO solutions).
Discover more about our world of vanilla: