A fresh approach to chicken
From the kitchens of New York to the restaurants of Nagasaki, Givaudan has spent decades on a journey of culinary exploration to ensure that we truly understand the many nuances of chicken flavour, identifying and creating the most natural, rich and authentic flavours imaginable.
From chicken stocks, soups and bouillons, to grilled, fried, boiled and roasted chicken dishes, we have explored the chicken flavour universe – talking with 7,300 consumers in 14 countries as well as the world's leading chefs across four continents.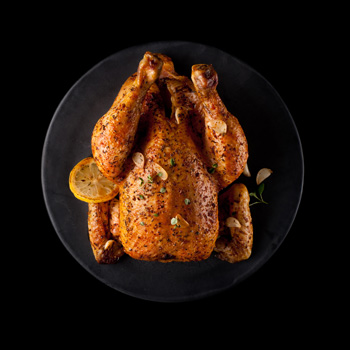 Our major investment into science and technology and the TasteEssentials® programme has resulted in the creation of new and better performing ingredients. These ingredients are brought together to create breakthrough chicken flavours – capturing the essence, signature and aroma of chicken for all world markets.
More and more, consumers are demanding healthier food options. That is why our range of ingredients includes natural, low-sodium, allergen-free and clean-label solutions. As well as health concerns, we know that good value is important to consumers' lifestyles. Chicken-based menu items remain an economic and popular low-fat protein choice, whether dining out or eating in, and chicken-based ready meals and culinary preparations for chicken dishes are universally popular.
We understand that preferences vary greatly from region to region, market to market – one of the reasons our Consumer Understanding and Insights teams are very involved during the ingredient development stage. Accordingly, we have created a unique flavour language to help our flavour creation teams and customers identify which combinations are likely to succeed locally. This allows us to translate the needs of customers' brands and their consumers into culturally relevant chicken products that stand out in a crowded market.