We go a long way to make citrus zing
Right across the world, when consumers reach for a refreshing cold drink the probability that it will have a citrus flavour is high.
While orange, lemon, lime and other citrus fruit drinks might seem traditional, it is an increasingly dynamic global market for innovation, with our customers looking for ever new ways to present these fruity flavour favourites.
Citrus is the world's favourite beverage flavour, and for Givaudan Flavours represents one of our largest commercial platforms.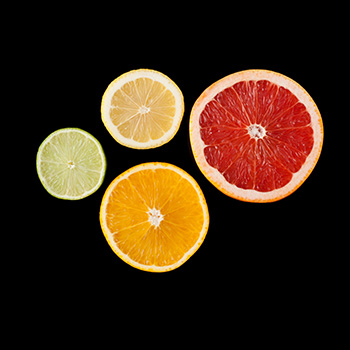 The challenge, however, is in keeping up with consumer demand for something fresh and new. TasteEssentials® Citrus is Givaudan's programme that strives to explore, discover and deliver fresh perspectives in citrus, opening up new opportunities for our customers to keep innovation flowing to consumers.
Making citrus more stable
One of the major challenges with citrus, and particularly citrus beverages, is how to create stable flavours, as citrus is inherently unstable in most beverage bases. Givaudan focuses on understanding the chemistry of citrus in order to create more stable ingredients and to hone best practices for achieving stability. To this end we've developed a set of capabilities to build citrus flavours with maximum performance in our customers' bases. This benefits our customers, enabling them to achieve desired flavours, which work for their product and supply chain.
Trekking for new local tastes
Givaudan has over 200 years of experience in making breakthroughs with citrus, and today that heritage of innovation continues. With TasteEssentials® Citrus we use our global presence to apply knowledge locally in the regions, thanks to the presence of Citrus Development Centres on every continent. Local collaboration enables us to understand our customers' products and their consumers' flavour needs, allowing us to develop customised solutions that resonate at a local level.
One area of great differentiation, which highlight's Givaudan's pursuit of discovery, is the TasteTrek® Citrus programme. TasteTrek® Citrus is all about getting our flavourists into the field, in order to experience different types of citrus fruits as they appear in nature. It helps us to understand what is grown locally in different regions and what flavours exist that might be of interest to us. Over the past decade we have had TasteTrek® Citrus events in California, Brazil, Argentina, Italy, China and India.
Orange, which is still the most popular citrus fruit in beverages, globally, offers a great example of diversity. Givaudan has captured the flavour characteristics of well over 100 different types of oranges and orange-related fruits, in part thanks to TasteTrek® Citrus. We compare and contrast what is unique about each variety – identifying whether a specific orange has a creamy, peppery, tropical or herbaceous note, for example. The aim is simple: to deliver unexpected nuances in citrus flavours that we know will surprise and appeal to consumers.
Powder juice drinks in Asia Pacific
A good example of the approach in action can be found in the Philippines and Indonesia, where Givaudan has applied consumer understanding techniques to develop flavours for powder juice drinks, which are very popular in parts of Asia Pacific. A comprehensive study in the region on orange powder juice drinks led us to understand what characteristics engage consumers, and how an orange flavour can be tweaked to enhance consumer preference and ultimately help our customers stay ahead of the competition.
Similar exercises for orange beverages have also been carried out in Latin America. It's this kind of extensive research and application that Givaudan does so well with citrus, through our TasteEssentials® Citrus programme.