Finding great alternatives
Givaudan's TasteSolutions® Sweetness programme delves deep into the science behind sugar to analyse its unique taste, mouthfeel and aroma at molecular level, and then find great alternatives.
Sugar reduction drivers
Sugar reduction is partly driven by rising obesity levels and consumers' desire for healthier products, but there are many other factors at play too. Government sugar tax initiatives can force manufacturers to rethink their portfolios, as can economics: in some regions, sugar is being replaced with less expensive artificial sweeteners to keep products affordable. We understand that different sugar reduction scenarios require different solutions, and ours are the most comprehensive in the industry.
A sweet future for sugar reduction
For over a decade, Givaudan's FlavourVision® programme has been helping customers keep track of consumer trends and develop their product concepts and flavours accordingly. Sugar reduction is one of the most important challenges facing the food and beverage industry today.
Watch the five trends that are shaping the future of sugar reduction
 
Going beyond sugar replacement
Going beyond sugar replacement
Our solutions have been developed by taste and sensory experts and are based on extensive research around three key factors:
Sweetness intensity

 

Sweetness quality

 

Consumer satisfaction

 
 

How sweet is it?

Our taste receptor research
gives us the broadest portfolio
of proprietary taste ingredients.

 

How similar to sugar?

Our groundbreaking sensory
methods bring sweetness
quality measurably closer to
sugar.

 

Is it fully enjoyable?

Our goal is flavours so
satisfying, that less sugar still
delivers full enjoyment.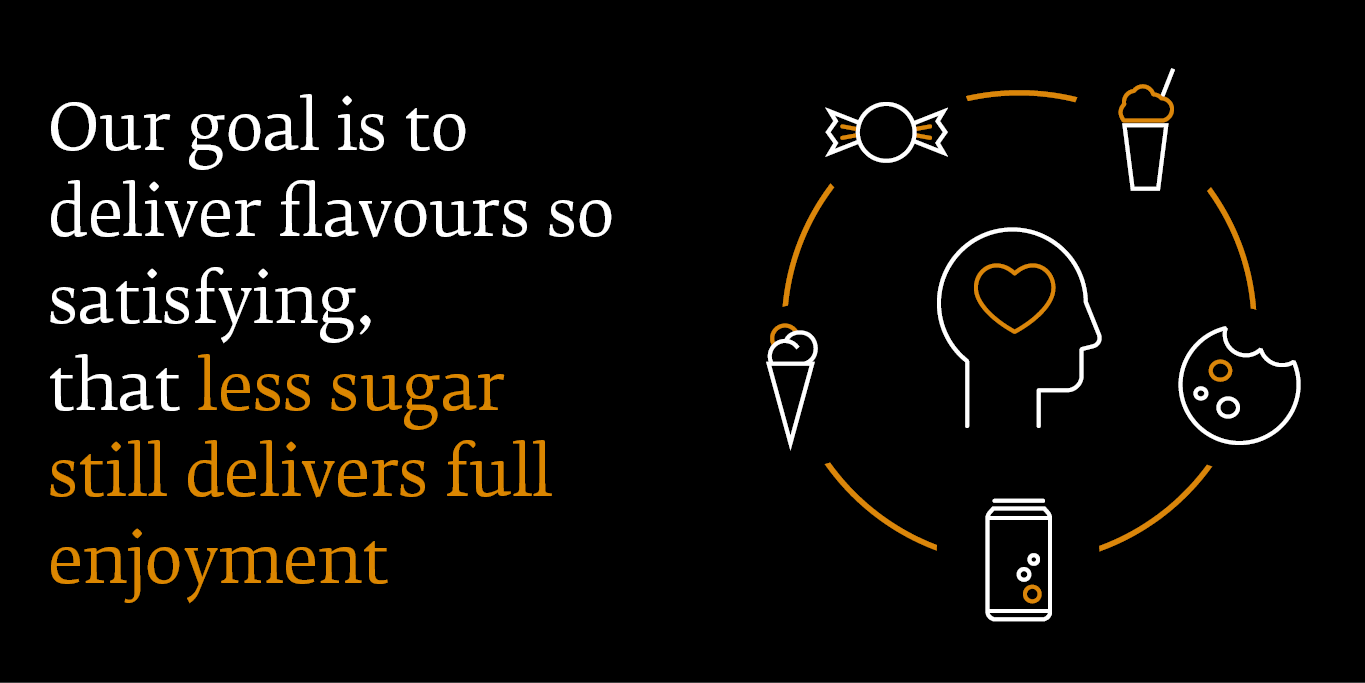 Fully satisfying low sugar products
Fully satisfying low sugar products: 
Givaudan's Chef's Council Sugar Reduction event, Amsterdam 2018
We're thinking differently when it comes to sugar reduction and consumers find the results amazing. We've taken a culinary approach and the creative insight of Michelin-starred chefs to make fully satisfying natural products with less sugar. Using inspiration from the dishes developed by these chefs, we identified non-typical ingredients and food techniques that help create more complex, full bodied or impactful tastes. 
Watch some impressions from the event where we explored different ways to make less sweet products fully enjoyable
 
 
Download media resources Givaudan's Chef's Council Sugar Reduction
Why sugar reduction might be important
Why sugar reduction might be important to you and your consumers
Consumer thinking around sugar reduction is more complex than simply 'less is better'. You may have a legacy brand that your core consumer has been using for years. They'd like to see less sugar on the label, but not if that involves a major change in the taste of the product. Maybe your target consumer prefers to purchase natural products, or maybe they prioritise the lowest possible calories. Taste is always the bottom line, but different consumer groups – for example young millennials – have distinct perspectives on what represents a great taste experience. Our solutions recognise that these different scenarios require different approaches.
Givaudan's Sense It® holistic language
Givaudan's Sense It® holistic language, a consumer-focused sensory tool
Sweetness isn't the only driver of satisfaction. Our new holistic profiling approach helps us understand how consumers experience taste – holistically – so that a sugar-reduced product can be fully satisfying.
Watch the video below
 
Working together
Whatever your motivations for sugar reduction, we will help you discover and adapt to the latest trends in this rapidly changing environment and prepare your product portfolio for a successful future.