Meeting the savoury challenge of healthier choices, rich in taste
Consumers' desires to explore new combinations of global and local tastes means that savoury flavours are in a state of continuous innovation, with a dual emphasis on healthier options and great taste.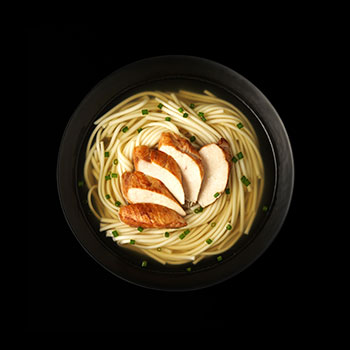 We look at some of the issues driving savoury flavours, together with what's happening in Latin America.
Our savoury category accounts for over a third of our global business in Flavours, and covers bouillons, ready-made meals, noodles, processed meat and snacks. 
Givaudan is the recognised leader in popular flavour icons, such as beef and chicken, for which we go to great lengths to create authentic flavours and healthy flavour solutions to suit the diversity of international palates.
Great expectations on convenience
The starting point for our creativity is to look at what is happening with consumers and how this impacts our customers. Then we take it back one step and ask: 'What can we do to help them deal with these challenges?' Many of those challenges relate to the evolution of eating habits, and how consumers are now much more demanding of quality, while increasingly aware of healthy eating.
While there have been dramatic improvements in convenience foods over the past three to four decades, consumer expectations are high and there remains a gap between these expectations and the taste and authenticity offering.
Health and wellness trends in the savoury category are driven by consumer awareness and government legislation, as authorities respond to a need for healthier options, lower in fat, sugar, and salt. Givaudan's TasteSolutions® addresses each of these issues, creating balance and putting back flavour, when needed. The result across the category is a wide range of healthier savoury options that enable consumers to keep a closer watch on their dietary and nutritional needs.
Of course, while health and wellness concerns are important, consumers today simply won't compromise on taste. The notion of great taste and authenticity is brought to bear in our innovation TasteSolutions® Richness, which brings the flavours, aromas and mouthfeel associated with homemade or restaurant food to readymade foods. Bringing that taste experience to processed foods, and even snacks, opens up waves of opportunities to our customers, helping them to meet consumer needs and demands.
Local choices in Latin America
Every country has its own savoury favourites, and when you put this into a regional context it's clear why Givaudan takes a local approach to partnering with customers. In Latin America, as in many other places in the world we're seeing a trend for more authentic local foods. Peru is a good example to cite, because it is a country where the people are very proud of their local dishes. Recently, Peruvian food has become more sophisticated and is better known outside its borders. In terms of readymade foods, Peru has traditionally followed international trends, but now there is a demand for local flavours and dishes in processed foods and snacks. With our help, Peruvian customers and international manufacturers are addressing this opportunity.
Where

'

s the beef?

Peru's experience is reflected across South America, with similar local influences affecting choice on supermarket shelves in Mexico, Argentina and Brazil, particularly in the areas of meat and poultry – of significant interest to Givaudan with our expertise in chicken and beef. To this end, we regularly undertake Culinary Treks across the region: for example, we looked closely at how beef is prepared.

In countries such as Argentina and Brazil, beef is a dietary staple, and we have been able to capture the many different ways of cooking it with local spices, sauces and seasonings and the spectrum of flavours that brings out. Ultimately, it's about choice and our power to surprise – offering customers lots of local options, in the knowledge these will appeal regionally and beyond.

Eating patterns are shifting the world over, with health and wellness, the desire for authenticity and a focus on local savoury flavours all impacting the need for innovation. This provides Givaudan with huge opportunities, bringing our expertise in this area to the benefit of our customers and their consumers.