Double 'A' from CDP
Givaudan recognised for its leadership in water security by CDP
This recognition follows a leadership score for climate action and places the Company in the double 'A' category of best performing businesses in terms of mitigating environmental impact.
Givaudan decreased water intensity by 31% in 2021, since the baseline year 2009, while we have already surpassed our targets in sustainable water management. This achievement is the result of coordinated efforts on our sites globally, which tackle the main contributors to consumption in industrial operations.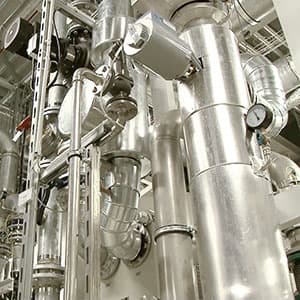 A good example of this coordination is how we are improving our water management in Hungary.
Our Taste & Wellbeing production site at Makó needs a lot of water for the cleaning of equipment. 
The need to reduce this use came into sharper focus with the arrival in 2021 of new production processes that required the consumption of even more water.
The site's roadmap had for some years included a water saving goal as a sustainability target. But to help manage and stabilise the increased water demand, a site team launched a focused programme in 2020 with several targeted projects – small and large in scale – to improve water use efficiency and reduce consumption.
The results have been significant. The site's daily water consumption in December 2020 had come down from an average of 834 m³ to 720 m³, and specific volume had been reduced from 8.59 m³/tonne to 6.64 m³/tonne. By the end of the third quarter 2021, this water consumption translated to an estimated 6.2 m³/tonne, a further 6.6% reduction in specific water volume compared to 6.6 m³/tonne in 2020.