The world's first microbiome-centred fragrance technologies: Z-biome™

Blending beautiful scents with microbiome-friendly benefits
Component content
'Microbiome-friendly' is one of the buzzwords of the moment in the world of personal care. From shower gels to body deodorants, shop shelves are packed with products that promise to work in harmony with the skin microflora, to keep skin healthy and boost overall wellbeing.
Now, for the first time, Givaudan is bringing fragrance into the picture. Introducing Z‑Biome™: a brand-new fragrance technology platform focused on the skin microbiome.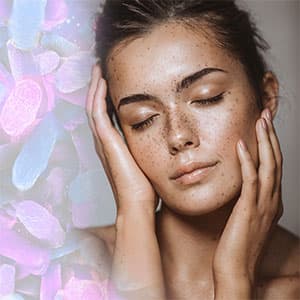 An industry first
Inspired by our Company purpose of 'creating for happier, healthier lives', the Z‑biome™ platform enables you to develop products that smell beautiful and respect the skin's delicate microbiome.
It features two innovative fragrance design tools that combine Givaudan's unique scientific and perfumery expertise: My Z‑biome™ and Z‑biome™ Deo.
Healthy microbiome, healthy skin
Component content
Healthy microbiome, healthy skin
The skin microbiome is the ecosystem of trillions of microorganisms living on the skin's surface. As the body's first line of defence, this microscopic world plays a key role in protecting our skin from infection, moisture loss and environmental stressors.
"We always try to develop new technologies which are relevant to consumers' needs, so the new Z‑biome™ platform helps address the desire to protect the skin microbiome as well as enhancing overall wellbeing. We're very proud of developing these new technologies that are in line with our purpose of creating for happier, healthier lives, with love for nature."

Jeremy, Global Head of Science & Technology, Fragrances
Fragrance design based on creative intelligence
Component content
Fragrance design based on creative intelligence
Developing the Z‑biome™ fragrance technologies involved years of multi-disciplinary research. Firstly, our Science and Technology team tested many different perfumery ingredients to measure their impact on the skin's most common bacteria population. We then built on these findings using the creativity and expertise of our highly skilled team of perfumers.
My Z‑biome™: a breakthrough design aid

This ground-breaking fragrance design tool allows perfumers to craft microbiome-friendly scents that are especially gentle on skin's microflora. It can be used to formulate personal care applications.

  
Z‑biome™ Deo: for microbiome-friendly and deodorising fragrances

Based on more than 30 years of expertise in malodour counteraction research, this unique technology effectively combats sweat malodour while respecting the natural perspiration process. The result: microbiome-friendly and deo-effective fragrances.
Component content
At Givaudan, we will continue to blend science and creativity to develop game-changing fragrances that delight consumers and support overall wellbeing. Start your co-creation journey today.
Discover more

Discovering the microbiome for skincare as unique as you are

Health and wellbeing in the world of fragrances