Aroma round the world with Givaudan's tasty treks
Inspiration can be found in many quarters, not least the laboratory, where our flavourists and technologists spend much of their working lives.
Ultimately though, the greatest inspirations lie in the outside world, and Givaudan's treks give our people the opportunity to roam the globe, exploring nature, cuisines, and for beverages, some of the world's most exciting bars!
The world's appetite for new flavour sensations knows no bounds, and only increases over time. That's why Givaudan has always kept 'discovery' high on the priority list. Our aim is to explore, discover, identify and capture the unexpected, locating ingredients, foods and beverages, which can be translated into unique and distinctive flavours for our customers' brands.
Givaudan Treks is actually a family of programmes that includes TasteTrek®, CulinaryTrek®, ConsumerTrek® and BarTrek®. What makes it so unique and different is the very fact that Treks have been a sustained programme – this is far from a series of one-off events. In fact, we have over 15 years of in-depth exploration to draw on, in over 15 countries on five different continents. We take a well-honed methodical approach to each Trek that results in quality insights which, being much more than anecdotal, form the basis for new concept developments from our multi-disciplinary team of flavourists, technologists, chefs and application specialists, who all go into the field to trek and explore.
TasteTrek® in the great outdoors
TasteTrek® is about going off the beaten track to discover the unusual, or heading to remote places that are famous for a specific ingredient. The aim is to discover new ingredients and varietals never before used in flavour creation: thus far we've undertaken TasteTrek® journeys into Gabon, Madagascar, Asia, Latin America and China.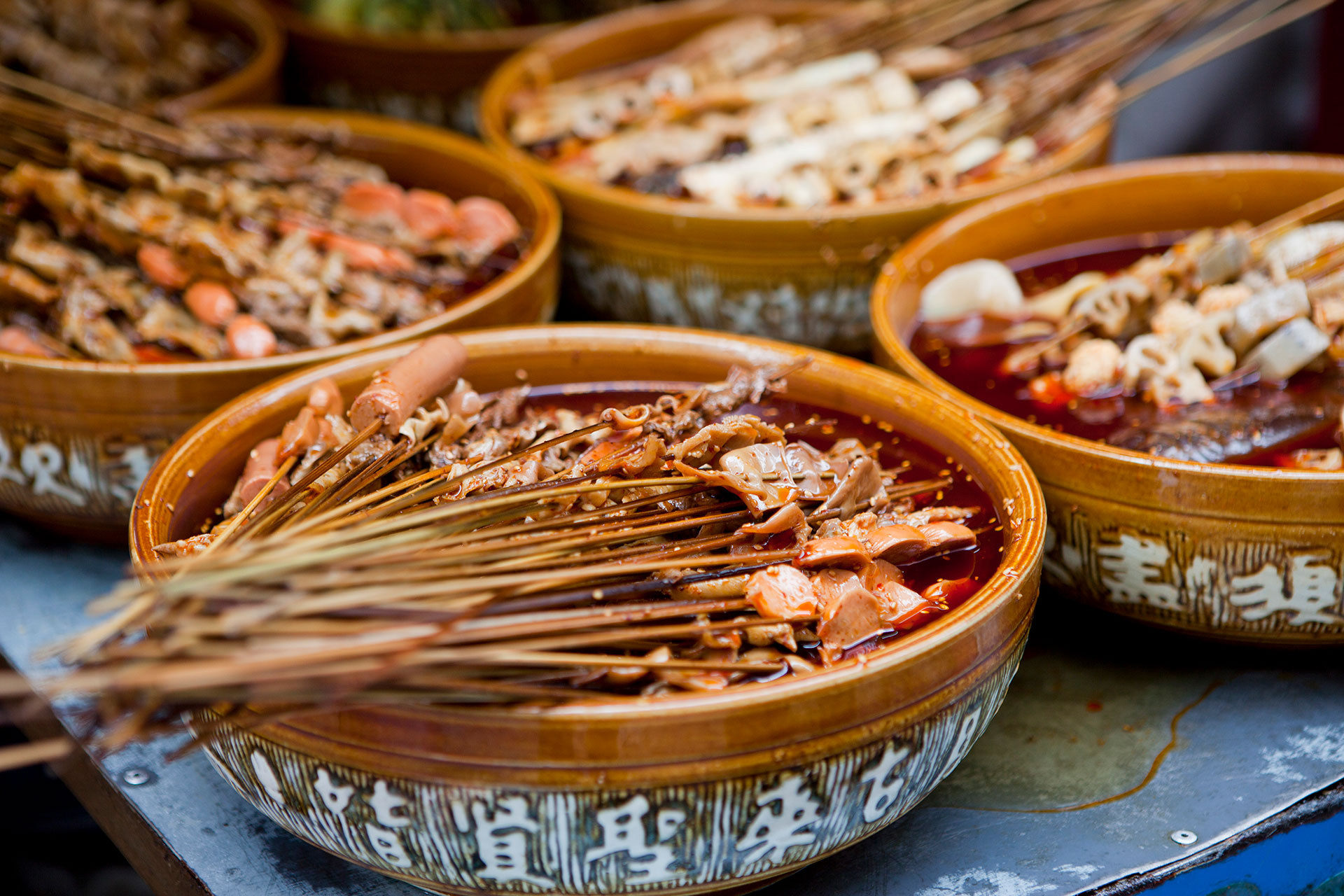 And just what lengths do we go to in order to find that rarest of flavour molecules? In Gabon, we used a hot air dirigible in order to airlift samples from the rainforest canopy. In the first of our Asian Treks we scoured the kitchens and markets of the Philippines, South Korea, Thailand and Vietnam, capturing authentic flavours for the local market and exotic new flavours for a broader international palette. Examples of new tastes that we were able to bring into our portfolio included Vietnamese Pho Hoa, a popular Vietnamese dish, Korean Kalbi, one of Korea's most famous grilled dishes, prepared with rice wine and oriental pear slices, and Thai Palo Duck, a dish that combines tastes of cinnamon, star anise, palm sugar and coriander roots.
CulinaryTrek® to the stove
As you might expect, CulinaryTrek® swaps the unfamiliar terrain of the exotic outdoors for the more familiar comforts of the world's kitchens. For example, when Givaudan put together its TasteEssentials® Chicken range, we visited no less than 40 restaurants in 12 different cities, in ten countries to get a close look at how chicken is used in a wide variety of cuisines. It's not just the high-end restaurants we looked at either, everything from Michelin-starred fine diners to quick-serve restaurants frying up grilled authentic local dishes were considered, adding to the mix of what chicken means to the world.
Other CulinaryTrek® events have brought us to South America looking at different ways in which beef is prepared, to Japan for an Umami Trek, and on into France and China; even New York City has had its own Trek exploration. Together with programmes such as Givaudan's Chef's Council, Treks enable us to gain deep insights into cooking trends and traditions, from the people who prepare exquisite tasting foods at a very local level.
ConsumerTrek® to listen
With our ConsumerTrek® programme our Consumer and Sensory Insights teams work directly with consumers to help determine preferences in flavours. To quickly and easily provide consumers with aroma samples for evaluation we often use our SmartTools. This portfolio of tools includes the Virtual Aroma Synthesizer® (VAS), a revolutionary tool used to reach target profiles fast. We also have smaller, more portable versions, including the MiniVAS and now the Half-MiniVAS. These tools allow us to evaluate the performance of new ingredients and develop new signature flavours and profiles for customers, in line with consumers' preferences.
BarTrek® to boldly go
We also look closely at the flavours and ingredients being served today in some of the world's trendiest bars, in order to see how we can bring innovation to the ready-to-drink cocktails and flavoured alcoholic beverages segment. Our 'mixologists' know no bounds in understanding what flavours blend well, identifying beverages that will prove to be 'movers and shakers'.
Givaudan's Treks programme not only takes in geographic journeys, but journeys of the mind, away from the familiar towards new ways of thinking. And wherever we roam next, you'll soon get a flavour of it.