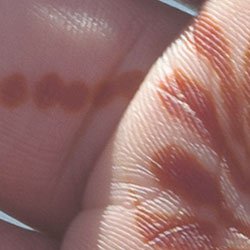 Engaging with stakeholders on our material issues
Our sustainability management approach
Component content
Listening and responding to our priority stakeholders is a core part of our sustainability management approach. These stakeholders are the people who affect our business or who are affected by it.
The feedback we receive from these stakeholders helps us to understand their expectations and prioritise issues effectively. This informs our overall sustainability approach and our ability to deliver against shared sustainability goals.
We have identified seven stakeholder groups: Customers, Suppliers, Employees, Owners and Investors, Local communities, Public and Regulatory Agencies, Innovators and partners which are currently of primary importance to our sustainability approach.
Component content
Material topics
Our list of material topics is mapped against the GRI Standards topics, our purpose pillars, the United Nations Global Compact (UNGC) Principles and the United Nations' Sustainable Development Goals (SDGs) to show that they are fully consistent with the most commonly used sustainability frameworks.
  
Materiality topic
Equivalent GRI topic
Purpose pillar
UNGC Principles
SDG mapping
Biodiversity
GRI 304: Biodiversity

Principle 8

  

  

Climate change
GRI 202-2: Financial implications and other risks and opportunities due to climate change
GRI 301: Materials
GRI 302: Energy
GRI 305: Emissions

Principle 7,8,9

Consumer health & wellbeing
GRI 415: Customer health and safety

Diversity, inclusion
& people development
GRI 102-8: Information on employees and other workers
GRI 202: Market presence
GRI 401: Employment
GRI 404: Training and education
GRI 405: Diversity and equal opportunity
GRI 406: Non-discrimination

Principle 6
 
 
 
 
 

Economic performance
GRI 201: Economic performance

Employee safety,
health
& wellbeing
GRI 403: Occupational health and safety

Governance
& business
conduct / ethics /
transparency

GRI 102-11: Precautionary Principle or approach

GRI 102-16: Values, principles, standards, and norms of behaviour
GRI 102-17: Mechanisms for advice and concerns about ethics
GRI 102-18: Governance structure
GRI 205: Anti-corruption

Principle 10

Human rights
GRI 102-41: Collective bargaining agreements
GRI 402: Labour/management relations
GRI 407: Freedom of association and collective bargaining
GRI 408: Child labour
GRI 409: Forced or compulsory labour
GRI 412: Human rights assessment
GRI 414: Supplier social assessment

Principle 1,2,3,4,5

Innovation capabilities & management

Principle 8,9

Local community development
GRI 203: Indirect economic impacts
GRI 413: Local communities

Principle 1

Product / ingredients environmental & social performance
GRI 301: Materials
GRI 302: Energy
GRI 305: Emissions
GRI 416: Customer health and safety

Principle 7,8,9

Product quality & safety and ingredient disclosure
GRI 416: Customer health and safety
GRI 417: Marketing and labelling

Raw materials availability
GRI 301: Materials

Responsible sourcing & traceability
GRI 102-9: Supply chain
GRI 204: Procurement practices
GRI 308: Supplier environmental assessment
GRI 407: Freedom of association and collective bargaining
GRI 408: Child labour
GRI 409: Forced on compulsory labour
GRI 412: Human rights assessment
GRI 414: Supplier social assessment

Principle 1,2,4,8,10

Waste management & circular principles
GRI 306: Waste

Principle 8

Water stewardship
GRI 303: Water and effluents

Principle 8
| | | | |
| --- | --- | --- | --- |
| | | | |
| Creations | Nature | People | Communities |
Partnerships and initiatives
Component content
Partnerships and initiatives
We strongly believe that working together is key to achieving a more sustainable society. We also believe that it's important to look beyond our own business and see the 'bigger picture' when it comes to sustainability.
From addressing global water challenges to promoting sustainable palm oil, we engage in numerous external initiatives and strategic collaborations with relevant organisations and partners. Collaboration across our supply chain as well as with other businesses and non-profit organisations is essential; the more we do together, the quicker we drive sustainable solutions, while meeting our customers' needs and expectations.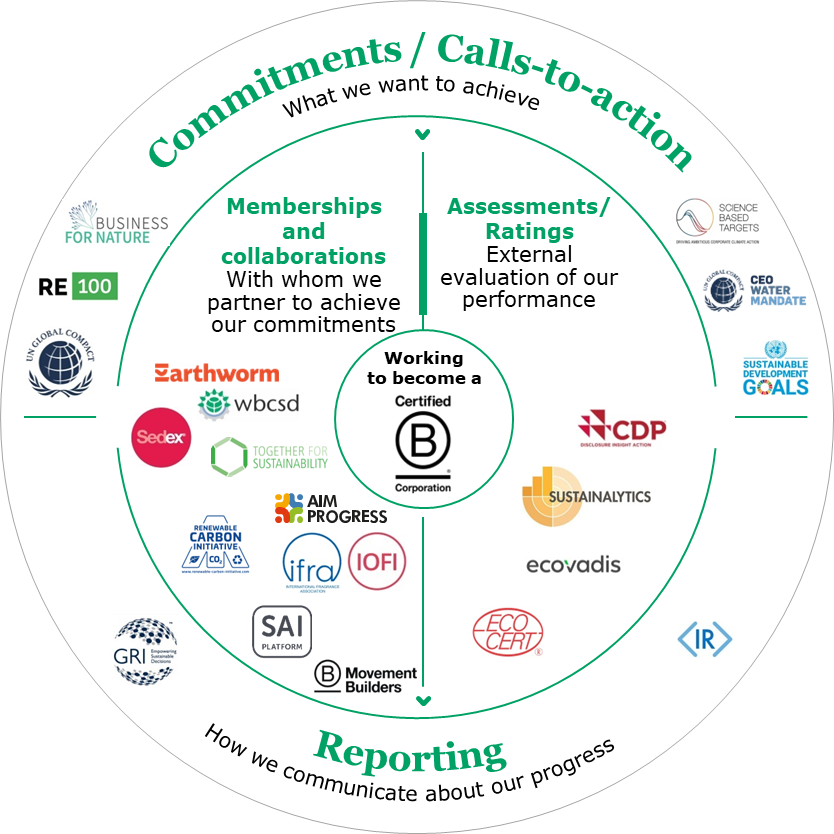 Key partnerships
Here are just a few examples of the many collaborations and initiatives that Givaudan is involved in around the world.
Commitments and calls to action

Memberships and collaborations

Reporting

Assessments and ratings

Tab Content

The UN Global Compact is a strategic policy initiative for businesses committed to supporting the achievement of the Sustainable Development Goals by 2030. We have been a signatory of the UN Global Compact since February 2010 and we measure our progress towards sustainability against its principles.

We endorsed the CEO Water Mandate in March 2020, reflecting our ambitious targets on water and our commitment to water stewardship.

We have aligned our target to reduce scope 1 and 2 GHG emissions by 70% between 2015 and 2030 with the Science Based Targets initiative (SBTi), a collaboration between CDP, Water Resources Institute (WRI), the World Wide Fund for Nature (WWF) and the United Nations Global Compact (UNGC).

Tab Content

Sedex (Supplier Ethical Data Exchange) is a not-for-profit membership organisation dedicated to driving improvements in responsible and ethical business practices in global supply chains. We engage with Sedex to better assess both our production sites and suppliers.

The Earthworm Foundation is a global non-profit organisation focused on transforming supply chains for the benefit of nature and people. The Foundation supports Givaudan in implementing its Responsible Sourcing Programme through supply chain assessments and, where needed, co-designing innovative solutions with supply chain partners that create value for all.

Reflecting our commitment to eliminate deforestation from our supply chain, we are an active member of the Roundtable on Sustainable Palm Oil (RSPO). This international, multi-stakeholder organisation aims to advance the production, procurement, finance and use of sustainable palm oil products.

Tab Content

Reflecting our commitment to transparency, we communicate about our progress according to the GRI (Global Reporting Initiative) frameworks for sustainability reporting. As the most widely used global framework for reporting, GRI creates a common language for organisations to report their impacts, making it easier to track and compare progress.

Tab Content

Our performance to date has been externally recognised by various organisations, including EcoCert, CDP and Sustainalytics. Since 2008, we have also completed the annual EcoVadis CSR assessment and, ranking in the top-performing category since 2015. In 2020, we were ranked among the top 1% of the EcoVadis CSR assessment, achieving its highest accolade, the platinum medal.