Partnerships and initiatives
Building a sustainable future, together
We strongly believe that working together is key to achieving a more sustainable society. We also believe that it's important to look beyond our own business and see the 'bigger picture' when it comes to sustainability.
From addressing global water challenges to promoting sustainable palm oil, we engage in numerous external initiatives and strategic collaborations with relevant organisations and partners. Collaboration across our supply chain as well as with other businesses and non-profit organisations is essential; the more we do together, the quicker we drive sustainable solutions, while meeting our customers' needs and expectations.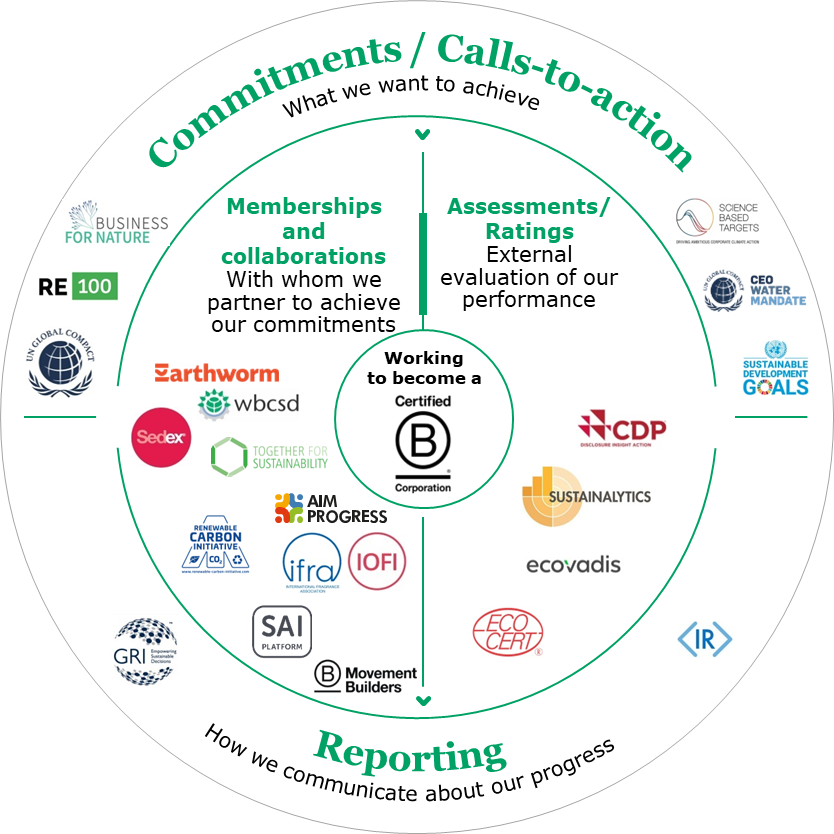 Key partnerships
Here are just a few examples of the many collaborations and initiatives that Givaudan is involved in around the world.
Commitments and calls to action

Memberships and collaborations

Reporting

Assessments and ratings

Tab Content

The UN Global Compact is a strategic policy initiative for businesses committed to supporting the achievement of the Sustainable Development Goals by 2030. We have been a signatory of the UN Global Compact since February 2010 and we measure our progress towards sustainability against its principles.

We endorsed the CEO Water Mandate in March 2020, reflecting our ambitious targets on water and our commitment to water stewardship.

We have aligned our target to reduce scope 1 and 2 GHG emissions by 70% between 2015 and 2030 with the Science Based Targets initiative (SBTi), a collaboration between CDP, Water Resources Institute (WRI), the World Wide Fund for Nature (WWF) and the United Nations Global Compact (UNGC).

Tab Content

Sedex (Supplier Ethical Data Exchange) is a not-for-profit membership organisation dedicated to driving improvements in responsible and ethical business practices in global supply chains. We engage with Sedex to better assess both our production sites and suppliers.

The Earthworm Foundation is a global non-profit organisation focused on transforming supply chains for the benefit of nature and people. The Foundation supports Givaudan in implementing its Responsible Sourcing Programme through supply chain assessments and, where needed, co-designing innovative solutions with supply chain partners that create value for all.

Reflecting our commitment to eliminate deforestation from our supply chain, we are an active member of the Roundtable on Sustainable Palm Oil (RSPO). This international, multi-stakeholder organisation aims to advance the production, procurement, finance and use of sustainable palm oil products.

Tab Content

Reflecting our commitment to transparency, we communicate about our progress according to the GRI (Global Reporting Initiative) frameworks for sustainability reporting. As the most widely used global framework for reporting, GRI creates a common language for organisations to report their impacts, making it easier to track and compare progress.

Tab Content

Our performance to date has been externally recognised by various organisations, including EcoCert, CDP and Sustainalytics. Since 2008, we have also completed the annual EcoVadis CSR assessment and, ranking in the top-performing category since 2015. In 2021, we were ranked in the top 5% of the EcoVadis CSR assessment, achieving the gold medal.