From passion to product: A drive to continuously deliver with excellence

Delivering with excellence
Component content
Every day, thousands of employees around the world transform the original creations of Givaudan's talented perfumers and flavourists into products designed to satisfy the most demanding requirements. Their passion is to continue the Company's long history of delivering with excellence by ensuring the best possible customer experience. 
Our earliest pioneers understood the importance of offering their customers something above and beyond - often far before anyone else. This commitment goes back to 1768, when Antoine Chiris set up a shop in Paris to be closer to his customers. Chiris went on to become the principal supplier of oils to the courts of Europe and was the first of the Grasse perfumers to take the distillation of aromatic substances from the artisanal to the industrial scale to satisfy a growing demand.
Component content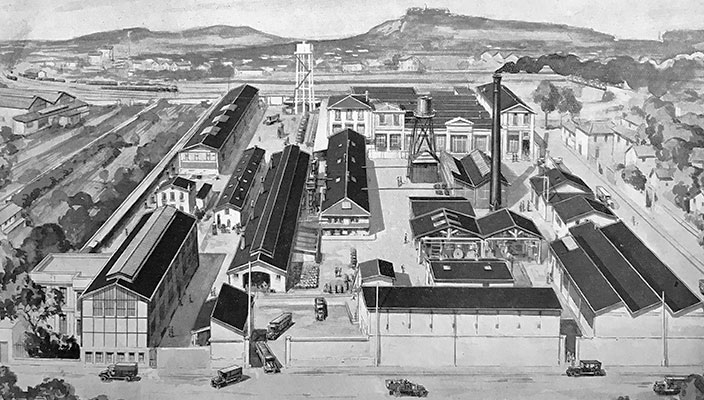 Artistic impression of the Argenteuil factory
Technical innovations
Over a century later, in 1902, Louis Roure founded a factory for synthetic fragrances in Argenteuil, France, thus expanding the traditional offering of naturally distilled rose and orange blossom and selling neroli oil on which Roure's success was built. Convinced of the major importance of chemistry but sensitive to his traditional perfumery customers' reticence to the idea, Louis appointed his friend Justin Dupont to run it. When Roure Bertrand Fils and Justin Dupont merged in 1926, the Argenteuil factory became one of the major producers of synthetic aromatic notes like ionones and alpha amyl cinnamic aldehyde for the perfume industry.
Roure's early success and reputation for excellence came not just from its ability to adapt to technical innovations but to recruit exceptional collaborators and enable them to make full use of their talents within the Company. This spirit is alive and well in Givaudan today: the opportunity to make a difference and 'impact your world' is a key differentiator in attracting new talents and has inspired many employees to make a long-term career commitment.
Flavour and fragrance operations
Component content
Fragrance operations
No one is more aware of this than John, Head of Global Fragrance Operations. When he joined the Company at the age of twenty-one back in 1986, he could not have imagined that he would travel the world and one day lead a global organisation of 2,000 people.
"Within my first week working at Givaudan in the USA, the CFO had put me in charge of a project introducing the Company's first use of personal computers. Since then I've had close to twenty different jobs in everything from sales to creation and now Fragrance operations."
 
Today, John sees many parallels between Givaudan's pioneers of the past and his organisation's current focus on agility, innovation and continuous improvement: "This Company has always had a culture of continuous improvement: we constantly aspire to do better for our customers. And history proves that we're pretty good at it – Givaudan has flourished for 250 years by constantly adapting. Today our global footprint offers a key competitive advantage by allowing us to be close to our customers and markets. It enables us to custom design our perfume products with increasingly short lead times – an average of two weeks from order to delivery."
Flavour operations
In a career spanning over 32 years with Givaudan, Rudy, Head of Global Flavour Operations, has seen the business grow through many successive acquisitions like Tastemaker in 1997 and FIS, the savoury unit of Nestlé, in 2003. Today, the flavours operations network encompasses 36 manufacturing sites and six distribution centres producing over 300 thousand tonnes of ingredients and finished products each year.
Rudy has witnessed first-hand the sweeping transformations of technology and innovations like SAP on operations. But regardless of the technology, he considers excellence in execution as critical to supporting customer demand for speed, agility and quality – along with consumers' changing preferences:
"We are seeing a shift to natural extracts and our acquisitions reflect this trend. Naturally, this means adapting our technologies and operations to support this demand. No matter what the process, however, our focus is on satisfying our customers' requirements along with the increasingly demanding standards of our industry and our own commitments to safety, quality, service, cost and sustainability."
 
What's next? According to Rudy: "Operations is a lot about people, a lot about talent. The future is already here: we have robots with soft-learning capacity that we can envisage in our production sites. We will need people with the right skills, talent, creativity and passion to integrate them efficiently into our end-to-end processes, while constantly keeping in mind our operational objective of delivering a superior customer experience."
Watch our operational excellence video
Component content
Watch our operational excellence video
Evolving global operations footprint with GBS
Component content
Evolving global operations footprint with GBS
Givaudan Business Solutions (GBS) is the latest pioneering initiative in a continually evolving global operations footprint. The organisation is being purpose-built to integrate a range of core business solutions that will bring agility, reduce complexity of our internal processes and focus entirely on delivering a superior customer experience.
"GBS is our platform for the future," says Anne Tayac, Head of GBS. "Our commitment is to continuously support the organisation in delivering with excellence. This covers the full optimisation of our end-to-end supply chain efficiency, and the simplification of all other processes (Finance, Controlling, Human Resources, Information Technology) that brings added value to our customers or our employees so they can better focus on their core activity and customer interaction. GBS also enables Givaudan to explore future-forward initiatives like robotics, digitalisation and the use of big data. It's a great platform to grow our centre of excellence specifically supporting Operations in their permanent evolution through Continuous Improvement, Environment, Health & Safety, Sustainability and Engineering global methods and best practices."
Saulo, GBS Head of Global Delivery Excellence, explains that GBS goes beyond transactional activities around the processing of purchase orders and invoices to integrate shared solutions serving operations in key cross-functional areas like Human Resources, Supply Chain, EHS and Sustainability, and Continuous Improvement (CI). Streamlined processes, however, are just the beginning:
"Our processes are robust but it's people who can make or break our success. We are constantly looking for ways to create long-term value for Givaudan and its customers at every level of the business. That means making sure that everyone within our global organisation shares the same focus and mindset, a true understanding of our unique culture and DNA."
Hear from our Operations experts
Component content
What does excellence mean to you?
Saulo, GBS Head of Global Delivery Excellence:

"Excellence in operations is based on a true understanding of our customers' needs and a relentless focus on exceeding their expectations."

John, Head of Global Fragrance Operations:

"Happy customers and consumers are what define excellence to me. Our ability to put smiles on their faces also means that we are doing something better than our competitors."

Rudy, Head of Global Flavour Operations:

"Delivering with excellence means that we are able to fully satisfy our customers' increasingly complex requirements along with our quality, regulatory and sustainability commitments."