Givaudan Active Beauty unveils Chronoglow™
When artificial intelligence and biomimetic epigenetics make skin radiance go 3D
15 Mar 2021 · 08:48 CET
Givaudan Active Beauty presents Chronoglow™, an active ingredient crafted by green fractionation and empowered by artificial intelligence (AI) able to mimic botanical epigenetic mechanisms for skin care benefits. Created from Haberlea rhodopensis also known as the resurrection plant, Chronoglow™ is a natural cure for the skin, able to reverse the effects of ageing and improve its radiance.  
One of the top consumers' expectations
Skin ageing is a major priority for consumers, always looking for smooth bright skin. According to our CMI study¹, 80% of consumers globally are upset to look older than their actual age, which can also impact their personal life and wellbeing. It's a fact that a radiant complexion is associated with living a healthy and balanced lifestyle. This is why the consumers' desire to reveal the natural luminosity and maintain the firmness of their skin by using sustainable and botanical solutions is important.
Mathias Fleury, Category Manager Active Beauty, said: 
"Haberlea rhodopensis is an ice-age plant that has survived extreme climate conditions thanks to its unique epigenetic mechanisms of cellular survival. We are now able to mimic and reproduce what the plant does in its own cells in the skin. Chronoglow™ is therefore a 100% natural and sustainable powerful botanical ingredient, with exclusive benefits of well-ageing and radiance."
 
The 3D of skin radiance
Chronoglow™ positively regulates the skin genetic information without modifying it. It rejuvenates the skin at different cellular levels (from epigenetics to proteins expression), and protects skin cells from senescence and oxidation. Chronoglow™ reverses skin ageing to take back youth, but also enhances skin firmness and provides three dimensions of glow:
Elasticity, already after 2 weeks of use, by up to +8.9%, more than 3 times better than the placebo. This positive impact on the skin elasticity is increasing during the whole duration of the clinical test, with an increase up to +15.3% after 2 months.
Luminosity, by up to +3.8% after 4 weeks and up to +6.4% after 2 months, significantly better than the placebo, by a factor 1.9.
Radiance,  after only 2 weeks of use by up to +6.1%, more than 4 times better than the placebo and up to +12.5% after 2 months.
Always at the forefront of the highest level of technology, our researchers have used the power of artificial intelligence to better represent the clinical results and demonstrate the visual benefits of Chronoglow™. They have generated a beauty avatar that represents the significant results of the three dimensions of glow on the face.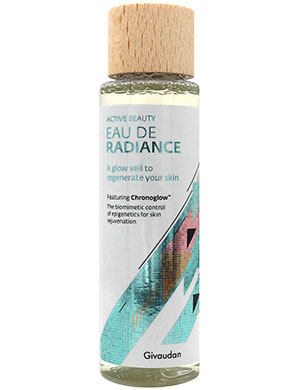 To inspire the beauty industry, our formulation experts crafted Eau de Radiance, a glowing veil to regenerate the skin powered by Chronoglow™. Only a few drops of this liquid care over the face will rejuvenate and illuminate your skin tone. Also powered by Ocâline™ XP and Sophogreen™ plus, Eau de Radiance will soothe the skin, and offer a second skin protection thanks to Sens'Hyal® powder.
Customers will get the opportunity to further discover Chronoglow™ during PCHI in Shenzhen from 24-26 March 2021.
1. Givaudan Active Beauty CMI Global Study Results, March 2019
---
About Givaudan
Givaudan is the global leader in the creation of flavours and fragrances, with its heritage stretching back over 250 years, the Company has a long history of innovating tastes and scents. From a favourite drink to your daily meal, from prestige perfumes to cosmetics and laundry care, its creations inspire emotions and delight millions of consumers the world over. The Company is committed to driving purpose-led, long-term growth while leading the way to improve happiness and health for people and nature. In the fiscal year 2020, the Company employed almost 16,000 people worldwide and achieved sales of CHF 6.3 billion and a free cash flow of 12.8% of sales. Let's imagine together on www.givaudan.com.
About Givaudan Active Beauty
Givaudan Active Beauty offers an extensive portfolio of innovative active cosmetic ingredients designed to bring beauty to the world. Inspired by the beauty needs of consumers worldwide, Active Beauty offers award-winning products for an expanded range of benefits including anti-ageing, self-tanning, soothing, hydrating, cooling, and more. Our cutting-edge technologies draw on science and nature to create high-performing molecules and functional agents, including customised carrier systems. Part of Fragrance & Beauty, Active Beauty leads the market in crafting innovative products supported by our strong expertise in advanced and applied sciences. We invite you to 'engage your senses' and learn more about Active Beauty at www.givaudan.com/activebeauty.
---
For further information please contact
Pauline Martin, Operational Marketing & Communications Manager
T +33 3 2688 8417
E pauline.martin.pm1@givaudan.com