Givaudan Active Beauty tackles oily skin issues and outperforms retinoic acid with Mangixyl™
A sustainable cosmetic ingredient crafted for all complexions, responsibly sourced in Burkina Faso
06 Apr 2021 · 09:00 CEST
Givaudan Active Beauty is proud to launch Mangixyl™, a powerful microbiome-friendly cosmetic ingredient with proven efficacy targeting oily skin through sebum regulation. Created from responsibly sourced mango leaves and designed with inclusive beauty in mind, this sustainable innovation encapsulates our Company purpose of 'creating for happier, healthier lives with love for nature'.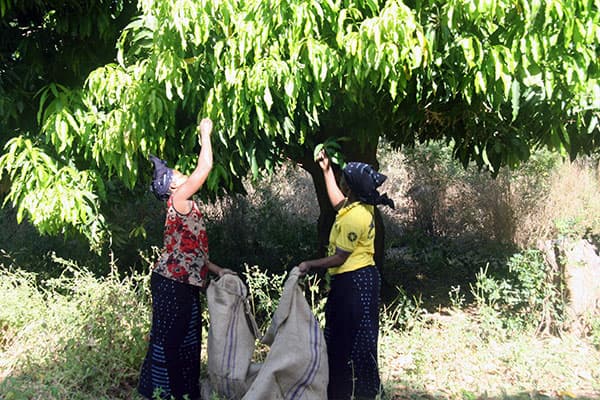 The mango leaves are sourced in collaboration with the Association Bendia, based in the village of Koro, Burkina Faso, in the heart of West Africa. Run by volunteers, this women-led initiative empowers women to find employment by matching them with suitable job opportunities in the leaf-harvesting process.
After harvesting, the mango leaves undergo a green fractionation process to produce Mangixyl™. This fully natural, microbiome-friendly active ingredient regulates sebum production (down to 15.9% after one month depending on complexion) to relieve the discomfort caused by oily skin – a widespread concern for consumers around the world. Our double-blind tests versus placebo studies, encompassing three different skin ethnicities (African, Asian and Caucasian) have also shown a 49.5% improvement in sebum quality. Reflecting our commitment to inclusive beauty, Mangixyl™ is a universal, genderless ingredient that is suitable for all age groups and skin tones.
Head of Procurement Fine Fragrances & Active Beauty, Maxence Billas, said: "Mangixyl™ is a great example of how we work closely with communities to source ingredients in a responsible way, with maximum respect for people and the environment. This approach not only helps us to support these communities; it also makes our supply chain more secure and gives our customers access to high-quality, responsibly sourced products at a time when sustainability and traceability are top of mind for consumers."
"The creation of Mangixyl™ shows how we combine a high level of scientific innovation with trending consumer insights to develop products that are not only good for people, but also good for the planet. Our Purpose remains our guiding star as we continue to develop sustainable new products for our customers and their consumers."

Laurent Bourdeau, Head of Active Beauty
 
Mangixyl™ joins our growing portfolio of natural botanical actives, and features in a marketing concept called S3D® Womango.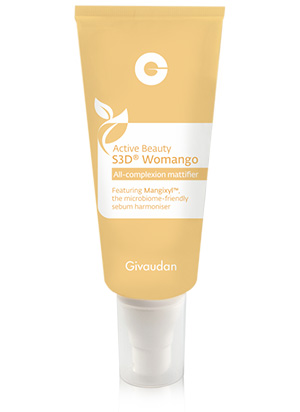 This lightweight, mattifying day cream for all consumers also contains Bamboosilk A, Curbilene® and CristalHyal®.
Thanks to its three levels of action, S3D® Womango immediately reduces shine, balances the skin's moisture levels and sebum production all day long, and reduces excess sebum over time without over-drying.
---
About Givaudan
Givaudan is a global leading company in taste and wellbeing, and fragrance and beauty. With its heritage stretching back over 250 years, the Company has a long history of innovating scents and tastes. From a favourite drink to your daily meal, from prestige perfumes to cosmetics and laundry care, its creations inspire emotions and delight millions of consumers the world over. The Company is committed to driving purpose-led, long-term growth while leading the way to improve happiness and health for people and nature. In the fiscal year 2020, the Company employed almost 16,000 people worldwide and achieved sales of CHF 6.3 billion and a free cash flow of 12.8% of sales. Let's imagine together on https://www.givaudan.com.
About Givaudan Active Beauty
Givaudan Active Beauty offers an extensive portfolio of innovative active cosmetic ingredients designed to bring beauty to the world. Inspired by the beauty needs of consumers worldwide, Active Beauty offers award-winning products for an expanded range of benefits including anti-ageing, self-tanning, soothing, hydrating, cooling, and more. Our cutting-edge technologies draw on science and nature to create high-performing molecules and functional agents, including customised carrier systems. Part of Fragrance & Beauty, Active Beauty leads the market in crafting innovative products supported by our strong expertise in advanced and applied sciences. We invite you to 'engage your senses' and learn more about Active Beauty at www.givaudan.com/activebeauty.
---
For further information please contact
Pauline Martin, Operational Marketing & Communications Manager
T +33 3 2688 8417
E pauline.martin.pm1@givaudan.com