Givaudan Active Beauty unveils Silkgel, the unique vegan biomimetic silk for hair care
Crafted by white biotechnology, the next generation of biopolymers is more effective than silicone
11 Nov 2019 · 05:47 CET
Givaudan Active Beauty presents Silkgel, a unique vegan and sustainable biomimetic silk crafted by white biotechnology. The new hair care benefits of Silkgel will be announced during SCS Formulate in Coventry (UK) on 12 November.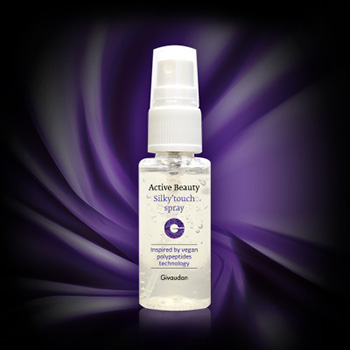 Consumers are becoming increasingly concerned about the impact of their choices on the planet. To counteract it, many of them choose to go vegan or opt for plant-based lifestyles. Veganism is growing rapidly in popularity around the world and extends to beauty.
Launches of vegan beauty products more than doubled globally in the last five years¹, with 25%¹ of British women aged 16-24 seeking natural or organic hair care products made from vegan ingredients.
These statistics are meant to improve if we take into account that the percentage of vegans increased by 360%¹ in the last ten years in the United Kingdom.
Silkgel answers high consumer demand for more vegan beauty options, doing away with silicone, an ingredient defined as 'nasty' by 53%² of people. Produced by biotechnology, the biomimetic silk was created to be natural silk twin for skin and hair care. Produced by means of fermentation using plant starch as natural source of energy, Silkgel has many hair care benefits. Innovative and high-performing, it repairs, but also protects hair from pollution and ensures a perfect long-lasting colour due to its film-forming properties. As a multifunctional product, it also nourishes the hair and improves smoothness.
Kristin Schacht, Product Development Manager Biopolymers, said: "The use of vegan silk yields outstanding benefits. The biodegradable polymers built a layer around the hair fibre that protects them from thermally or chemically induced structural damages. Additionally, vegan silk is proven to repair damaged hair fibres by regenerating their structure. Furthermore, in hair dye applications, it can prevent premature colour fading. Silkgel is a powerful ingredient due to its cosmetic benefits and also because of its sensoriality, as it adds texture and leaves a silky touch as soon as it's applied."
Silkgel has a significant protective effect against the negative impacts of hair dyeing. In addition, it can be used in a heat protection spray to protect the hair from thermal damage after using a straightener. Even hair that is already thermally damaged can be repaired by up to +72% with the application of Silkgel. Due to its protective properties, the active also has an anti-pollution effect and facilitates the removal of carbon particles on the hair fibres during hair rinsing and washing. Silkgel at 4% enables the removal of 71% of PM2.5³ after a simple water rinse and Silkgel at 2% enables the removal of 83% of PM2.5 after a shampoo rinse.
Visitors will have the opportunity to discover Silkgel at our booth 531 during SCS Formulate in Coventry (UK) from 12-13 November.
¹ Mintel
² Givaudan Clean Beauty for hair Survey, 2019
³ Atmospheric particulate matter (PM) that have a diameter of less than 2.5 micrometers
---
About Givaudan
Givaudan is the global leader in the creation of flavours and fragrances. In close collaboration with food, beverage, consumer product and fragrance partners, Givaudan develops tastes and scents that delight consumers the world over. With a passion to understand consumers' preferences and a relentless drive to innovate, Givaudan is at the forefront of creating flavours and fragrances that 'engage your senses'. The Company achieved sales of CHF 5.5 billion in 2018. Headquartered in Switzerland with local presence in over 145 locations, the Company has almost 13,600 employees worldwide. Givaudan invites you to discover more at www.givaudan.com.
About Givaudan Active Beauty
Givaudan Active Beauty offers an extensive portfolio of innovative active cosmetic ingredients designed to bring beauty to the world. Inspired by the beauty needs of consumers worldwide, Active Beauty offers award-winning products for an expanded range of benefits including anti-ageing, self-tanning, soothing, hydrating, cooling, and more. Our cutting-edge technologies draw on science and nature to create high-performing molecules and functional agents, including customized carrier systems. Part of the Fragrance Division, Active Beauty leads the market in crafting innovative products supported by our strong expertise in advanced and applied sciences. We invite you to 'engage your senses' and learn more about Active Beauty at www.givaudan.com/activebeauty.
---
For further information please contact
Pauline Martin, Global Communications & Events Manager
T +33 3 2688 8417
E pauline.martin.pm1@givaudan.com