Givaudan Active Beauty reveals new benefits for Megassane®, as a skin tone highlighter through proteasome activation
08 Jan 2018 · 07:17 CET
"At the heart of our desires for beauty, radiance is the magic word of the decade." Unknown author
In the 1990s, the launch of new make-up lines has revolutionised the Beauty Industry by focusing on 'skin illumination' and no more on 'skin coverage', initiating the new trend of a radiant complexion.
Since then, a bright skin and fresh complexion became the sign of a healthy mind and body, pushing the consumers to have an ultra-luminous and heavenly radiant skin.
This trend is still among consumers' top request: 'glossing' or 'highlighting' are today the newest beauty crazes to illuminate the skin in a natural way by creating natural light effects on the face.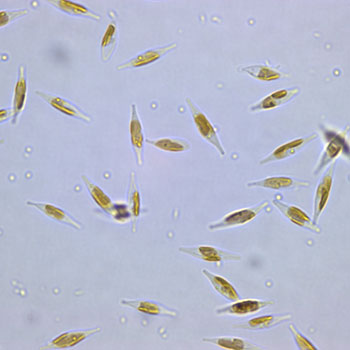 Givaudan Active Beauty's marine biotechnology R&D experts have discovered new benefits of Megassane® to act as a natural skin highlighter and embellish skin complexion. They demonstrated that the specific lipids composition from the brown micro algae 'Phaeodactylum tricornutum' has a very high capability to stimulate the skin proteasome in both a preventive and curative effect under a serious UV exposure. 
This regulation acts at the epigenetic level (regulation of a specific miRNA) and genetic level (action on proteasome regulators).
As a consequence, the enzymatic activities of the proteasome are restored, inducing a direct detoxification of cells and skin to reverse dull skin appearance.
At the clinical level, Megassane® has been tested on smoking volunteers with a very dull and grey skin. After 56 days of treatment, a +200% improvement of their skin tone has been observed: their skin shows more vivid colour and a brilliant complexion. Megassane® acts as a natural highlighter by removing skin dullness, giving natural results equivalent to make-up and providing a healthier look.
Anne Humeau, Marine Biotechnology Manager, said: "Megassane® is a very precious marine extract, containing a high proportion of polyunsaturated fatty acids essential to the health of our skin. By acting directly on the proteasome, Megassane® is the first active ingredient derived from microalgae that can detoxify our skin and give it back light and radiance. It is a real step forward in skin care based on Nobel prize awarded researches on proteasome, and we are honoured to bring such great added value to our customers."
During Cosmetagora 2018 in Paris, Givaudan Active Beauty will reveal a new skincare concept highlighting the benefits of Megassane®. Come and join us on booth 65 to learn more on Megassane® and uncover our DIY Radiance Mask.
---
About Givaudan
Givaudan is the global leader in the creation of flavours and fragrances. In close collaboration with food, beverage, consumer product and fragrance partners, Givaudan develops tastes and scents that delight consumers the world over. With a passion to understand consumers' preferences and a relentless drive to innovate, Givaudan is at the forefront of creating flavours and fragrances that 'engage your senses'. The Company achieved sales of CHF 4.7 billion in 2016. Headquartered in Switzerland with local presence in over 95 locations, the Company has more than 10,000 employees worldwide. Givaudan invites you to discover more at www.givaudan.com.
About Givaudan Active Beauty
Givaudan Active Beauty offers an extensive portfolio of innovative active cosmetic ingredients designed to bring beauty to the world. Inspired by the beauty needs of consumers worldwide, Active Beauty offers award-winning products for an expanded range of benefits including anti-ageing, self-tanning, soothing, hydrating, cooling, and more. Our cutting-edge technologies draw on science and nature to create high-performing molecules and functional agents, including customised carrier systems. Part of the Fragrance Division, Active Beauty leads the market in crafting innovative products supported by our strong expertise in advanced and applied sciences. We invite you to 'engage your senses' and learn more about Active Beauty at www.givaudan.com/activebeauty.
---
For further information please contact
Pauline Martin, Global Communications & Events Manager
T +33 3 2688 8417
E pauline.martin.pm1@givaudan.com