Givaudan Active Beauty is awarded for its innovative concept featuring Darkenyl™ with the Spotlight-on Formulation Award at in-cosmetics Asia
01 Nov 2018 · 11:15 CET
Givaudan Active Beauty holds its advanced expertise by winning the Award for the Spotlight-On Formulation Award (Haircare actives category) with the S3D®
Colourback
concept product.
Laurent Bourdeau, Head of Active Beauty, said:"It is part of our corporate DNA to inspire our customers, by providing them with not only the most performant ingredients , but also by crafting disruptive product concepts leveraging consumers insights and market trends to help them move faster on their market."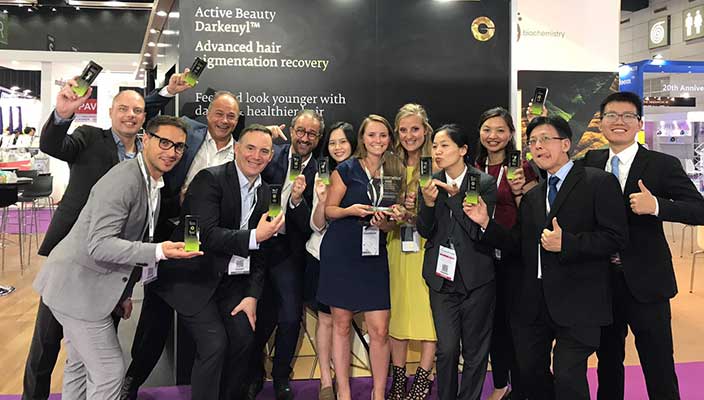 The awarded S3D® Colourback is featuring the latest active ingredient from Givaudan Active Beauty: Darkenyl™, an exclusive hair care molecule reactivating the entire pigmentation process in the hair follicle to get rid of grey hair, down to -56% in 4 months (clinically tested versus placebo).
This innovative product has been recognised by the jury as a unique leave-on serum for hair and scalp care, offering an 8-in-1 hair ageless technology to recover the natural hair colour and protect the hair shaft. It is entrapped in an innovative classy dark packaging with a comb applicator facilitating the application directly on the roots and to activate the efficacy.  Its formula contains ResistHyal®, a recent innovation from Givaudan Active Beauty enabling this to bring a unique value proposition to the consumers: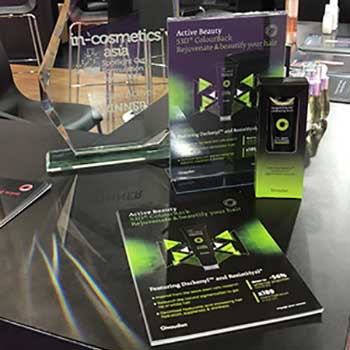 - Recovery of natural hair pigmentation.
- Protection of the hair follicle from pollution damages.
- Provide long term hair hydration.
- Avoid spontaneous hair frizzing.
- Boost hair shine.
- Enhance hair natural volume.
- Mechanical and thermal protection.
- Increased hair suppleness.
Fabrice Lefevre, Marketing & Innovation Director, said: "We are extremely honoured to get this global recognition from leading industry experts, showing how innovative active ingredients can enable to create disruptive and market-suitable concepts.  S3D® Colourback is an impressive formula offering a sensory experience for the user and a yet unmet efficacy through its two powerful actives ingredients. This product reflects the high level of consumers' understanding, formulation creativity and scientific performance of our experts who are dedicated at crafting inspirational products for our customers."
To find out more about Darkenyl™, we invite you to visit our website www.givaudan.com/activebeauty/products.
---
About Givaudan
Givaudan is the global leader in the creation of flavours and fragrances. In close collaboration with food, beverage, consumer product and fragrance partners, Givaudan develops tastes and scents that delight consumers the world over. With a passion to understand consumers' preferences and a relentless drive to innovate, Givaudan is at the forefront of creating flavours and fragrances that 'engage your senses'. The Company achieved sales of CHF 5.1 billion in 2017. Headquartered in Switzerland with local presence in over 100 locations, the Company has more than 11,100 employees worldwide. Givaudan invites you to discover more at www.givaudan.com.
About Givaudan Active Beauty
Givaudan Active Beauty offers an extensive portfolio of innovative active cosmetic ingredients designed to bring beauty to the world. Inspired by the beauty needs of consumers worldwide, Active Beauty offers award-winning products for an expanded range of benefits including anti-ageing, self-tanning, soothing, hydrating, cooling, and more. Our cutting-edge technologies draw on science and nature to create high-performing molecules and functional agents, including customised carrier systems. Part of the Fragrance Division, Active Beauty leads the market in crafting innovative products supported by our strong expertise in advanced and applied sciences. We invite you to 'engage your senses' and learn more about Active Beauty at www.givaudan.com/activebeauty.
---
For further information please contact
Pauline Martin, Global Communications & Events Manager
T +33 3 2688 8417
E pauline.martin.pm1@givaudan.com