Givaudan Active Beauty launches Revivyl™ at in-cosmetics London
15 Mar 2018 · 13:58 CET
The very first holistic skin renewal accelerator supported by metagenomic analysis and stem cells research
Your body isn't a temple; it's a home you'll live in forever. Take care of it," Colin Wright, author, entrepreneur, and full-time traveller.
At the age of 50, your skin needs 44% more time to renew itself than at your twenties. What if cosmetic science could help you boost your whole body skin rejuvenation in a holistic way?
Givaudan Active Beauty's Research & Development department has dived deeper in understanding the intimate mechanisms of skin renewal: from its stem cells activation to its ultimate superficial layer, called the Stratum Microbium™.
By cracking the secrets of this complex regeneration cycle and its delicate balance, these skin biology experts have apprehended the fact that this process needs sequential activation from bottom to top, as well as a prefect protection of the natural balance of skin microbiota to maintain skin health and beauty.
By combining their metagenomic pioneering capability and their exclusive skills in bio-guided plant fractionation, Active Beauty skin experts have been able to develop: the first active cosmetic ingredient dedicated to accelerate the entire skin regeneration process. Discovered from Orobanche rapum, a unique European chlorophyll-free plant, Revivyl™ has been scientifically designed to deliver targeted biological actions from the lower to the higher layers of the epidermis.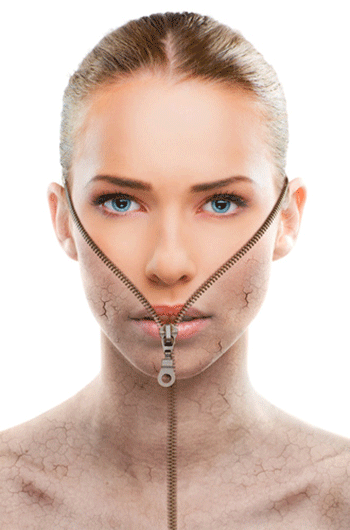 Evaluated through exhaustive in vitro, ex vivo and in vivo studies, Revivyl™ has demonstrated six holistic effects on the natural skin renewal cycle: 
 
Protection of epidermis stem cells
Up to +171%* surviving expression
 
Reactivation of cellular metabolism
Up to +85%** Ki67 activation
 
Stimulation of epidermis cells differentiation
Up to +249%** filaggrin, +489% involucrin, +414% loricrin
 

Reinforcement of skin barrier


Up to +36%** ceramides
 
Reactivation of natural exfoliation
Up to +56%** exfoliation
 
Active protection of skin microflora

*   in vitro test
** ex vivo test
Four full clinical studies versus placebo using the latest technologies (Raman spectroscopy, Optical Coherence Tomography, Diagnoskin, metagenomic analysis and silicone replica) have proven the exceptional consumers' benefits of Revivyl™ for face and body applications: in only 2 weeks to 28 days, skin barrier is reinforced (up to +36% water gain), exfoliation is reactivated (up to +244%); skin microflora is protected and skin surface is smoothed with up to -30% decrease in wrinkles number.
Cyrille Jarrin, PhD researcher specialised in skin microbiome bioinformatic analysis, said: "Knowing the scientific evidences of the skin microbiota and health relationship it is now crucial to ensure that active ingredients have benefits for our skin flora. Revivyl™ shows unique properties to protect skin microbiote. We analysed over 24 billons DNA information from volunteers' microbiote and discovered that this ingredient is not only able to trigger skin stem cells, but also to protect the global microbiota population, even reducing unwanted pathogen species. This is unique in our industry, and will create a real added value for consumers".
Revivyl™ is a multifunctional active ingredient, water soluble, safe and from a natural source, easy to formulate in all skin or body care formula. By reactivating the production of a new skin, Revivyl™ is answering one of the most consumers' expectations "I want to look and feel better with a younger skin…naturally".
To find out more about Revivyl™, we will be very delighted to welcome you at in-cosmetics Global in London, Stand FF10.
---
About Givaudan
Givaudan is the global leader in the creation of flavours and fragrances. In close collaboration with food, beverage, consumer product and fragrance partners, Givaudan develops tastes and scents that delight consumers the world over. With a passion to understand consumers' preferences and a relentless drive to innovate, Givaudan is at the forefront of creating flavours and fragrances that 'engage your senses'. The Company achieved sales of CHF 4.7 billion in 2016. Headquartered in Switzerland with local presence in over 95 locations, the Company has more than 10,000 employees worldwide. Givaudan invites you to discover more at www.givaudan.com.
About Givaudan Active Beauty
Givaudan Active Beauty offers an extensive portfolio of innovative active cosmetic ingredients designed to bring beauty to the world. Inspired by the beauty needs of consumers worldwide, Active Beauty offers award-winning products for an expanded range of benefits including anti-ageing, self-tanning, soothing, hydrating, cooling, and more. Our cutting-edge technologies draw on science and nature to create high- performing molecules and functional agents, including customised carrier systems. Part of the Fragrance Division, Active Beauty leads the market in crafting innovative products supported by our strong expertise in advanced and applied sciences. We invite you to 'engage your senses' and learn more about Active Beauty at www.givaudan.com/activebeauty.
---
For further information please contact
Pauline Martin, Global Communications & Events Manager
T +33 3 2688 8417
E pauline.martin.pm1@givaudan.com