2019 Half year investor conference
The future of beauty and wellness: from perfumes to cosmetics
Givaudan is going beyond fragrances to embrace a world of beauty – crafting innovative cosmetic actives and engaging consumers' senses further in both sight and touch.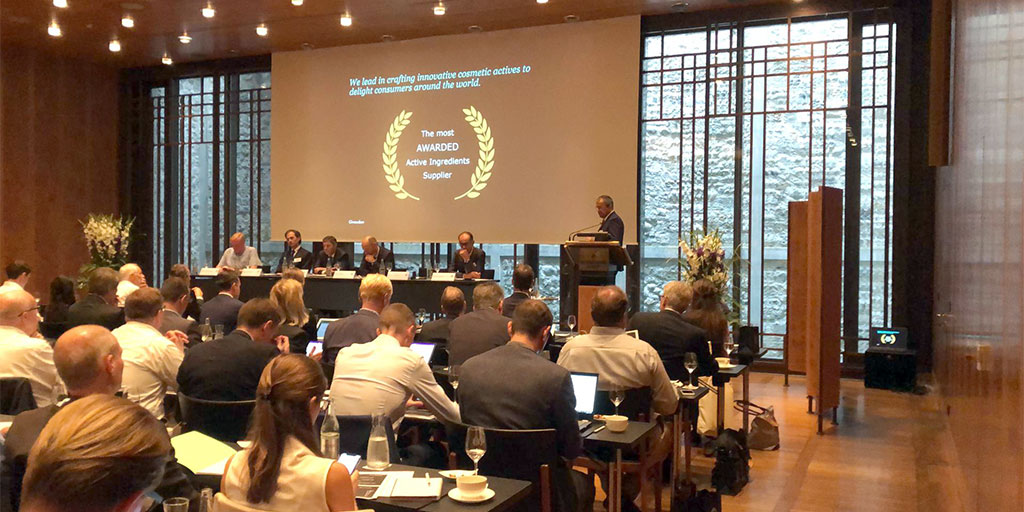 Our expansion into active cosmetics and becoming a key player in the industry was the focus of the half year conference for investor analysts, held on 29 August in Zurich, Switzerland, and attended by more than 70 participants.
CEO Gilles Andrier opened the session explaining how building the Active Beauty business was fully in line with Givaudan's 2020 strategy. "Today our customers appreciate the fusing of science and nature for innovative cosmetic solutions and our Active Beauty business is well on track to achieve our ambitious sales target in our 2020 strategy," said Andrier.
In a presentation, 'From perfumes to cosmetics', Fabrice Lefèvre, Marketing and Innovation Director of Active Beauty, said the business looked to the natural world for inspiration. "We draw upon the extraordinary benefits and properties of plants, microorganisms and vegetable sources, translating these with the latest sustainable biotechnologies into highly functional, high-performance products," said Lefèvre.
"We unlock the skincare benefits of active ingredients sourced naturally. Our sustainability approach enables brands to develop new fully natural formulations expected by consumers nowadays."

Fabrice Lefèvre, Marketing and Innovation Director Active Beauty
 
The active cosmetic ingredients industry is worth one billion Swiss francs. Givaudan currently has sales of about 80 million Swiss francs and aims to increase this to 100 million by 2020, once again demonstrating Givaudan's strong track record of acquiring companies and growing above the market. 
Givaudan's next investor event will be on 13 September 2019 with a visit to the Active Beauty unit at Pomacle in France. Participants will visit our research, development and production site and gain an overview of how our circular economy model is sustainably transforming the way we produce active cosmetic ingredients.
If you would like to have a copy of the investor presentation,
> please contact us