Creating shareholder value
From its spin-off in the year 2000 to the end of 2014, Givaudan has created over CHF 12 billion in value for shareholders in the form of share price appreciation and dividend payments. Our shares are traded on the SIX Swiss Exchange, ticker symbol 1064593 GIVN.
Givaudan share price development in CHF since its spin-off in 2000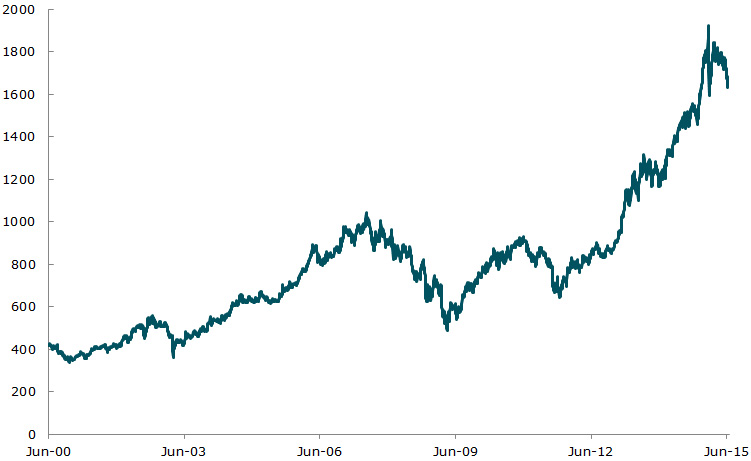 Source: Bloomberg as of 30-06-2015
More information about our recent history of acquisitions
Givaudan acquires Induchem
31 August 2015 | Givaudan today announced that it has acquired 100% of the shares of Induchem Holding AG and its subsidiaries. Induchem's portfolio of products is based on a wide range of innovative and highly functional active ingredients with proven efficacy results, as well as research expertise in fields such as biocatalysis, metagenomics, and biochemical synthesis. Induchem primarily operates from Volketswil, Switzerland, Toulouse, France and New York, USA, and employs 65 people.
Givaudan acquires Soliance
3 June 2014 | Givaudan announced today that it has acquired 100% of the shares of Soliance SA and its subsidiaries. Soliance provides innovative cosmetic solutions to its international clients and partners and develops high added-value active ingredients, derived from vegetable sources, microorganisms and microalgae. Soliance currently has two sites in France, located in Pomacle and Ile Grande, and employs 96 people. While terms of the deal have not been disclosed, the Soliance operations would have represented approximately CHF 25 million of incremental sales to Givaudan's results in 2013 on a proforma basis. Givaudan will fund the transaction from existing resources. The acquisition will strengthen Givaudan's process development and research capabilities and build on Givaudan's existing active cosmetic ingredients business and enhance our current portfolio offering.
2 March 2007 | On 2 March 2007, Givaudan acquired Quest International, a division of ICI Plc. The acquisition was announced on 22 November 2006 at a price of CHF 2.8 billion and seeks to extend Givaudan's leadership position in all strategic segments of the fragrance and flavour industry. This acquisition was fully in line with Givaudan's strategy to focus on developing markets and to capture opportunities in key segments and at key customers. It will strengthen Givaudan's current leadership and accelerate future growth, especially in important markets of Asia Pacific, Latin America, Eastern Europe and Africa and the Middle East.