2023 Annual investor conference
Focus on the Middle East and North Africa
Givaudan's 2023 Annual Investor Conference was held on 13 April as a hybrid event.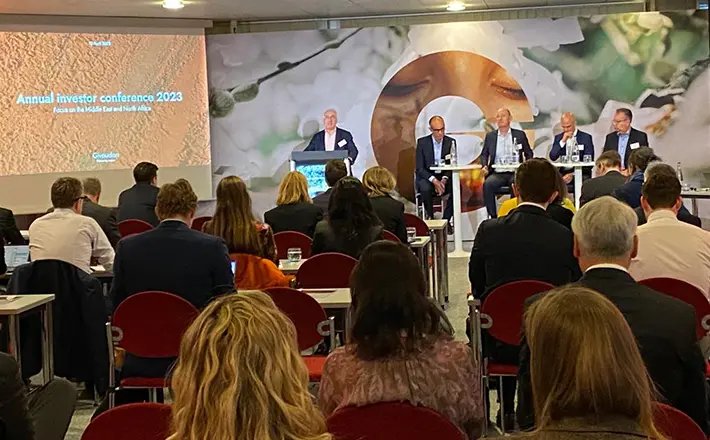 It was a pleasure to welcome to our Vernier site over 30 attendees after a four-year interruption. In addition, close to 150 investors and analysts were able to connect and listen to the live streaming of the conference.
CEO Gilles Andrier began the conference with a presentation of the 2023 first quarter sales and confirmed a solid start to the year with CHF 1,773 million sales, up 3.6% on a like-for-like¹  basis in the first three months of 2023
"Our solid Q1 sales once again demonstrate the importance of the balance that Givaudan has across the different business segments, geographies and client groups. We have also demonstrated our continued focus and innovation programmes which allow our customers to bring great products to the market."
He continued with a reminder of our 2025 strategy before handing over to the guest speakers, Antoine Khalil and Guillaume Iannitelli who presented our market presence and strategy in the Middle East and North Africa Region, gathering almost 800 million consumers.
For Taste & Wellbeing, our regional head of SAMEA, Antoine Khalil, presented the region laying out the fast changing market and the top priorities for our customers.
"The region represents a market potential of CHF 1.2 billion, and we are very well established on the ground. Furthermore, it is a region of rapidly growing local and regional customers who represent 65% of our sales. The local taste is king." 
Guillaume Iannitelli, regional head of SAMEA Fragrance & Beauty, gave an overview of this region which is diverse not only in terms of culture but in terms of purchasing power. He explained the challenges and opportunities of the region's trends which are a strong adoption of e-commerce, a very young region with 60% of the population under 30, and the health and wellbeing trend that is increasing in importance.
"We are talking about a region that I would summarise using four words: young, resilient, aspirational, entrepreneurial. Meaning, that despite all the challenges there is an energy and optimism that I have not seen elsewhere. And we have a fast-growing footprint because it is important to be on the ground, to be close to our customers but also close to the consumers. This is important to understand and feel your market."
The conference finished with a question and answer session.
If you would like to have a copy of the investor presentation,
> please contact us
Like-for-like is defined as: (a) sales calculated using the invoicing exchange rates of the prior year, and (b) excluding sales of businesses acquired from