2019 Investor days
Focusing on our global innovation ecosystem
Our newly inaugurated Zurich Innovation Centre (ZIC) was the stimulating location for this year's 2019 Investor Days which took place in Kemptthal on 15 and 16 October.
The two-day programme enabled close to 80 investors and analysts to experience first-hand the Company's new flagship innovation centre.
"This centre provides an inspiring environment where we, along with our customers and partners, can co-create innovative solutions and leverage our broad expertise in flavours, fragrances, active cosmetic ingredients and natural solutions."

Markus, Operations Manager ZIC
 
The first day included a tour of the facility and a presentation on the importance of innovation at Givaudan, and how the Company's culture of innovation drives the long-term development of cost-effective and long-lasting differentiating solutions. This was an opportunity for our Heads of Science and Technology of our two business divisions to connect directly with investors and analysts and during a presentation to offer insights into our research and development activities from the points of view of flavours and of fragrances.
"This new state of the art innovation centre recognises the important contribution our scientists make to pioneering new fragrance ingredients. It's been designed for collaboration and co-creation and will support us in discovering new sustainable solutions for the future."

Jeremy, Head of Global Fragrance Science & Technology
  
The second day was a deep dive into our science and creation capabilities with a laboratory tour and presentations by scientists on key areas of research and product development. These exhibits were the perfect opportunity for analysts and scientists to interact and exchange knowledge and ideas.
"The Zurich Innovation Centre is part of our global innovation ecosystem and the next step in our collaborative efforts to lead the industry in tackling the most pressing challenges to the future of food. Our ambition is to connect a wide range of platforms, partners and experts across our global innovation network to accelerate new ideas and improve the sustainability of the food value chain."

Fabio, Head of Global Flavour Science & Technology
 
The two-day event was a great opportunity to guide people through the centre giving them first-hand knowledge of how the Zurich Innovation Centre enables close collaboration and co-creation with Givaudan's customers, partners and start-ups.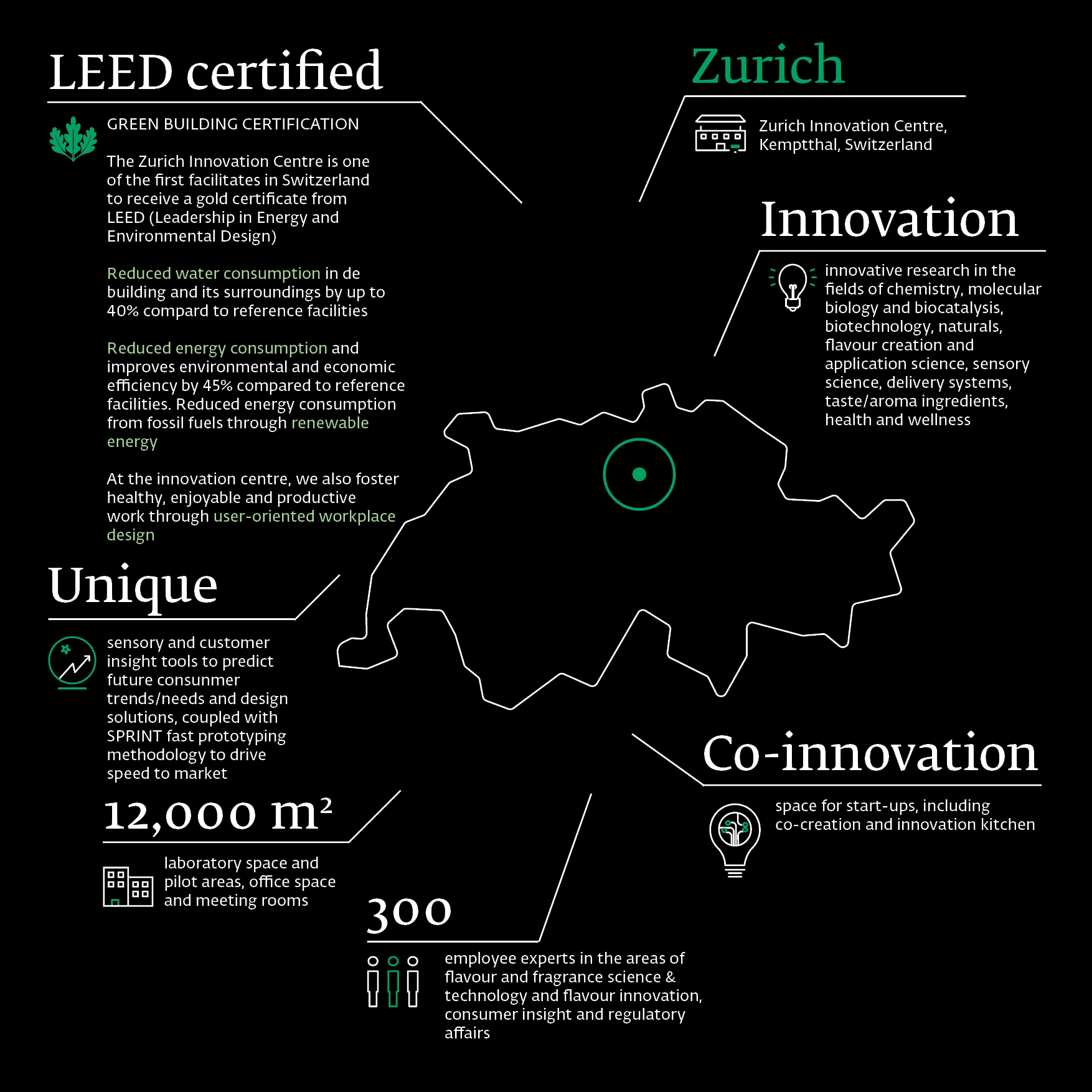 If you would like to have a copy of the investor presentation,
> please contact us